​With his life relocated to Thailand, Jon Wayne brings his Pain back to Fargo
by Chris Larson | .(JavaScript must be enabled to view this email address) | Music | September 5th, 2018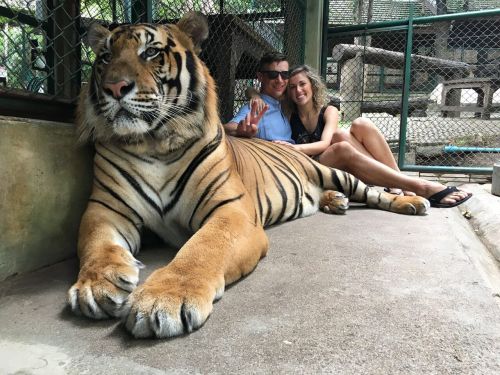 It's only been a little more than a month since former Jamestown/Fargo/Minneapolis musician Jon Wayne uprooted his wife and life and boarded a plane to move to Thailand. At what some might call the pinnacle of his career, touring over 200 dates a year throughout the United States and sharing stages with some of his scene's most established artists, he made the unexpected decision to take a bit of a break from the madness that is the road and focus a bit more on family, relaxation, and experiencing a vibrant and enthralling culture. He's back in town for a special feature show on September 14th with friends and collaborators The Human Element and New Sound Underground at the Avalon Ballroom in the Avalon Events Center off 25th street and 9th avenue in Fargo.
HPR: We haven't really seen any notable show announcements for this event center since it was transformed from the Hub into the Avalon a few years back. I was hoping you could provide any insight into how the show got booked at the Avalon?
Jon Wayne: Our agent called directly over to the Avalon and spoke to a great gem of a guy named Brett Colliton. He said that they knew about Jon Wayne & The Pain and because we sold out our last Aquarium show they were happy to give us the date. Also having amazing bands like The Human Element and funk fusion legends New Sound Underground on the show doesn't hurt either.
HPR: You just took a giant leap and packed up your entire life and moved with your wife across the globe to Thailand, where you've had many journeys in the past, including your wedding two years ago. Being that it's only been a bit more than a month since you left, have you had time to feel settled in yet? Can you tell us a bit about what brought about such a dramatic move?
JW: About five years ago my then girlfriend (now wife), wanted us to visit southeast Asia for a month long holiday. I was hesitant to do it because I couldn't imagine taking a month off from touring. At that time we were playing 200+ shows a year and I was literally caught up in my entire identity as a full-time touring musician. Well, we did take the trip and it changed me forever. The people, the food, the smells and sights opened up my mind to things I had never experienced or even knew existed. Most importantly it showed me how important it is to take some time off and learn how to f*cking relax for a minute. After that we always toyed with the idea of moving there but kind of said it as a joke. Then last January when I visited Thailand again I dropped off job resumes for my wife, who is an amazing teacher, at no less than 12 of the international schools in Chiang Mai to see if they would be interested in having her. Well they were interested, and she got multiple job offers before my trip was even done. Within just a few short months our flights were booked and we started looking for homes.
This last July we packed up what we could, put the rest in storage and flew with our kitty to start a new life in Asia. Once the jet lag wore off we started meeting amazing people and made fast friends with some of my wife's co workers and the yoga community in town. Also the first weekend we were there my dear friend TJ Edra (executive chef at Wasabi in Fargo) got married to his Thai wife about three hours from where we currently live in northern Thailand. We got to be a part of the wedding and share in their special day. It was an amazing experience to see a traditional thai wedding and be there for them. I have included some photos from the wedding.
HPR: How often can your fans expect to see you returning to the states and especially the Midwest, to tour?
JW: I'll be back again in November through the end of the year to do tour dates and see my family over the holidays. I would imagine I'll be returning every 2-3 months to tour with JWP. It might mean a few less dates overall for Jon Wayne & The Pain but I feel it will give us an opportunity to focus on quality of shows rather than quantity.
HPR: Human Element is a band you've not only shared stages with before but they have even served as your backing band a time or two, correct? Can we expect to see any collaboration between either them or your friends in New Sound Underground?
JW: I wouldn't want to spoil any surprises but considering that both The Human Element and New Sound Underground has backed me on multiple shows I would say there's a good chance! I feel like this is one of the coolest lineups we've ever had for a Fargo show.
IF YOU GO:
Friday, September 14th
@ Avalon Events Center
8 p.m., $15 tickets at https://www.brownpapertickets.com/event/3600416