​Greek love: Colleges perform Homer
by Brittney Goodman | .(JavaScript must be enabled to view this email address) | Theatre | April 5th, 2017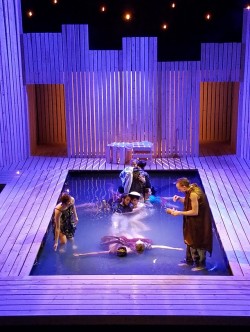 Ovid's mythological tales undergo dramatic transformation by award-winning director/playwright Mary Zimmerman as Concordia, MSUM, and NDSU deliver theatrical productions of three of her modern takes on his work.
Concordia's production of "Secrets in the Wings" kicked off the series from March 30 to April 2. Next up is MSUM's performance of "Metamorphoses" April 5 to 8, and finally NDSU presents "The Odyssey" April 27 to May 5.
MSUM's School of Performing Arts presents "The Metamorphoses," and director, Patrick Carriere, Associate Professor of theatre, says one of the central features and challenges of their production is the construction of a 4800 gallon pool on stage: "It will be a technical and performance challenge for our professional staff and our students."
Since coming to MSUM five years ago, Carriere has directed plays including "Mother Courage," "Godspell," "The Laramie Project," "Romeo and Juliet," and "You're a Good Man Charlie Brown." For Theatre B, he has directed "Doubt" and "Storefront Church."
The production includes 12 actors, a production team of 10, and an additional 20 technicians.
Carriere says that it is "a true ensemble piece," with 12 actors, six men and six women. He adds, "They move in and out of the roles of the play" with some scenes having two performers playing the same role. Carriere says he is "proud of how they have worked with each other and enhanced each other by the sense of the group. "
Carriere describes Mary Zimmerman as "one of the premiere contemporary playwrights. She deals with myth and adapting myth into a modern and a timeless context." In the three-college collaboration, they managed to get Zimmerman to come for an in-residence visit during the week of March 20 when she visited all three campuses with public meetings, classes with her, and rehearsal visits and input.
Carriere is happy to present "Metamorphoses." He says that it was Zimmerman's first real national hit, and she won a Tony for directing it in 2002. He also enjoys the challenge of working with the pool on stage: "It is a challenging process from actor to designer to technician, to work with water on this scale."
Carriere describes the play as "really engaging," and adds that it "explores the way myths encounter humanity and both the light and dark sides of our existence -- especially around the concept of love."
He describes Zimmerman's take on the "Metamorphoses" as "playful" – "she plays with the narrative structure. She is trying to get to the core of what she feels is important in the story without being locked into a certain formula or a single way of storytelling."
Carriere summarizes: "There is just some beautiful work that our students have done. They have worked hard." He also thinks that having it on Gaede stage will be a perfect performance setting with the intimacy of the stage and the structure of the space with people looking down on the pool. Finally, he says: "The audience should expect to see these old mythical tales retold in a way that is magical theatrically, contemporarily, and very moving."
Next, NDSU Theatre will perform Zimmerman's version of Homer's "The Odyssey," co-directed by Chelsea Pace, Professor of Movement at NDSU, and Journalism major Kara Jeffers. Pace specializes in physical theatre. Jeffers is the first student to co-direct on the mainstage at NDSU.
Pace describes "The Odyssey" as "a timeless epic," telling a story "of the perils and trials of a journey home, which is more important than ever in a world where people are seeking a safe place to land." This adaptation begins with a modern young woman who is struggling to understand a translation of "The Odyssey." The young woman is transformed into the goddess Athena.
Pace says she loves the playwright Zimmerman's approach to adaptation of classical texts: "She maintains the elements of 'The Odyssey' that I remember from reading as a teenager, while leaving the theatre makers lots of room to play." She also finds the images in the text "really striking." "As a physical theatre person, those moments offer some unique opportunities. It also creates an opportunity for students to apply physical theatre skills from class to production."
With an "incredible cast" of 23 people, Pace describes Dan Ajak, Odysseus, as "literally at the helm," and Marissa Koppy is the guide, as Athena.
Pace describes the production's focus on music: "The show is written for live musicians, but Kara and I became interested in contemporary folk/blues music, so much of which is focused on telling a story. We found a lot of overlap in themes and topics in that genre."
Finally, Pace says that the NDSU production is "an epic story and it makes for an epic play. It takes twenty years, but Odysseus never stops fighting to return home."
IF YOU GO
MSUM's presentation of "The Metamorphoses"
7:30 pm, April 5 to 8
Gaede Stage in the Roland Dille Center for the Arts, MSUM
NDSU's presentation of "The Odyssey"
7:30 pm, April 27 – 29 & May 4-6
Askanase Auditorium, NDSU