​A night at The Crossing
by Sabrina Hornung | .(JavaScript must be enabled to view this email address) | All About Food | January 17th, 2018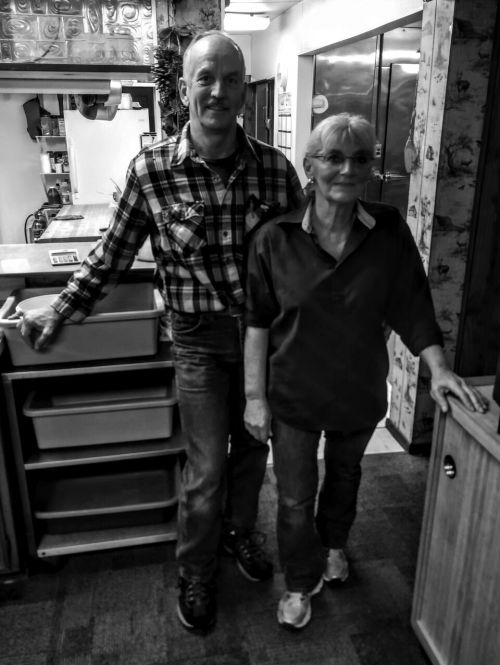 The night I visited Ashtabula Crossing was the same night as the Winter Solstice. A stark contrast to the blue skies and lush green grass I remembered from summers past. As North Dakotans we can switch from barefootin' to snowbootin' in a matter of seasons with little fuss--as long as the fishing is decent.
Despite the layer of snow cover and inches of ice covering the lake, the restaurant is a year-round destination for locals and fishermen alike. "Evenings like this we get a lot of the local people. Weekends are busy, lots of ice fishermen--fishermen year round. Also maintenance guys from the nearby wind towers," says co-owner Patty Hoff.
"We have locals that pretty much show up at the same time every day, and if somebody doesn't show up, you wonder what's going on or if there's something wrong," said co-owner Scott Hoff.
The space itself was warm and inviting. It was rustic yet modern, with its warm wood tones and wagon wheel chandeliers; with minimal yet eclectic decor -- each piece has a story.
All you have to do is ask. Whether it be a moose rack or a rack from a Texas longhorn that once adorned a Cadillac during the Barnes County Centennial, Scott will tell you about it. One part of the decor included local brands from area farmers and ranchers that were literally burned into one of the overhead beams.
Scott and Patty Hoff have owned The Ashtabula Crossing or as the locals call it, "The Crossing," for the past six years. They, along with Patty's sister, stumbled upon the opportunity while her sister was looking for a lake home, but instead of a home they found a home away from home that also happened to be a restaurant.
The sister wound up eventually opting out but the Hoffs looked at it as a retirement job. Scott is retired from the Air Guard and Patty is retired from Target, but now the Hoffs are looking to sell in order to make more time for their kids and grandkids.
As the name suggests, the restaurant is located right on Lake Ashtabula, near Luverne North Dakota, and is less than 20 miles from Valley City. There are four campgrounds on the lake, two of which are right across the road from The Crossing. They also sponsor the annual Fourth of July fireworks display, as well as a number of fishing tournaments throughout the season.
The restaurant's menu has a variety of appetizers, burger baskets, breakfast, and dinner options such as steaks, and a small selection of seafood. They also have daily and weekly specials. "Once a month we have ribs. We smoke our own ribs," Scott went on to say. "We try to do as much on our own as possible. Ribs, brisket, pulled pork--we smoke that all ourselves. It just adds more flavor than you can get out of a bag or box." Patty added, "It's just more of a personal touch."
The personal touches aren't just left to the meat. A variety of baked goods are made every day and most of the soups are made from scratch. Depending on the daily special, certain sauces are made in-house, such as their BBQ sauce, horseradish sauce, salsa, and occasionally catsup, to name a few.
The three latter options are made with garden-fresh produce that is harvested in a plot behind the restaurant. Patty mentioned that she used to grow potatoes until her father, who lives near the small nearby community of Page, took over that department. Scott said, "He's 83 years old and is out in the garden every day in the summer."
Scott and Patty are the main employees at The Crossing. He says she's the cook and the boss and he does whatever else is needed, though during the busy season, Patty's sisters will come in from Page to help out.
In fact, the only employees they've had in the past four years were family. When asked if it was difficult working with family, Patty said, "We have always been there for each other." Scott added, "She grew up on a dairy farm."
Patty smiled. "You just know how to work together--you get used to each other."
YOU SHOULD KNOW
Ashtabula Crossing
1748 118th Ave SE, Luverne, ND 58056
Open 8am-8pm, Wednesday-Sunday
http://www.ashtabulacrossing.net