​Dude, where's my ramen?
by HPR Contributor | .(JavaScript must be enabled to view this email address) | All About Food | February 7th, 2018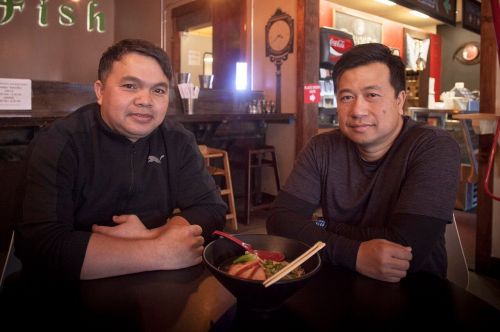 By Nathan Roy
bardsdream@gmail.com
The sun sticking around longer during the day sure is nice. Brrr is it ever cold though, as we approach midwinter (Spring's around the corner, y'all). Meanwhile, what better way is there to stave off cold than with a hot meal?
I once saw a film called "The Ramen Girl," starring the late Brittany Murphy and couldn't stop watching. It portrayed ramen as a metaphor of life. After seeing the film I thought damn it would be cool to have a ramen joint around here.
Time to check out one of Fargo Restaurant City's latest meal servants, Slurp Ramen. Located at 623 NP Ave, it shares the same building as Drunken Noodle and Wasabi (sushi moving to new location, but more on that later).
Upon hearing ramen, that cheap stuff in a package with a packet of seasoning or a just-add-water cup, is likely what comes to mind. I am telling you to forget that stuff even exists because Slurp is an up close and personal experience. As you walk in, you can see blown-up photographs of the specific dishes, along with their names. Menus are placed loosely for you to check out what they consist of. If you're so inclined, you may watch the noodle bowls being made. The station is behind a large countertop near the kitchen.
When you're ready to order, just head over to Drunken Noodle's cashier and they'll take care of it. You might be with someone that doesn't want ramen. In that case it's fine, as any one of the three restaurants can be ordered from. Notwithstanding, I do suggest the ramen should be tried because it's real and not that packaged/microwaved junk.
Traditionally ramen is prepared using noodles made from fresh dough. Although Slurp does not prepare ramen in the traditional sense, there is no need to be disappointed due to lack of authenticity. The noodles are indeed fresh and you will notice.
At the moment there are only six choices. Five have pork while one has chicken, and they are served with the right ingredients to bring out the ramens' flavors. Unfortunately there is nothing vegetarian or vegan due to stock in the broths, but supposing you don't mind the broth, I'm sure you can ask for a bowl without meat.
Portions are sizable and will fill you up. Feeling really hungry? There are also four appetizers to choose from.
Wasabi will be moving to a new home, mid-March to early April. Its new location will be where Metro Drug stood, at 123 Broadway N. Renovations are splitting the former corner store into a space of three units, and when complete, Wasabi will occupy the middle one.
So people, Fargo finally has a ramen restaurant. As the name implies, go ahead and slurp. It's considered a compliment to the chef. I was definitely slurping away. Perhaps we'll get a dumpling restaurant soon (because I'll be damned if dumplings aren't awesome too) but that's just me being hopeful. All ramen bowls are $9.
YOU SHOULD KNOW
Slurp Ramen
Tue-Sat, 11:30am-2:30pm; 4:30-8:30pm
630 NP Ave, Downtown