'I go by Flash'
by Sabrina Hornung | .(JavaScript must be enabled to view this email address) | All About Food | January 31st, 2018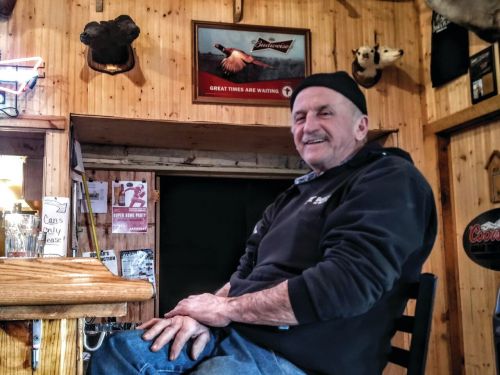 When asked what brought the former truck driver and Driscoll native Wendel "Flash" Krous into the bar business he said, "Friends, if you can call 'em that, they talked me into doin' it. I bought an old gas station. They used to come down and drink in the shop, where I had my truck. They said you should open a bar and now they all bitch, 'cause I charge 'em. Right, Norm?"
Norm -- the unofficial "mayor" grinned as he sipped his beer and said, "Too much!" and the men shared a good laugh. Flash went on to say, "The building itself was over 100 years old and used to be part of a hardware store that was downtown, then they cut it in half and moved it up here in 1950 or some time around there. The other half went to Mobridge. They made it into a gas station and it's been sitting here ever since."
Flash's Place is located in Sterling, North Dakota, right off of Highway 83. When asked what the population of Sterling was he replied, "Ain't more than 160. Sterling's not a town, it's an unincorporated village, so it's actually a township. A township is roughly six quarter miles."
On my travels I can't help but ask if anyone knows of any good local ghost stories and it turned out that Flash's Place not only has cold beer and good company under its roof --according to Flash it also had a resident ghost. " I haven't heard him lately but we had one in here. There were some kids in here one night -- they were ghost hunters and they got to talking to him." He went on to say, "They brought their equipment in and said there were two in here. I haven't heard him lately though, so I don't know if they scared him out or what. We would hear him when we were rebuilding the place. There used to be an old set of steps that went up to the attic and we used to hear him walk up and down the steps. He doesn't really bother anything. I could just hear him sometimes when I was in here by myself."
The moment I walked into the bar I knew I was in the right place. It was clean, spacious, had a smiling bartender, a great crowd and a unique taxidermy collection -- that was definitely worth the whiskey.
The most striking pieces in the collection were three mounted pairs of Siamese twin calves. Two were head mounts and the third was a full body mount complete with two heads, two tails, and six legs. "People bring stuff in. That one came from a farmer near Wing -- they like to show them off." He went on to say, "That one came from a farmer northwest of here. That's where your double cheeseburgers come from at McDonalds!"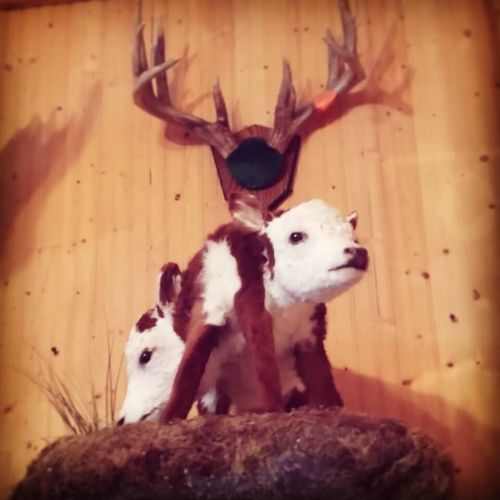 Though there were no double cheeseburgers available, Flash's Place also serves food. Along with the standard frozen Pizza Corner pizzas they sold Badlands Sandwiches, which are made in Bismarck, deep fried munchies, and cheese buttons, also made in nearby Bismarck in a variety of flavors. When asked if they are a big seller he replied, "They go in streaks. Some people like 'em, some people never heard of 'em. Some of 'em don't like German food, I guess. I have people that stop by and take 'em home to cook 'em and some people like to fry 'em."
When asked what his favorite part of owning a bar was, other than sitting on the other side he said, "It's kind of fun in a way because your friends come in to drink and stuff like that -- sitting around bullsh*tting… There's a lot of behind-the-scenes work like keeping everything stocked, running, and fixed. Especially these little bars -- there ain't a lot of money in it. A lot of this stuff you have to do yourself. Originally my plan was not to run it and just have somebody else run it but that's not feasible."
There was a good crowd that Friday afternoon. The house was full of thirsty ice fishermen and locals. Though wintertime isn't the busiest time for Flash, he does provide a home for pool and dart leagues or even music and comedians on occasion. "We try to put something on every once in awhile to draw people in." He said.
"In these little towns it's tough to keep a bar going. We're lucky to be on the highway -- you get to these other little towns that are off the beaten path... The farms just keep getting bigger and bigger and there's less and less people around."
YOU SHOULD KNOW
Flash's Place
Daily, noon to 1am
1401 Highway 83 NE, Sterling ND
(701) 387-5817