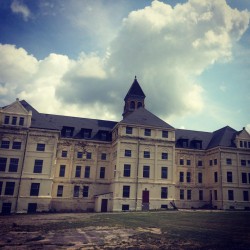 The Fergus Falls State Hospital (FFSH) ran a glorified commune. They were committed to sustainability long before the hippies of yore and the farm-to-table free-range folks of today. The hospital was self-sustaining, as both patients and staff raised food and livestock on the grounds for nearly a century, from 1891 to 1961.
Far out, man! At its surface, this may seem to be a tale of food and farms, but it transcends simple definition. By exposing how farming and commitment to nutritious food revolutionized care for people with mental health issues and addictions, sadly I am also exposing how far we have regressed, through research and my own experience choking back overcooked chicken patties and brown lettuce in rehab/ detox/ hospital.
The hippies took the word or people's notions of commune, stripped it naked, dunked it in tye-dye instead of a bath tub, put a joint in its mouth, and sent it off to an orgy. But at its core, a commune is the simple embodiment of cooperation, cohesion, environmentalism.
At the FFSH, nearly every able-bodied and willing patient at the hospital was involved with some part of agricultural production, as it was part of their therapy and recovery process. Farming was familiar to many patients and allowed them a chance to utilize their skills, build confidence, and break up the monotony of daily life. Healthy living, nutrition, plenty of sunlight and outdoor activity, and work were considered an essential part of mental health treatment de jour of the era, moral treatment.
Things usually change for the better, right? I wish. It might be hard to explain the appeal of a hard day of farm labor. For someone in captivity, like a prisoner or psych patient, the outdoors and adding purposeful work to an otherwise monotonous day is currency of its own. It's the closest thing to freedom you have. Imagine listening to the crunch as you walk over a pile of leaves or sink your teeth into the flesh of an apple and feeling the warm sunshine kiss your skin.
When I was in different treatment settings, our time outdoors was often limited and heavily restricted. In one place, we only got to go outside for a half an hour walk once per day. Imagine that for four weeks. We ate highly processed foods with high fat and sugar contents because it is cheap and easily purchased in bulk. Insurance companies claim there is a lack of data about "efficacy of nutrition interventions in addiction recovery."
Over 100 years ago, the FFSH grew over 20 varieties of vegetables and traditional grains, had apple and plum orchards, and canned 5,000 gallons of tomatoes and 60 gallons of catsup per year. Greenhouses and root cellars helped residents keep fresh produce for even the harsh Midwest winters. The first FFSH superintendent, Dr. Alonso Williamson, believed milk to be a great cure-all and prescribed it in large quantities, so they had 300 cows who produced over 3,300 pounds of milk per day. Residents were involved in meal preparation and fresh pies were made daily.
Typing this, I can taste the sweet tang of homemade apple pie with its flaky melt-in-your mouth crust and decadent filling. Where I went for treatment, I befriended a cook named Jamie who hid round tins of chocolate silk pie in the industrial deep freezer so she could sneak me extra pieces, and also gave me the pieces of pizza with the most pepperoni. "I know it's not the best, but clearly it's better than what you were eating out there, Minnie." The cook called me Minnie Mouse, she never knew my name, but she always made sure I was fed and wanted me to put on at least 15 pounds.
The standard detox/rehab menu is coffee, pizza, taco-in-a bag of chips, fried chicken, ham sandwiches, casserole, bagels, coffee, wilted lettuce, tasteless apples, pie. Meanwhile fancy pants rehabs offer menus with nutritious, locally sourced foods that are recommended by registered dieticians and physicians. Fresh vegetables, fish, and whole grains. "No expenses are spared when it comes to food service: all meals are organic, locally sourced and prepared by a team of expert chefs," boasts a review of the luxury rehab center Cliffside, with rooms offering ocean views to boot.
All rehabs and hospitals should be focusing on nutrition, not just the ones that are for the rich and famous. Typically, patients' bodies are often malnourished and ravaged by years of drug and/or alcohol use, lack of appetite or overeating due to depression or side effects from psych meds, anorexia, bulimia. Quality food helps heal the brain. Specifically, nutrition-rich foods and regular meals and snacks keep blood sugar levels regulated, which is vital for stable mood, concentration, and energy levels.
My doctor told me sugar was just like another drug, which was an analogy that always bothered me, as it seemed to minimize the severity of addiction. I know that sugar affects the same neurotransmitter dopamine (which controls the brain's pleasure and reward center) as drugs and alcohol. I never heard of somebody losing a job, a family, friends, all their money and their life for sugar.
When I scoffed, my doctor said, "Ask yourself why do you want it so bad, note your mood before, directly after you eat it, and 30 minutes later." My hands were shaking with anticipation. Salivating, I went to the gas station after the appointment and immediately devoured a bag of Red Vines. Ah, sugar. I felt a rush, and then the predictable crash I had come to know so well. It didn't offer the oblivion of substances, but I still found myself shortly craving my next (sugar) fix.
[For more pieces like this, visit Tessa's blog at Off-her-rocker.com. The blog explores what society calls "mental illness"; history of asylums, especially the Fergus Falls State Hospital; and the writer's own experiences. Tessa writes about resilience and the power and beauty of darkness and rebirth; what we can learn when we see self-destruction as a lesson, moving beyond shame and towards healing.]