​A Little Dob Will Do Ya: Spencer Dobson at Fargo Brewing Company
by John Showalter | .(JavaScript must be enabled to view this email address) | Culture | June 19th, 2019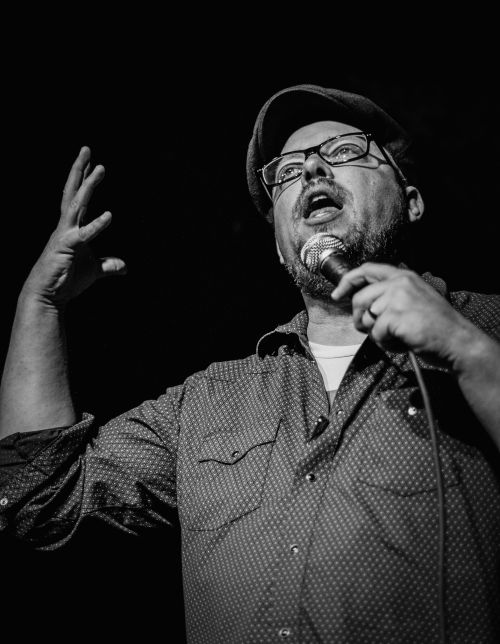 "I haven't been to Fargo in a couple of years," comedian Spencer Dobson said. "But it's always had great stage time and funny, enthusiastic comics."
Born in the small town of Voss, ND (pop 29), Dobson has been all over the Midwest and beyond: living in Grand Forks, then going to high school in Omaha, Nebraska, then starting comedy in Minneapolis in the 90s. From there he was invited to work on a cable show in LA and packed all his stuff into a Geo Prism. "I finished a show in Tulsa and barely made it to work on Monday."
Now Dobson currently resides in the town of Aberdeen, South Dakota. "It's turning into a great muse. It's a smaller town with a good mix of people. We're getting a stand-alone sushi restaurant this summer. Take that, Paris, France." Now that he lives in Aberdeen, who works on material at the monthly open mic at Slackers, Boss's in Sioux Falls, and at various area open mics. "Also, I will be at the Asheville Comedy Festival this August in Asheville, North Carolina."
After seemingly making it all over the place, Dobson finally finds himself doing another long overdue show in Fargo at the Fargo Brewing Company, which will mark his first time performing at that venue. Opening for him is a local favorite Joe Christianson, who opened for him at a show in Carrington a couple of years ago and came to his wedding. "He is a funny man," Dobson said. Overall, the experience he has had in Fargo as a comedian has been a positive one. "Jenni Lou Rossi, who I believe hosts at the Raven sometimes, opens for me a bunch and she just kills it, so I assume you folks are doing something right."
Dobson listed a number of formative influences over his years as a comedian. "I was listening to Steve Martin when I was 5. We had cable when I was a kid so I watched Richard Pryor, Robin Williams, Steven Wright, Eddie Murphy, George Carlin, etc." That was only the beginning, however. "I started doing comedy in Minneapolis in the 90's and that was an amazing crucible. I could watch five shows a week by headliners like Brian Regan, Dana Gould, Tom Rhoades, I got to MC for Chris Rock, the list goes on forever. I was friends with Doug Stanhope, Mitch Hedberg, Nick Swardson. I saw Chad Daniels and Pete Lee when they were brand new. Holy crap, I'm old." One of the headliners he worked with, Marc Maron, hired him to write for his pre-podcast radio show when he moved out to LA.
When asked how he would describe his particular brand of comedy, Dobson said, "Man, I gotta come up with a buzzword, right? 'My comedy is an Alakazam Haiku that is on fleek AF!' But no. I just do story-based observations about things that happen in my life." Prior material of his can be found in the two comedy albums he has released that are available on iTunes, Google, and CD Baby: "Let's Try This Again" and "It'll Be Fun". One can also watch a bunch of Dobson's bits that he has made animations for on his website spencerdobsoncomedy.com, including the short trailer he made for the upcoming show at Fargo Brewing Company. "My latest hour is just about ready to go, it would be nice to get it on a label."
Dobson has obviously carved out quite a niche for himself in the comedy world over the last couple decades and felt that he has some advice he can pass on to aspiring comedians.
"Perform a lot. Write a lot. Learn how to be subjective about yourself. Go to as much live comedy as you possible can. Don't steal. Now that you are going to sound like your favorite comics from time to time, everybody does, it's ok, but try to find your voice. Don't leave open mic after your set. People watched you, you should watch them. Be funny. Tip the wait staff."
IF YOU GO:
Spencer Dobson
Thursday, June 20, 7:30 p.m.
Fargo Brewing Company, 610 N University Dr, Fargo