"Been up to see the ghost"
by Sabrina Hornung | .(JavaScript must be enabled to view this email address) | Culture | October 24th, 2018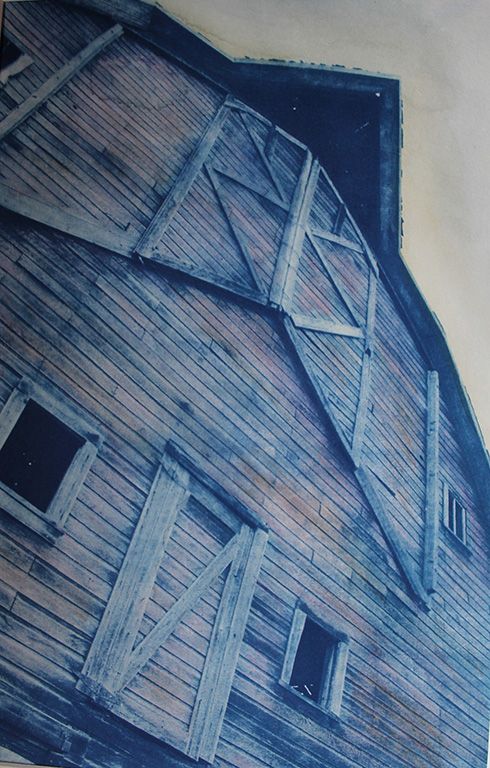 Cyanotype by Sabrina Hornung
According to the Valley City Times Record, during the fall of 1903 a barn outside of Litchville became a hot topic of conversation and was reputed to be haunted. During the previous winter Olaus Anderson, a local farmer who lived a few miles outside of Litchville succumbed to asphyxiation by coal gas. Coal gas was also known as "town gas" and contained high levels of Carbon Monoxide. Unfortunately natural gas wasn't regulated in the US until around 1938, so coal gas or "town gas" was the chief means of lighting and heating at the turn of the century. The following spring Anderson's farm was rented out -- temporarily. The tenant stayed on the premises for a matter of days before moving rather abruptly.
Apparently each morning as the new tenant made his way out to the barn, he would find his horses upset and lathered with sweat. It is said that he left the area in search of a place where he--and his team would be more at peace. Thus the rumor of the haunted barn had begun. Since the previous tenant vacated the farm, on multiple occasions the neighbors reported seeing lights moving throughout the house at night.
At first it was believed that rumors of the alleged haunted barn originated in an attempt to lower the value of the Anderson property,but who doesn't like a good spook story? Plus if you can't add to the story, what's the use in telling it? Eventually the story spread throughout Litchville and throughout the rest of the county. Thrillseekers and ghost hunters of all ages made their way out to the Anderson farm in hopes of seeing these mysterious lights. The term "Been up to see the ghost" made its way into the local vernacular for a short time to account for a late curfew.
1903 must have been a good year for ghosts in Barnes county. The June 4, 1903 edition of the Valley City Times Record, reported on the "scientific method" of how to tell whether you are seeing a ghost or not.
"We assume that a person sees an apparition; it may be objective (i.e., having existence outside the observer's mind), or merely a creature of a disordered brain (subjective). The seer, while looking at the vision with both his eyes, gently depresses one eyeball with his forefinger, from outside the top eyelid (so causing a squint). If objective (whether bogus or not) two outlines of the 'ghost' will be seen; but one (of course) if it be subjective. One may prove this by trial, any time, with any object, near or far. I mention this because of the many nervous and brain-wearied people who see spooks, and to whom it would be better that they should know that the trouble is within themselves, and so seek a capable doctor, than continue to be haunted, as they believe, by the supernatural."

[Editor's note: Special thanks to Wes Anderson at the Barnes County Historical Society]