​Dr. Tom Isern: Man about the plains
by Sabrina Hornung | .(JavaScript must be enabled to view this email address) | Culture | July 25th, 2018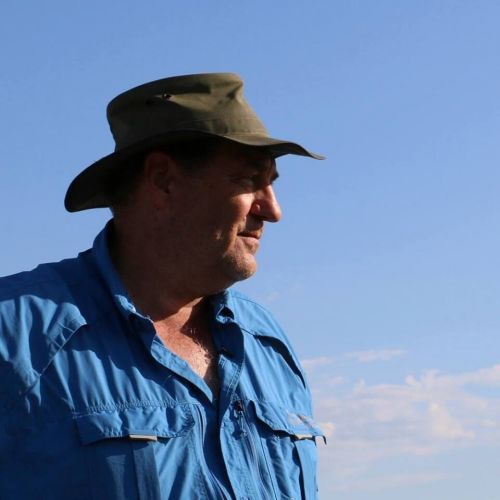 "I remember thrashing around for a dissertation topic, now we're talking the mid 1970s, this occurred to me… what did I always want to do when I was a kid but couldn't because I had to stay home and plough? Do the wheat harvest, custom combining the wheat harvest and make my way all the way up north to Montana maybe Saskatchewan. That ambition was kind of a broadening thing or at least a see-the-world kind of thing. Well, I did it, except I wasn't the one running the combines. I was running a typewriter in those days," Dr. Tom Isern, distinguished professor, historian and author, said.
Dr. Isern is no stranger to the prairie. Growing up on a farm in west Kansas he may not have sought greener pastures throughout his career but definitely broader pastures when he found himself at NDSU in 1992. His academic expertise lies within the folklore and history of the North American Great Plains. He has co-authored the weekly "Plainsfolk" column with Jim Hoy since 1983, which can also be heard weekly on Prairie Public radio. He is an educator and the founding director of NDSU's Center for Heritage Renewal, and serves as "Historian in residence" in German Russian Country.
For being transplanted in North Dakota he certainly has taken root and we're damn lucky.
He has authored a number of books. His latest, "Pacing Dakota" touches on regional histories, and folklore stemming from the work he has done for Plainsfolk. Though he can't necessarily tell us how long the book has been in the works or how many miles were traveled while writing, he says his material "accumulated 500 words at a time."
"As I pulled it together I treated it differently. Instead of just sticking it together, I was writing what I called the connective tissue of these vignettes. The sketches I do for radio are essentially 19th century literary form--known as a sketch."
Isern went on to say, "As I pulled these sketches together it began to turn into something else, because as I was connecting them I not only began to push them around so the pieces fit but I began adding to them too. I know a good part of that is a foundation of age because I'm 66, I was 65 when I was doing this. I know things happen as we approach milestones, but as I began to reshape things it began to look more like a memoir."
Another factor that led to Isern's introspection while writing "Pacing Dakota," was the passing of his 98-year-old mother during the early stages of the book's development. In fact the book is dedicated to her.
"Pacing Dakota" documents Isern's travels throughout the region as a working historian documenting a changing landscape in an area he refers to as "post-rural," a culture that's no longer rural and nowhere near urban.
"People often speak of North Dakota as a rural state...I can't see that anymore," he said. "I know what it is to be rural, I touched the hem of that garment. I went to a one room country school for two years with a 17-year-old teacher. I remember the monthly card parties, I remember when home extension units actually meant farm homes instead of in town and churches were part of the countryside. There's this web of mini nodes where people are going all over the place for functions. Threshing, school, church, now everything leads to town. That's not rural anymore."
He collects the folk histories of the people and places he encounters. When asked if he feels a sense of urgency while collecting oral histories on the field he said, "I used to, I realized that we're creating new old timers and authorities as we go along. An infinite amount of knowledge is lost everytime we lose a citizen. I relish finding everyone I do, but it's an endless effort though. A number of great stories is infinite. I always say there's one up every section road and that's inadequate. There are innumerable stories up every section road. Can you get them all? No. Can you get a start? No. What you can do is learn to work with what you do get."
When asked if he had a favorite region in Dakota he said he found himself to be drawn to the coteau in central Dakota for its gentle rolling landscapes, the hunting and fishing, the Dakota war battlefields, and certain sites in German Russian Country. He is also currently the historian in residence there.
He said, "I'll be back there a lot for the rest of this year and the rest of my life probably. I'm giving a lot of talks. I really think it's cool if I can go to Lehr and give a talk and the audience exceeds the population of the town--that happens." He went on to say, "Raising consciousness of the idea of all the stuff we take for granted here which is everything from kuchen to grave markers, to the inflections of your speech."
One of Dr. Isern's interests along with heritage tourism in the region is the "independent traveler," one quality he sees them having is that they are "interested in real things in real places." One who tends to follow the road less travelled.
"I've been wrapped up in the proposition of how one can make a life in this part of the country. I'm a part of what I like to call 'The Last Picture Show' generation. Everyone's leaving town, drying up, blowing away--that's the real story of the 60s, 70s, particularly the 80s. It doesn't begin to stabilize until the 90s, so how do we go about making a living in this country?" He goes on to say, "We're never going to get rich on wheat. I know because I have wheat in the elevator right now and I'm losing money on it everyday. We need some alternative. Heritage tourism isn't going to be the next big thing but it's going to be one thing."
IF YOU GO:
"Pacing Dakota" Book talk
Thursday, August 2, 6:30 p.m.
Zandbroz Variety, 420 N Broadway, Fargo