Drink n' Destroy
by Logan Macrae | .(JavaScript must be enabled to view this email address) | Culture | December 14th, 2018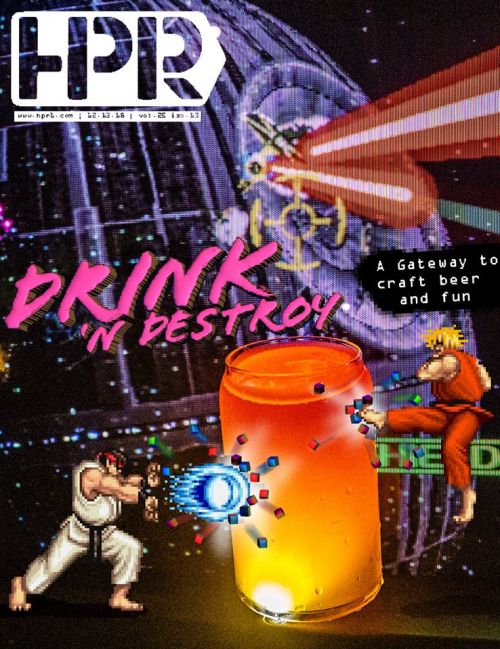 Pixeled is every 1980's nerd's wet dream. This is the kind of place that you sat in your parent's basement and dreamt about. Contemplating what college might look like, and through your braced teeth, you took a wheezy breath, a heavy pull of your inhaler, and in a slight lisp you spoke out loud "What if there's an arcade that also serves BEER!?" At this point beer was something that you considered disgusting, as you had only had a sip of your fathers, but you knew you would grow to like it, as it is an "acquired" taste. This would become true in college, well, because everyone learns to love cheap American beer in college, and if you're lucky you graduated to something at least close to craft by graduation, and so did your father.
Well, the dream is now a reality in the FM area, you can play the video games of your past, and drink beer, and not just any beer, but craft beer. Brewed in house by Nick Hill and staff. Unfortunately, if you were a 1980's nerd, it's quite possible, that you are nearing your mid 40's, gracefully of course. For you though, I guess every dream does come true, and now soon, you can take your kids.
Upon entering Pixeled Brewing, I was enamored by the murals all over the walls, they were massively dominant in the frame of space, and spread almost all the way to the ceiling. Which to mention were rather high, and reached all the way around the bar area. Not to mention the devil was most certainly in the details; the brackets that attach the lower bar rail to the bar are cutouts of 8-bit Mario, as if they were jumping up to pound a block and collect a coin. The surrounding walls of the arcade are mostly brick, and the industrial feel of the Union Storage still partially haunts the space. It has a nice darkness to the environment that is also truly nostalgic of the arcades of yesteryear.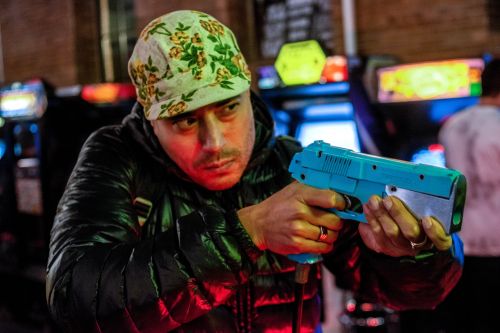 Myself, I was a little too young to experience the true arcade environment, by the time I got to the arcades the capitalist pigs had implemented a ticket system in which you could win prizes, but the games that had any substance weren't the ones that gave out tickets, and so being the gambler in training, I continued to play skee-ball and other games that provided the most stimulation in the form of rapidly blinking lights, and the ticket incentive. I still blame my ADD on these games a bit. I did in fact get to enjoy a limited amount of games via the Godfather's Pizza in my hometown during the lunch buffet with my grandparents, and through the video games that my cousin Shea had. His father was the real gamer, and I didn't learn this until much later in life, but I remember playing Sega on their couch, both the Game Gear and the Genesis -- I also still own my original Gameboy. My grandparents gave one to each of the 10 grandchildren one especially good year. I remember playing it in my whitey tighties, but sporting a fitted MN Twins cap. There are pictures.
Our mission this evening was to do a beer pairing of sorts. While most breweries enjoy participating in food pairings, we decided that each of the five beers that were on tap should be paired with a video game, and for reasons that we arbitrarily decided, there was no real logic involved with these decisions. We just kind of went with our gut. There are some illogical musings that I will share, but you must remember, we were drinking beer and playing video games. It would be a lie if I said that this hasn't happened before at the HPR, but we were excited to do it on location.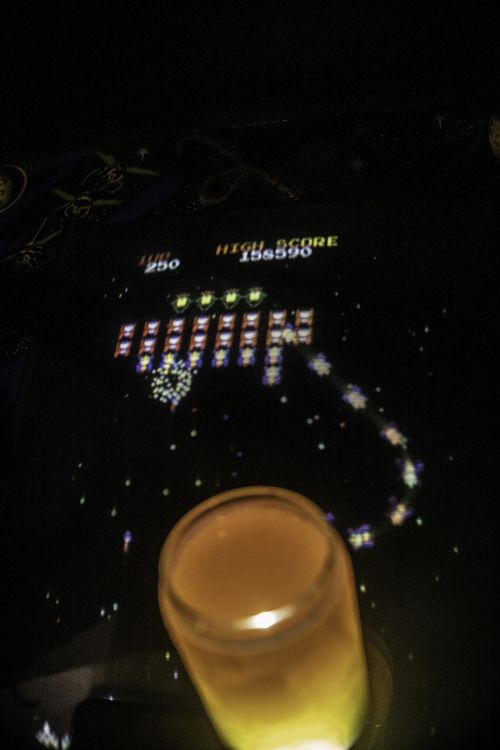 Our first beer that we chose, and the first on the tap list was the Peanut Butter porter. This was a lighter bodied version of what I have come to expect in porters in general, and certainly wasn't as high gravity, but drinkable. The peanut butter was present and effective. For the pairing we chose Marvel versus Capcom. It seemed like a solid fit as with the tag team fighting style in this game, it may be more of an extended campaign, and with the many secret characters that can be unlocked, you may find some very surprising combinations. Like peanut butter and beer.
The second on the tap list was the HDS Stout. This is as it is described, a pretty non-distinct stout. It's a solid beer, and it's certainly drinkable. The roasted malt was flavorful and not overpowering. It was chocolatey, but also a bit lighter in body. We paired this beer with Street Fighter. When we thought of Stout, we also thought of its homonym and which character we would consider to be "stout." We settled on Street Fighter because of everyone's favorite sumo, E. Honda! His furious flinging hand can destroy almost any character and when button mashing, he can even compete against Ryu's Hadouken!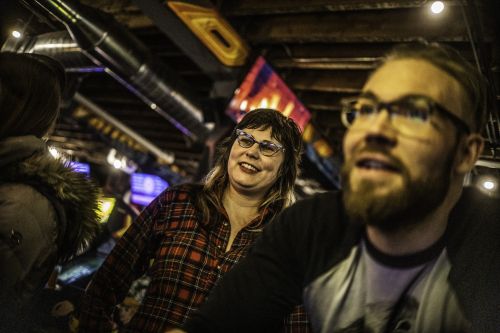 The third beer was the PunKrang Ale. I begrudgingly tried this beer, and was pleasantly surprised, while my motto most of the time is to keep your pumpkin out of my beer and coffee. This concoction built for Han Solo season wasn't bad and paired with a TMNT side scroller it may be even more enjoyable, especially after beating Krang with your nunchucks.
The Jon Luck Pickard was an English bitter, this beer was tasty and had a great flavor profile, but just to be jerks we decided to pair this with the modern Star Wars game. We do realize that Jean-Luc Picard doesn't belong to this specific sci-fi franchise, but that's what makes this pairing even better. It may make some laugh and others cringe, and honestly if Pixeled was going to name a beer after a franchise, maybe they should have picked up the original 1982 Star Trek cabinet. Although I did notice that they do have the original 1983 Star Wars Death Star Destroyer cabinet and it's not even listed on their website! I didn't have the opportunity to play it, but I will surely return.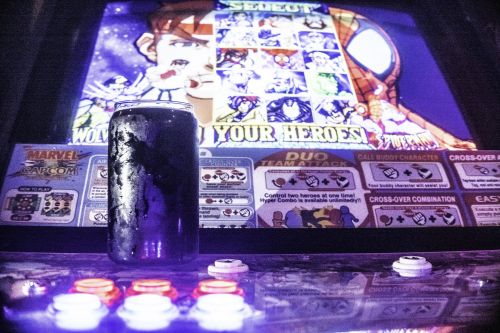 The fifth and best beer on tap was the Tecmo Bowl Blonde Ale. This was a super drinkable beer that paired perfectly with Galaga, it's the kind of beer that you can stop mid-game, pound and still have room for another. It's a fast drinker with a low abv that will allow you to play fast and hard all night. It was smooth and delicious. I know how intense Galaga sessions get and being able to chug this beer mid game makes it a winner.
The brewing system being used at Pixeled is far from standard and must have a learning curve associated. The system is referred to as a Unitank. This type of system uses a single tank to brew, ferment, brite and serve your beer. This is traditionally done in multiple vessels, and by consolidating the process, you not only lose flexibility in your brew schedule, it holds up fermentation capacity. This being said, as profit and necessary volume increases the tanks can be converted to a more traditional brewing system, and capacity increased.
I look forward to seeing more consistency and volume coming out of the brewers. I think they are onto something with the accessibility of their current holdings. This will be good for craft brewing as a whole in Fargo, as it may add an introduction point that makes people say, "Wow, I really can enjoy craft beer." Can we call Pixeled's brewing a gateway to the craft beer scene? I hope so.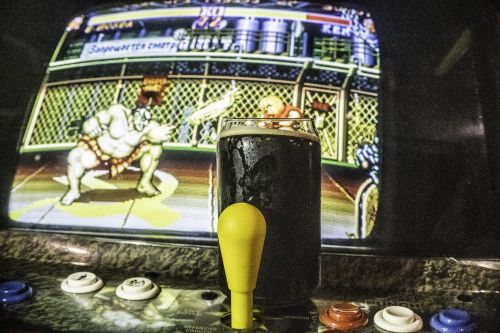 The nostalgia that Pixeled brewing presents is fantastic. It allows for introverts to leave the house and once again socialize. It pulls us away from cell phone games, and once again into a social circle full of social lubricant. This is a fantastic concept, and I hope with time the beers improve, as they usually do with experience. I will surely return to Pixeled in the future to blast a few aliens, shoot some terrorists, and sample what they have brewing. This is a great environment to meet a few friends or possibly even find some new likeminded new ones. Pixeled brewing is not only thinking out of the box, but also out of the cabinet.