Handmade for the holidays
by HPR Contributor | .(JavaScript must be enabled to view this email address) | Culture | November 15th, 2018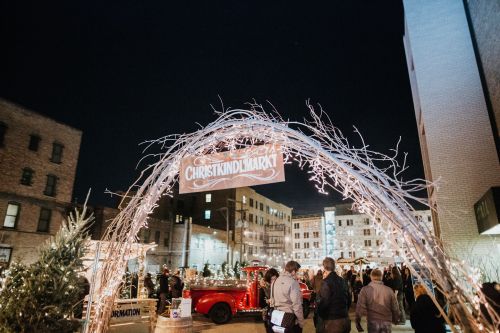 by Emma Garton
egarton@cord.edu
The air is getting chillier and the wind is getting stronger, but downtown Fargo has plenty of options to warm up the heart. In the coming weeks, Fargo will be bursting with options for different holiday markets and craft festivals to support local artists and businesses and spread some Christmas cheer with the whole family.
There are several markets and fests coming in the next few weeks, all of which have free entrance and are family friendly. Some to look out for include the Native American Arts and Crafts Festival, the Holiday Market, the Holiday Art Market at APT, Folkways Christkindlmarkt and Drekker Holiday Very Merry Market.
The Native American Arts and Crafts Festival will be held on Nov. 17 this year from 11 a.m. to 4 p.m at the Plains Art Museum, 704 1st Ave. North, Fargo. The NAACF varies from some of the other craft markets in town in a few ways, the biggest of which being that all the work is handmade by Native artists from the Midwest region. At the market, shoppers will find a variety of artwork including sculpture, fine art, pottery, beadwork, jewelry, handmade bags and more, according to Director of Native American Programs at PAM, Laura Youngbird.
"This is a great opportunity to meet Native artists and find unique handmade gifts in time for Christmas," Youngbird said. In addition to vendors, the NAACF will feature live music by Bryan Akipa, activities and games for children and mini Indian tacos made by Daughters of the Earth.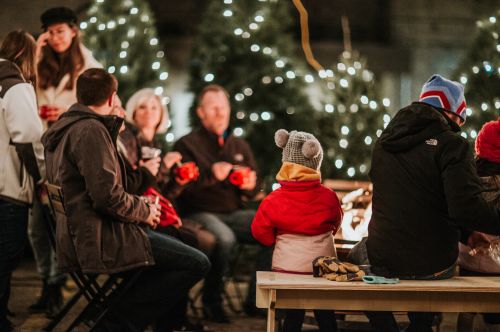 The Holiday Market is coming to Fargo for the first time on Nov. 20 from 4:30 p.m. to 9:00 p.m. It will be held in the atrium of the Black Building, 118 N Broadway in Fargo.
A truly family-focused event, this holiday market will host plenty of shopping as well as a holiday-themed photo booth and free kids crafts offered by the Audubon Society and the Concordia Language Villages. There will also be a DJ playing some holiday music to add to the cheer. The shopping at the market will consist of vendors selling treats, jewelry and more.
The Holiday Art Market at the Arts Partnership will host a total of nine markets on various days throughout the coming months, beginning on Saturday, Nov. 24 from 10:00 a.m. to 6:00 p.m. For exact dates and times, you can check them out on Facebook or at their website at www.theartspartnership.net/apt. The markets are held at APT, a Creative Incubator, at 225 4th Ave. N. in downtown Fargo.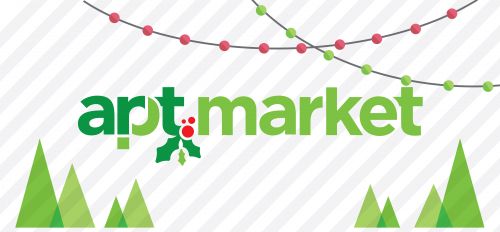 This market will feature all kinds of artists selling their work, including ceramicists, painters, printmakers, woodcarvers and more. Chelsey Ewen from The Arts Partnership is excited by the opportunities to talk with artists about their work and their process. This market is a bit different from some others in that you get to buy artwork straight from the studios where it is created.
"It's a convenient way to shop for local art and get to know the artists right in their creative spaces," Ewen said. Parking can be tricky with the construction happening across the street, so they suggest carpooling or parking a few blocks away if possible.
Christkindlmarkt, held at the Stone Building, 613 1st Ave. North in downtown Fargo. It will run from Thursday, Nov. 29 - Dec. 1, from 5:00 p.m. to 9:00 p.m, and will run 12pm-5pm on Sunday, December 2. A full schedule of events is available at www.xmasfargo.com.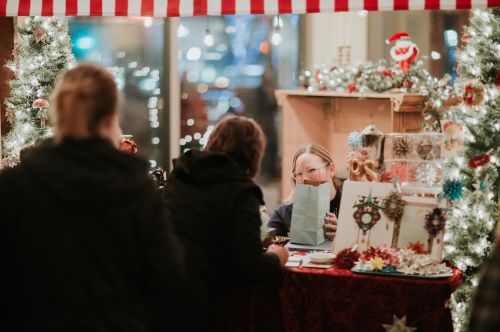 Christkindlmarkt is hosted by Folkways, which works with small businesses, artists and musicians in the community to help Fargo grow. It's a German-inspired celebration only going into its second year. Folkways member Simone Wai is a co-organizer of the event.
"The Christkindlmarkt gives our community a chance to slow down and enjoy what can be a chaotic time," Wai said. "We hope you can take a moment to relax and reconnect with friends and neighbors during this holiday."
The Christkindlmarkt is held both inside and outside and features live blacksmithing demonstrations and glass blowing. Indoors, the market hosts local artisans, selling artwork, gifts, décor, and treats. Upstairs in the Beer Hall, Front Street Taproom will offer locally brewed German-style beers, as well as homemade mulled wine. The Beer Hall will also be home to live music each evening.
Drekker Holiday Very Merry Market will be enjoying its fourth year on Dec. 16 from 2:00 p.m. to 8:00 p.m. This market is the product of a partnership between Drekker Brewing and Unglued, held at Brewhalla, 1666 1st Ave N,Fargo.
For this market, Drekker provides the venue, environment, and craft beer, while Unglued covers the organization details with makers and day-of details. They both work together to promote the event and think of fun things to add to the market, according to Unglued organizer Ashley Morken.
In addition to craft beers, this market offers plenty of food, gift and art from about 30 vendors from the Fargo-Moorhead area. There will also be a food truck nearby to satisfy any immediate pangs of hunger. There are also free projects to give everyone an opportunity to get creative.
"These markets that Drekker host have such a fun, lighthearted vibe with a whole lot of awesome packed into them," Morken said. "Hosting it in a brewery creates a totally magical atmosphere that invites everyone to just come and have fun."
So, grab a holiday wishlist and get shopping. There's loads of drinking, crafting and buying to do in the next few weeks.