​Poking around FM Acupuncture
by Logan Macrae | .(JavaScript must be enabled to view this email address) | Culture | June 27th, 2018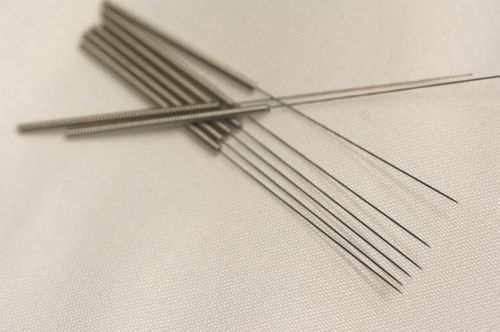 I'm not a skeptic, at least not about acupuncture. The thought of the needles however throws me off. I'm not the biggest fan. I donate plasma on a regular basis, and I am proud to say that I no longer look away when they stick me.
I have begun to think that I actually watch in defiance, as if I'm looking my fear in the face and in my head I am yelling, Stick me. Do it!"
I was looking for a bit of a calmer and less machismo experience when I went to go see someone for acupuncture. My shoulders have been killing me, I have jaw issues, and I was just reaching for some overall pain relief. I decided to go see Lexi at FM Acupuncture. I had heard great reviews from my peers and I try to stay away from pharmaceuticals and western medicine as much as I can.
I arrived at Lexi's shop early on a Tuesday. I had a tightness between my shoulder blades, and my jaw was exhausted from too much clenching. When I arrived at Lexi's office, it was very clean and bright. I was initially relaxed based purely on environment and the vibe given.
I sat down, and we discussed my symptoms, and I could tell by the wheels turning in her head that she was working out a battle plan, like where to place the needles to give relief to what parts of the body. Lexi has a PhD in acupuncture and I knew I was in good hands. Every time we cross paths she tells me about what new program she's studying and how she can better the health of those around her. She really cares about the human condition and providing care outside of the western medicine box.
I laid down on her table, and she felt out my spots of tension. Some of them were a bit tougher than what she thought acupuncture would help, so she informed me that she would also be doing some cupping. This treatment was a new experience and while my back is rather ripe with hair, she did get the small glass globes to successfully adhere to my skin and I truly felt relief.
After she performed the cupping she got to the needles, and some serious relief. She placed a few in my back. One in my ankle. Another in my neck. The ankle was for digestion, as my stomach is a mess most days, and the others were "pinpointing" the pain directly.
After all the needles were removed and my treatment was over, I was ridiculously relaxed, so much so that on my drive home, I looked down at the speedometer and saw that I was unintentionally over the speed limit by almost 30 mph. I laid down when I got home and slept like a rock for 2 hours. My level of relaxation allowing me to do so.