The Community Uplift Program
by Faye Seidler | .(JavaScript must be enabled to view this email address) | Culture | February 22nd, 2017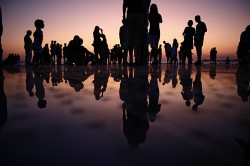 The Community Uplift Program (CUP) is a nonprofit organization that seeks to provide stability and support for youth and young adults who are experiencing a life crisis, with an emphasis on the marginalized populations who need it most.
A crisis can range anywhere from homelessness, suicidal tendencies, or a drug addiction, to things like anxiety and depression. CUP does so by offering a holistic case management approach to address the multifaceted set of problems an individual may face.
In the long term CUP hopes to accomplish their mission by opening an emergency shelter with on-site counselors, a venture that is in need of funding. Currently they run a monthly discussion group that is facilitated by licensed counselors from varying backgrounds, as well as monthly community events to bring awareness to their cause.
As they seek funding they continually refine their mission through community input and networking with other organizations within our area. They aren't waiting for full funding to get to work, but they are limited in their reach while they are still building capacity.
Please check out their facebook at https://www.facebook.com/pg/communityupliftprogram for more information about CUP, including ways to offer help, monetary or otherwise! I had the honor of sitting down with CUP's Executive Director Cody Severen to ask a few questions about the program!
High Plains Reader: What is your role with The Community Uplift Program?
Community Uplift Program: My role within CUP is that of the Executive Director. Currently I'm working on writing grants to fund us, as well as coordinating our different efforts to effectively help the community - such as expanding the Red River Trans and Non Binary Clothing Exchange and our (hopefully) monthly trip to the cities to help our Trans community. I'm really a jack of all trades within CUP at the moment, but I couldn't do it without my team!
HPR: What inspired you to start this program?
CUP: Growing up, I didn't have a lot of outlets to help me identify myself, who I was. I've realized that was a common thread amongst us queer folk. I've also been working with disenfranchised people for a while now, and I've come to understand that we have both a lack of resources for them and a lack of understanding of their plight, and I want to help expand both of those within CUP.
HPR: What unique value does this program bring to the table?
CUP: We will bring together an emergency shelter, a drop-in center, and a therapy center, which will give a holistic approach to at-risk individuals in one place -- which Fargo does not currently offer. We offer case management within shelters right now, and thrift stores, but we don't offer group or individual mental health assistance free of charge yet. We aim to be able to assist with both basic life needs and long-term care in one place, at one time, and at no cost to our clients, for the purpose of better equipping them to handle what the world has to offer.
HPR: How can individuals get involved with this program?
CUP: Right now we're looking for volunteers to help with the Red River Trans and Non Binary Clothing Exchange and our community events, which you can find on our Facebook page. Once we get the funding (which we currently have a YouCaring campaign set up for) we will need more assistance with our trip to the cities. But, it's always helpful to have more community members help out with community events!
HPR: Are there additional comments you'd like to make about this program?
CUP: We are grateful to our team of counselors: Rebel Marie, Naomi Tabassum and Amanda Mattern; as well as our Director of Operations, Sarah Benson, for everything that they do! Also, Anne Bradley with Boneskot has been amazing with supplying space and helping with art, and Wyatt Johnson for designing media for us as well! We're looking forward to having a building soon and helping out our community members in a more meaningful way. Right now, we're in talks with area endocrinologists to assist with making appointments and getting people in to see them, to get the help that is needed.
[Editor's note: Faye Seidler is the North Dakota Safe Zone Project Spokeswoman]