2015 Studio Crawl
by Sabrina Hornung | .(JavaScript must be enabled to view this email address) | News | September 24th, 2015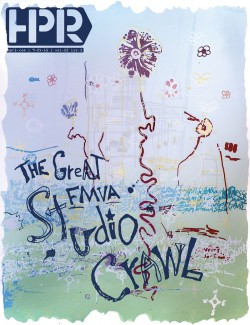 2015 marks the 12th annual FMVA Studio Crawl, the Fargo-Moorhead Visual Artists' largest event. This year there are 34 participating local artists who clean up their studios and invite the public to see where the creative magic happens.
The event will take place the weekend of Oct. 3 and 4 from 12 p.m. - 6 p.m. Crawlers will have the opportunity to connect with local artists, build up their art collections, witness artist demonstrations and perhaps even enjoy an occasional refreshment or hors d'oeuvre along the way.
"Based on feedback from artists I think about 5,000 guests will make about 15,000 visits," says Jon Offutt, FMVA board member, executive director of the studio crawl and participating artist. Though there are a few less studios participating this year, there are some fantastic new additions to the lineup, including Amanda Heidt at the Plains Art Museum's print studio, and two working tattoo shops.
Participants include emerging artists, established artists and arts educators. Studios include home studios, downtown studios, co-ops and one studio located in a 100-year-old granary. "Each year a juror is selected and they examine the images of the applicant's work and studio," Offutt says. Past jurors have included Taylor Barnes, former executive director of the Jamestown Arts Center, Brenda Bjorlie, former executive director of the Nelson County Art Council, and former NDCA director Jan Webb.
The tattoo shops are two very new additions to the crawl. Until this year businesses were not allowed to participate. "Our business is centered around tattooing, almost all of our employees create art outside of work in one form or another so we are ecstatic to have the opportunity to exhibit together in our studio," says Laura Sefkow, proprietor of Addictions Tattoo & Piercing. "We also look forward to educating the public about tattooing if anyone who stops by is interested." All of the Addictions artists will be tattooing during the studio crawl, and crawl participants are encouraged to watch and ask questions about the process and tattooing as an art form.
Not only will tattoo flash, i.e. drawings of pre-designed tattoos be exhibited, but paintings, prints, photography and even hand-made jewelry will be on display.
No Coast Tattoo is the second participating tattoo parlor. During the crawl, half of the shop will be working on tattooing, while the other half will be working on drawing and/or painting tattoo flash. "We are just giving people who aren't familiar with the tattoo process the opportunity to walk through the shop while procedures are taking place," says tattoo artist Brice Schneider.
While the folks at Addictions and No Coast demonstrate on a flesh canvas, artists participating in the studio crawl work in a wide variety of media, whether it be MaryJo Caley's pysanka (Ukrainian Eggs), Karman Rheault's beautifully dynamic metalwork, or glassblowing by Jon Offutt. Throw in some raku-fired pottery, ceramics, fiber arts, watercolor, acrylic, oil, photography, wood carving and so much more.
Kent Kapplinger, Eric Johnson and artist-in-residence Malcolm Thompson will be doing printmaking demonstrations at The PEARS studio (Printmaking Education and Research Studio) located at NDSU Renaissance Hall on NP Avenue. Work is displayed from the "Polk Collaboration," in which PEARS students and staff worked on a four-color lithograph during Tucson-based printmaker Kathryn Polk's four-day residency.
In fact Eric Johnson was commissioned to create a limited edition screen print to grace the cover of this very issue of The High Plains Reader. It is titled "Studio Scrawl."
Johnson, who recently started driving for Uber -- which is a ridesharing app for smart phones -- got a ride request from HPR publisher and graphic designer Raul Gomez. The two ended up talking and all points led to the two collaborating on a cover.
"Design-wise, Raul had asked that it be 'crawl related,' so my main inspiration was the crawl brochure and all of the artists and locations of their studio," says Johnson. " I literally included everyone from the brochure, and tried to do some automatic drawing and writing about the crawl. All the writing might be hard to see now, but all the studios are in there. I also used something that Jon Offutt usually says, 'make good stuff,' in the print. It's a different-looking print for me, but I like to try new things."
A special edition of the HPR cover print (minus the logo and writing) will be available in Johnson's studio during the crawl, as well as recent 1"x2" prints, as well as larger prints, and maybe even a sneak peek of work yet to come for his upcoming Rourke exhibition scheduled for April 2017.
Also as part of the crawl, on Saturday, Oct. 3 from 4-7 p.m. there will be an opening reception at Nichole's Fine Pastry for a group exhibition, titled "Chocolate + Art." It features the work of seven fiber artists' interpretation of the phrase "Jumping Through Hoops."
Underbrush Gallery will be hosting an opening reception for Sandi Dahl and Corey Hamilton. Underbrush also features the work of multiple artists throughout the region.
Gallery 4, LTD will also be hosting "The Miniature Show," which consists of pieces of 4-by-4 inch work in celebration of the Gallery's 40th anniversary. Demonstrations will be going on through the duration of the event.
The Hodo will be featuring an artist market outside of the building during both days of the crawl as well as live music in the evening via singer-songwriter night.
The Rourke Art Museum in Moorhead, Plains Art Museum and The Historical and Cultural Society of Clay County at The Hjemkomst Center grant studio crawlers free admission. Present your studio crawl brochure to the gallery monitor and you're good to go.
IF YOU GO:
FMVA's 12th annual Studio Crawl
October 3 and 4, 12 p.m. - 6 p.m.
Help Support Eric Johnson's 2017 solo exhibition
https://www.gofundme.com/BigOakPress