​A 'Democratic bloodbath' in North Dakota
by C.S. Hagen | .(JavaScript must be enabled to view this email address) | News | November 7th, 2018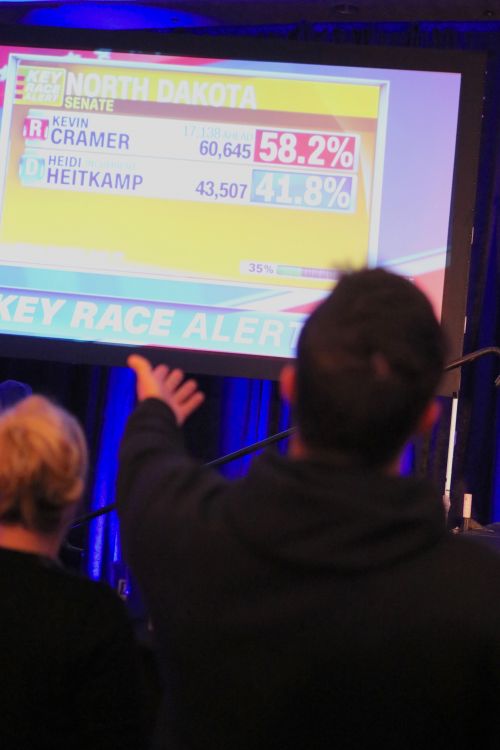 FARGO — The promised blue tide didn't sweep North Dakota; the state is redder than before. Across the nation, however, Democrats won majority of the U.S. House and Congress is now split. Republicans increased their hold on the U.S. Senate as one of the nation's most watched races featuring Heidi Heitkamp fell to her opponent Congressman Kevin Cramer.
Cramer is now one of two Republican U.S. Senators in North Dakota, and attorney Kelly Armstrong took Cramer's seat, the only U.S. House of Representatives spot for the state.
Nationally, Democrats who won the U.S. House, many of them women, are considered moderates by analysts, meaning that leftist approaches siding with Senator Bernie Sanders did not come out on top during the 2018 midterm election. Now that the Democrats have control of the House, however, and Nancy Pelosi is the Majority Party Speaker, they can begin to hold a list of government-employed people to account on ethics violations.
"We may have lost an election but we haven't lost our enthusiasm for the state of North Dakota," Heitkamp said during her concession speech at the Doubletree from Hilton's conference hall. "We have not lost our enthusiasm for political activism and a different point of view and there will come a time… when someone will stand on this stage from the same political party and declare victory."
Heitkamp knew when she started the race that she would be facing a "tough head wind," she said. By the time nearly all precincts closed, she had narrowed the gap with Cramer to less than nine points. She won Cass County by nearly 16 percent, but lost Burleigh County by nearly 24 percent.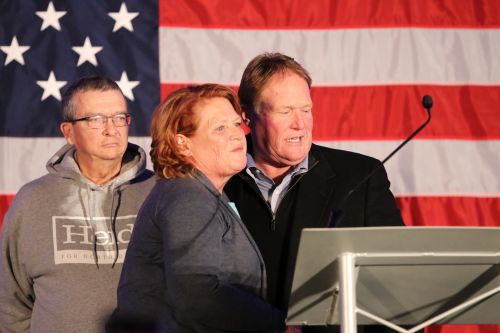 "It seems like a bitter thing to lose a race, but the worst thing would have been to never run at all," Heitkamp said. "Because we put the protections of pre-existing conditions on the table, they will never take away your pre-existing conditions. We exposed a plan to reduce Social Security and Medicare… now they will have to live up to their promises."
"The fact that Heidi Heitkamp lost means that we have more work to do," Kylie Oversen, who lost her race for Tax Commissioner against Republican Ryan Rauschenberger said. "We can't go home and shut the doors and close the curtains, we have to go back out there."
"We will not give up," the crowd cheered. "We will not give up."
Grand Forks Attorney David Thompson, a Democrat, also lost his race against Wayne Stenehjem saying that when he first arrived in North Dakota in the 1970s the state was a moderate and fair place.
"We're watching a Democratic-NPL bloodbath tonight," Thompson said. "North Dakota has gone from being a moderate magnificent place where people care about their neighbors, to becoming mean and selfish. A mean and selfish party is in one party control right now. I don't think these are normal times, so I will say what I think tonight."
"If he [Stenehjem] is around in four years and wants another term and my party wants me I am going to be there too. There is going to be a better tomorrow, but I'm convinced tonight it will come when people are hurting again, and I'm sorry about that."
When meanness gets put back in the closet, Thompson will be back, he said.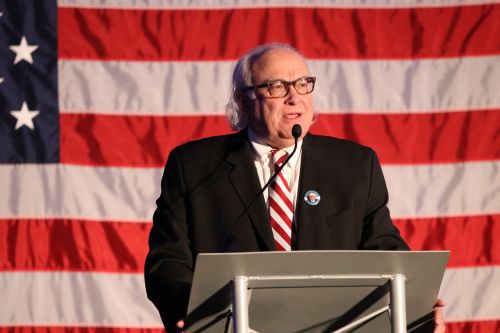 For North Dakota Secretary of State, Democrat Joshua Boschee lost to longtime office holder Alvin Jaeger. Jim Dotzenrod, a Democrat, lost his race for Agricultural Commissioner against Republican Doug Goehring. Randy Christmann, a Republican beat Democratic-NPL challenger Jean Brandt by about 20 percent, and Brian Kroshus beat out Democrat Casey Buchmann for a two-year term for Public Service Commissioner. Lisa Fair McEvers won a seat as a Justice of the Supreme Court by nearly 33 percent.
In state legislature, state Democrats had some interesting wins.
Pamela Anderson, a Democrat, and Republican Michelle Strinden beat North Dakota's House Majority Speaker Al Carlson in South Fargo's District 41.
Democrat Ruth Buffalo and Republican Thomas Beadle won in District 27, South Fargo.
Democrat Erin Oban beat Republican Gary Emineth in District 35, Bismarck.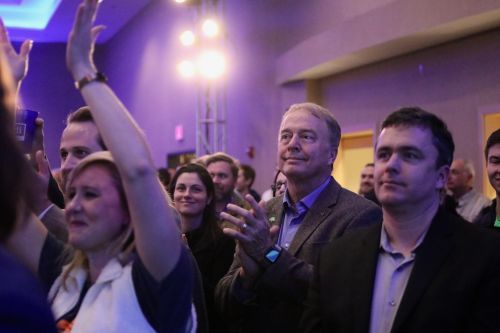 Early in the evening at Democratic-NPL headquarters, both statewide measures 1 and 3 were taking massive hits while Measure 2 and Measure 4 had already pulled far ahead, according to the North Dakota Secretary of State. Measure 1 aimed to establish an ethics commission, and by 9 p.m. began to pull ahead. By midnight with 397 out of 424 precincts accounted for, it had passed by 53.79 percent.
The measure was started by two #badassgrandmas, Republican Dina Butcher and Democrat Ellen Chaffee.
Measure 2, initiated by Gary Emineth, asked voters to change the wording of the North Dakota Constitution to include "only" U.S. citizens to be eligible to vote, and it passed by 65.3 percent.
The controversial Measure 3, which sought to legalize recreational cannabis, came two years after more than 64 percent of North Dakotans voted to legalize medical marijuana, but failed by nearly 19 percent.
Measure 4 was written to allow free access to state parks and personalized license plates for volunteer emergency responders, and it passed by 64.29 percent.
In Fargo, the initiated measure for approval voting also passed by a wide margin.
"You just made American history, Fargo," one of the bill's founders, Andrea Denault, said on Facebook. "We are the first city in the United States to do away with choose-one voting in favor of approval voting. This was a long-shot campaign with a hard sell."
Approximately 60 Native Americans ran for political office around the nation this year. Democrat Sharice Davids, a former MMA fighter beat Kevin Yoder by more than 20,000 votes for the U.S. House of Representatives in Kansas. Deb Haaland, a Pueblo of Laguna, will be representing New Mexico in the U.S. Congress.
Ruth Buffalo, a member of the Mandan, Hidatsa Arikara Nation, and from Fort Berthold Reservation, will be the only Native woman representing Fargo in the state legislature.