City Hall open for business
by C.S. Hagen | .(JavaScript must be enabled to view this email address) | News | December 4th, 2018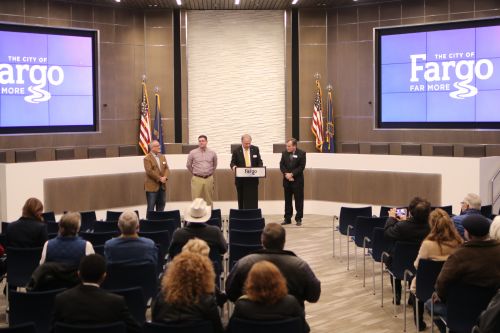 FARGO – City Hall may have taken a little more taxpayer money than originally expected, but it is now fully operational and ready for business.
Although the 215 office workers began moving in following a ribbon-cutting ceremony in September, the City of Fargo officially opened to the public on Tuesday. Initially projected to cost $22 million, the 150,000 square foot city center ended up costing close to $30 million.
Newly completed City Hall's location was chosen to defy the Red River, Mayor Tim Mahoney said.
"We built this by the river because we wanted to showcase that we can build by the river… we're going to harness the river," Mahoney said.
Behind him, 13 chairs around the semi-circular commissioners' table foreshadowed possibilities of increasing the numbers of commissioners, or perhaps even a future upgrade to a city council, Mahoney said.
The building is modern, simple, built with steel, concrete, synthetic limestone, and is representative of the city. So far, four Native flags are impossible to miss upon entering the front doors, and a painted buffalo is displayed on the left.
Artists Kim Jore, a hair stylist, built the buffalo partly out of human hair to represent diversity featuring two Native chiefs: Rain In The Face and Henry Bright Wings, who are looking over the Badlands and additional portraits of different races.
Artwork from thirty different local artists is displayed prominently inside. The halls are streamlined, comfortably lit, welcoming, and easy to navigate the various departments.
Instead of Gothic spires or stone-like castle walls, architect Terry Stroh said the modern style is what the city wanted.
"We're in an age of modern architecture," Stroh said. "And you see the architecture is less expensive than real limestone."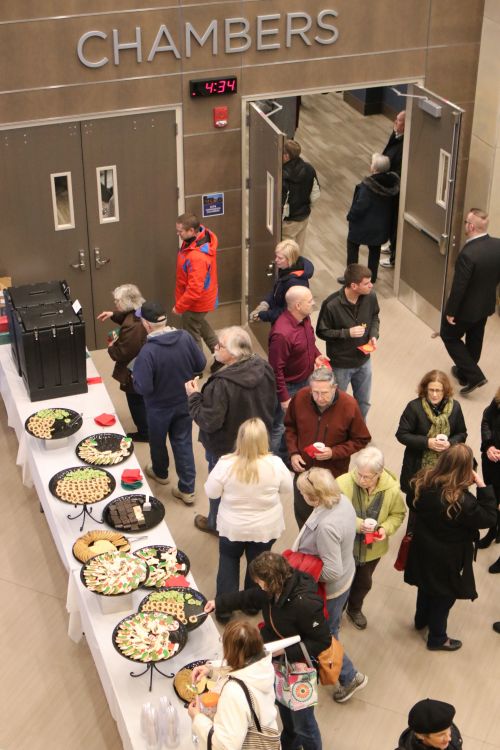 All attempts were made to acquire materials for construction locally, for instance, bricks used throughout the project were baked in North Dakota, Stroh said.
Mahoney first thanked the taxpayers and those involved for funding the project.
"This building is truly a representation of our community," Mahoney said. Simple, and not excessive, he said.
"We also made it difficult to see the commissioners and the mayor because we're all on the third floor, Mahoney said, joking.
What will happen to the old temporary City Hall at 200 Third Street North? The Red River Valley SWAT Team will be conducting training exercises at the old City Hall on Wednesday between noon and 8 p.m., Fargo police announced.