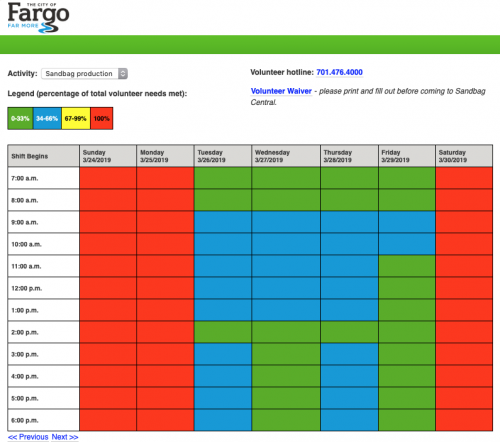 FARGO – The city is requesting help from the public to produce one million sandbags in preparation for the 2019 Spring Flood. There remains a 10 percent chance waters will rise up to 40.3 feet, higher than the flood of 2009.
Two hundred volunteers are need at all times to work in shifts every weekday next week starting on Tuesday, March 26 at 7 a.m. at Fargo Sandbag Central, 2301 Eighth Avenue North.
The City of Fargo does not anticipate volunteers will be needed on the weekends at this time.
"It is critically important for everyone to know that we need the public's assistance in this time of need," Mayor Tim Mahoney said. "We cannot be complacent. Once again, we need to see the Spirit of Fargo across our volunteer efforts. Working together, we're all committed to successfully protecting the Fargo metro."
Those interested should register at www.FargoND.gov/FloodVolunteers. Students at schools, such as Ben Franklin Middle School 8th graders, are already scheduled in to produce sandbags next week.