Killing Columbus
by Winona LaDuke | .(JavaScript must be enabled to view this email address) | News | October 1st, 2015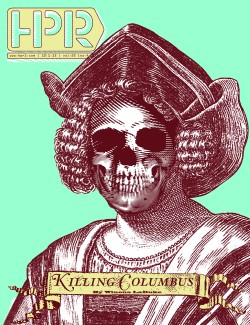 A proud day
It is coming up, that Columbus Day. I'm a big fan of the Italians. I love the country, the food, the art, and the people very much.
But I am not in favor of Columbus Day.
Not like the guy didn't take a big sailing trip, but there are two major problems I see with continuing this holiday: first, the BC thing, or Before Columbus. Thousands of years of indigenous thriving on this land were erased in history by contact, as if we did not exist.
Ten thousand years of history right here in the upper Missouri -- today the oil fields -- was the epicenter of agriculture in the region, the fertile crescent of the Northern Plains, and the source of about a third of the agrobiodiversity in corn varieties in North America. That was a gift to us all, but you wouldn't know it from North Dakota history books, would you? So maybe we could learn something from history.
The post-Columbus era has not worked out so well for most of us. About 99 % of our people were killed or perished in the two centuries after Columbus. Celebrating all of that, really, is salt in a wound to native people, and does nothing to heal the country.
This last year, I celebrated Indigenous Peoples' Day in Minneapolis, and it was great. Minneapolis is the third major U.S. city to declare this holiday. Nearly a thousand people showed up at the American Indian Center to celebrate.
Minneapolis City Council member Alondra Cano emceed much of the event, speaking of the history of courageous leadership of indigenous peoples to keep culture, traditions, language and land intact. Wearing a traditional embroidered blouse from Mexico, Cano exemplifies the complexity and the beauty of our times. Born in Chihuahua, Mexico, she is the first Mexican American woman to be elected to the Minneapolis City Council. She was joined by Peggy Flanagan, (White Earth Tribal member and former Minneapolis School Board member), in emceeing much of the event. These women represent some of the leadership of indigenous women in modern politics.
We are a multicultural society, and on Indigenous Peoples Day, that is celebrated. Last year's event was well attended. Minneapolis Mayor Betsy Hodges proudly came, Senator Al Franken told of his work on the Violence Against Women Act, State Representatives Karen Clark, Keith Ellison, Susan Allen and others spoke, along with many community leaders.
This was, not an apologetic, halfway celebration. It was full of vitality, dignity, fanfare and pride, ending with a fabulous "pre-colonization feast," provided by the Sioux Chef Sean Sherman, who will soon be opening a pre-contact gourmet food restaurant in the Twin Cities.
I myself hosted a feast by the Sioux Chef at the Hotel Donaldson last winter, and I think that amazing event could be a City of Fargo event, a celebration of the world of indigenous peoples and foods.
Let's take, for instance, chocolate, corn, avocados, tomatoes and potatoes; all western hemispheric in their origins, and world cuisine has not been the same since their introduction.
As a child, I choked down the Columbus Day holiday, as if millions of people did not exist until discovery. As if Columbus and those who followed him did not murder millions or ensure that native children were torn apart by dogs in front of their families.
When Columbus Day was recognized as a federal holiday in 1934, Native American nations and communities had little voice and the Indian Reorganization Act had just been passed. Land seizures under the General Allotment Act were minimally stopped, but First Nations were still reeling from the Indian Wars, the boarding schools, the epidemics which continued to plague our communities, and the undermining of indigenous cultures, languages and religions.
The Indian Termination Act was passed in l953, a sort of final solution to tribal political power. Police brutality against native people, now forced by the hundreds of thousands into urban areas by the Relocation Act, was frequent and widespread. And in a country founded on religious freedom, native religions were outlawed until 1978.
Indigenous Peoples Day gives us credit for surviving and flourishing.
In contrast, Columbus Day is a metaphor and painful symbol of the traumatic past and ongoing legal injustices. Roxanne Dunbar Ortiz, author of "Indigenous People's History of the United States," explains. "None of Columbus's voyages touched the continental territory now claimed by the U.S. Yet the United States soon affirmed that a 15th century Papal Bull, known as the "Doctrine of Discovery," applied to the indigenous nations of North America. This remains U.S. law, stating that Native nations are "domestic, dependent nations with no inherent rights to the land."
As evidenced by the current debate surrounding the Washington football team's name, words are profoundly important. The recent state court decision upholding that the name the Redskins was racist, means it's time to move on.
Indigenous Peoples' Day was first officially observed in Berkeley in 1992, five hundred years after that fateful arrival. For twenty-two years, the steps forward in the transition were slow, meeting with conflict. Like the case of the Washington Football Team, or the former Fighting Sioux of UND, words mean something, and imagery is held onto for generations.
That is, until this year, when Minneapolis took the first step, followed by Seattle, to become cities which no longer celebrate Columbus, and now celebrate indigenous peoples. Duluth and Red Wing are among them.
Fargo, it's your turn. Park Rapids, join us.
I'm going to keep enjoying Italian food, and I won't forget the Italian lullaby my mother sang me. Letting go of Columbus Day just means releasing our minds, schools, institutions and society from a false story. The truth is more painful, but far more beautiful.