Could be only dispute as pipeline gets fast-tracked
James Botsford, a Wisconsin attorney who owns property in Grand Forks County, is likely to be the lone holdout as Enbridge Energy Partners tries to build the Sandpiper Pipeline across the upper Midwest. Enbridge's pipeline, through a partnership with Marathon Petroleum Corporation, will bring Bakken crude oil to Canada.
Botsford is a North Dakota native and went to school at the University of North Dakota. He owns land a couple miles west of Emerado and 20 miles west of Grand Forks. Enbridge is planning to run the Sandpiper through this land, which has been handed down to Botsford through family. The company has offered several prices to buyout the land but Botsford is refusing to sell.
"My wife and I are very concerned about what I think to be an outrageous taking of our private property by a multinational company with a terrible track record for spills and leaks that would destroy this family legacy land," Botsford told HPR. "I am deeply troubled by the continued exploitation of fossil fuels and what it's doing to the environment. The terms of Enbridge's lease I find alarming. In this lease, they assert they have a perpetual right to this easement on our land.
"This cloud will be on the title of that land forever. They get this lease and easement even if the pipeline is never finalized and built. They get to sell this lease to any other entity anywhere for any other purpose, forever. I just don't see how that squares with the constitutional provision of the takings clause allowing the government to take your land for a public purpose. To me this is a way overreach. The ND Public Service Commission has delegated too much power to Enbridge."
The North Dakota Public Service Commission, in approving the project, has given eminent domain authority to Enbridge Energy, which allows the company to take land in dispute as a public utility. Because Botsford has refused to sell, Enbridge has decided to sue for the right to the land. A jury trial is set to start on Aug. 11.
"We do our best to come to amicable agreements with all landowners, and in fact we've signed easement agreements with 95 percent of landowners along the Sandpiper route," said Lorraine Little, an Enbridge Energy spokesperson. "Specifically in North Dakota, we have 799 landowners who are along the Sandpiper route, and we only have one case that we expect to go to court in North Dakota."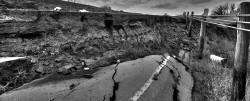 "We've had a fair amount of time to work on the route and to work with landowners on the route. Using condemnation or eminent domain authority is always our last resort in that we work hard to come to amicable agreements with all of the landowners along our route. Striving to find resolution that works for both the company and the landowner is always our first choice. If at some point it becomes obvious there needs to be another party to help negotiate through that process, that's the point in time that we look to use condemnation."
Little said Botsford's refusal to sell has not held up construction on the Sandpiper project. Right now, Enbridge is waiting on approval for the project in Minnesota, which has been harder to come by than in North Dakota.
"We have everything that we need in North Dakota, so we could conceivably begin construction at any point in time, but we are waiting and working through the Minnesota regulatory process until we start our pipeline construction," Little said.
"Because if you think about it, pipeline construction is sort of like an assembly line. So once we get the 3,000 markers that will be associated with this project, once we get them assembled, we get all the heavy equipment out and we get people working on the right of way. It doesn't make a lot of economic sense to stop at the border. So once the Minnesota process is completed, we will begin construction on both segments."
Landowner Botsford hopes public sentiment in the future prods the ND Public Service Commission to not always approve these projects and have more protections for landowner rights.
"As a North Dakotan myself for several generations, I believe there is a very pragmatic streak in North Dakotans, and they are maybe getting the bum's rush on this thing," Botsford said. "If they looked a little more carefully at it, they maybe wouldn't be so kind and generous to corporations from the outside."