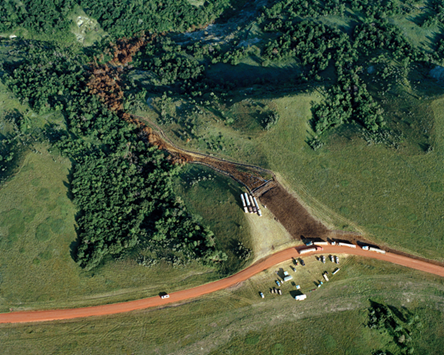 WATFORD CITY – A reported 10-gallon spill of liquid gold at the Garden Creek I Gas Processing Plant in 2015 – just before the Dakota Access Pipeline controversy – could now be renamed as the largest land spill in human history.
The plant, operated by Oklahoma company, ONEOK Partners, reported 10 gallons of condensate or liquid natural gas spilled, but the accident, which occurred over a long duration of time, was underreported, Bill Suess, the spill investigation program manager for North Dakota Department of Environmental Quality, said.
"Yes, it was reported at 10 gallons of concentrate floated into their hole, but they go on to say that the soil was saturated and they knew it was larger," Suess said. "With the nature of condensate we do not know and we'll never know exactly how big it is, because it was an internal pipeline that had no meter on it. The meter was on the other end of the location."
Information leaked to Desmog, and Rolling Stone Magazine, shows an internal memo inside ONEOK expected to find up to 11 million gallons of spilled condensate.
"Design hydrocarbon removal: up to 5,500,000 gallons based upon an ORM estimate of approximately 11 million gallons released," the internal memo stated.
Hydrocarbons are a compound of hydrogen and carbon, the chief components of petroleum and natural gas, and used as fuel for combustion.
"I believe what somebody did was that the 11 million was something in an internal memo, which was never released," Suess said. "I've never received that memo. So it was strictly internal to ONEOK."
In comparison, one of the world's worst oil spills was the Exxon Valdez, which occurred in 1989 when an oil tanker bound for California struck a reef west of Alaska. The spill released approximately 10.8 million gallons of crude oil into ocean waters.
All of the most devastating oil spills in history have occurred in waterways, including BP's Deepwater Horizon oil spill in 2010, which released 134 million gallons of oil into the Gulf of Mexico.
If the Garden Creek I Gas Processing Plant spill reaches 11 million gallons, it would be the largest land spill in history, at least in America. Since 2006 in North Dakota, large crude oil and brine spills add up to approximately 6,369,830 gallons, and counting.
In 2006, Zenergy Inc. of Tulsa, OK, spilled nearly one million gallons of saltwater, a byproduct of oil production, which flowed into Charbonneau Creek, a tributary of the Yellowstone River. The saltwater, which is far more deadly than spilled crude oil, killed fish, turtles, plants, and made the water unfit for cattle or people. The company spent more than $2 million cleaning up the site.
In 2013 the Tesoro spill of approximately 840,000 gallons of oil took five years and $93 million to clean up. Originally the spill was thought to be 31,500 gallons, but it was later discovered that oil oozed through about 48 acres, with approximately 1.2 million tons of soil excavated from the spill site.
A year later in 2014, Crestwood Equity Partners spilled nearly one million gallons of brine spilled at Fort Berthold, and was later fined $49,000 by the Environmental Protection Agency. Contaminated water flowed nearly 1.5 miles from the pipeline failure to Lake Sakakawea, according to remediation plans.
In 2015 Summit Midstream Partners spilled nearly three million gallons of saltwater brine near Blacktail Creek outside of Williston, which contaminated the creek, the Little Muddy, and the Missouri rivers.
In 2016 the Belle Fourche Pipeline Co. spilled 529,830 gallons of crude oil in Billings County.
"You could come up with 11 million gallons, but there is no way it could be that big," Suess said. "Keep in mind this is condensate, it is similar to gasoline, you spill it on pavement and it evaporates. They're collecting it in a gas state and will convert it back to a liquid.
"And keep in mind a gallon of gasoline can expand into hundreds of gallons of vapor."
Leaks came from two areas of an internal pipeline, Suess said.
"One was a pinhole leak and one a little bit larger leak, and these leaks are very hard to detect," Suess said. "And I'm guessing that it leaked for some period of time, but because of the nature of the system we won't know how long it leaked. Looking at the footprint it was a significant period of time."
Area cleanup has already taken four out of the originally estimated 10 years, but the company is now saying it needs another 10 years for total cleanup, Suess said.
"It hasn't migrated off the site of the plant, but it's still a good sized footprint," Suess said.
Scott Skokos of the Dakota Resource Council said natural gas processing sites need to be monitored like a refinery.
"These are not just run of the mill oil wells, this is industry," Skokos said. "You and I can both clean up 10 gallons out of the soil by digging it in a day or two. What they're talking about is in the millions. This is regulatory failure. The state is allowing the industry to regulate itself."
In April 2019 spill investigations shifted from the North Dakota Department of Health to the Department of Environmental Quality, which made the department no longer a Constitutional department, and is responsible solely to the Governor's office.
David Schwalbe, who was instrumental in working with 2018's Constitutional Measure to implement an ethics commission in North Dakota, said he knew about the misreporting for months, and was anticipating a story by Rolling Stone Magazine.
"The state is supposed to inspect these things," Schwalbe said. "They're supposed to have inspectors out there. Any of the spills that come in they're supposed to be on top of it and not just ignore it. They're supposed to get on top of it look at it and track the cleanup process and if there is negligence they're supposed to fine them.
"This whole thing smells really bad. This whole thing has been a cover up from day one as far as I am concerned. There is so much going on out here and our regulators are ignoring it."
Bill Suess said his department did not try to cover anything up. Laws are in place that limit his reports.
"We've had no desire to try and cover this up," Suess said. "It got reported at 10 gallons, and yeah that reporter or blogger basically his full concern was that we had never changed that 10 gallon number. Yes, we know it's bigger. There is a law that says I can't alter any document, so unless I have actually concrete numbers from ONEOK, I cannot change that number."
Katie Haarsager, of the Oil and Gas Investigation, basically agreed, saying state inspectors do not actively investigate the veracity of spill reporting.
"The first report should be submitted to us within the first 24 hours an estimate of what they anticipate that spill be included of," Haarsager said. "Then we require that they submit a follow up report once they determine a new estimate or a new number.
"I believe the company would resubmit that follow up report. I don't know that our inspectors would go in and do that."
Any edit to an initial spill report can and would only be done after receipt of documentation warranting the edit by the Division's Reclamation Specialist who oversees the spill reporting for the Division, according to Haarsager. Incidents at gas plants or refineries would be under the jurisdiction of the Department of Environmental Quality.
So far, ONEOK has not been penalized, Suess said.
"We hold off on penalties until later into cleanup, because it is always that carrot on the end of the stick kind of the thing," Suess said.
Scott Skokos and David Schwalbe find fault with the state's response to spills. Schwalbe believes the 2015 spill and others are not fully reported, and the media in the state are beholden to investors and rarely investigate the truth.
"These are appointed officials and elected officials that the ethics commission should look into," Schwalbe said. "This would be a good one for the ethics commission."
"They're hamstrung," Skokos said. "The state agencies are hamstrung on what they can or can't do. I don't know if there was a cover up or not, I don't think anyone will admit to it. What it shows is that the state has really bad laws. If anything, any time a spill is reported they should be on site verifying if that's true or not.
"There is just a pattern, and I don't know if it's done by the state or the industry. We can only pass the buck for so long. Someone is not doing their job here. If you let the industry self regulate, this is what you're going to get."
Suess confirmed that the site is not directly hazardous to human health, but said liquid natural gas is highly flammable.
Large spills and dozens of smaller spills aren't helping the state face the possible consequences of climate change, or the destruction the oil industry is leaving behind. North Dakota needs to face the future, Skokos said, instead of "just clenching their fists on things that were so last century.
"It's hydrocarbons, it's like if you spilled a bunch of butane it's not good for anybody," Skokos said. "It's not good for animals, not good for humans or living beings and that's why they're buried underground."
ONEOK replied to requests for information saying that on July 16, 2015, condensate was discovered during a routine maintenance check. Hairline fractures were discovered below ground and repairs were made.
"Due to the below ground nature of the release, it is impossible to determine the actual volume released with any level of certainty or accuracy," Brad Borror, communications manager with ONEOK said in an email.
Borror referenced the leaked document saying that the numbers included in the report were hypothetical and the amounts of the spill are still unknown.
"We are cooperating fully with multiple regulators, and we provide periodic updates to the North Dakota Department of Environmental Quality, formerly North Dakota Department of Health, on the progress of the response actions to address the release," Borror said. "We believe the state is pleased with our assessment and efforts."
For more information pertaining to spills, corruption and the oil industry in North Dakota follow these links, "Master of Puppets" here and "They drink your milkshake" here.