​Standing Rock vs. Energy Transfer Partners part 2
by C.S. Hagen | .(JavaScript must be enabled to view this email address) | News | November 13th, 2019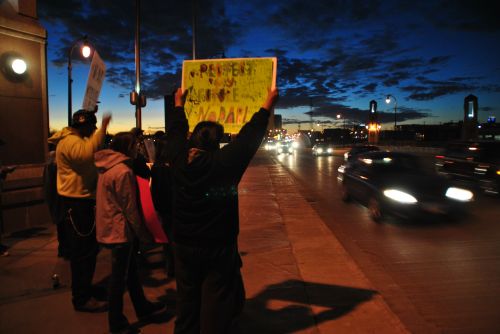 LINTON — The battle over the Dakota Access Pipeline is not finished, part two began Wednesday morning during a public hearing conducted by the North Dakota Public Service Commission.
Energy Transfer Partners — the parent company of the Dakota Access Pipeline — wants to expand the pipeline's capacity, nearly doubling the flow of crude oil south. The Standing Rock Sioux Reservation, the principal opponent against the expansion, said such a change would put the environment, drinking water, and tribal lands further at risk.
"In recent months and years, Energy Transfer and its pipelines have caused a number of high-profile release incidents, prompting unprecedented government enforcement actions, shutdowns, and remedial actions," Standing Rock attorneys said in the legal brief meant to be testified. "As of December 3, 2018, DAPL itself had experienced 12 spills of over 6,100 gallons of Bakken crude oil in less than two years of operation."
From 2006 until 2018, Energy Transfer pipelines had 458 hazardous liquid incidents, which resulted in $109,737,246 in property damage from 2,557,716 gallons of hazardous liquid spills, according to the Pipeline and Hazardous Materials Safety Administration.
The number of spills made Energy Transfer "far and away the most hazardous pipeline operator across that 13-year period," according to Standing Rock attorneys. The second worst hazardous pipeline operator had 45 percent fewer spills than Energy Transfer, according to the Standing Rock brief.
Since 2017, Energy Transfer spills have resulted in $20,540-487 in property damages, according to Standing Rock.
"The Tribe respectfully submits that the Commission should be alarmed that the industry's most hazardous operator is now seeking to double the already substantial capacity of DAPL and increase the risk of spill incidents, without providing critical documents and data necessary for the Commission to meaningfully evaluate and mitigate those risks."
Standing Rock Sioux Tribe Chairman Mike Faith, Jr. said in a press release that: "The remand was insincere. The Corps ignored the Tribe's concerns and worked with DAPL to justify a foregone decision. This illegal and dangerous pipeline must be shut down."
North Dakota residents, however, remain optimistic about pipelines, according to a partisan poll performed by Public Opinion Strategies. The organization is described as a "Republican polling firm" that helped Republicans hold the House of Representatives in Missouri.
A partner with Opinion Strategies, Micah Roberts, said in a press release that the majority of people across the state believe pipelines are the safest method to transport oil and gas.
"The findings from this poll are clear and positive," Roberts said. "Not only do 95 percent of residents find the industry important to the state economy but, on a bipartisan basis residents feel pipelines in general, and the Dakota Access Pipeline in particular, is the safest way to transport oil across their state."
The poll reported that nearly 70 percent of North Dakotans support "optimization of the Dakota Access Pipeline" effectively doubling the flow of crude oil to 1.1 million barrels per day.
North Dakota currently has record-breaking energy output of 1.5 million barrels per day, and Energy Transfer Partners hopes to alleviate the excess by installing pumping stations along the pipeline's route. No new pipe will be needed at this time, according to North Dakota Public Service Commissioner Julie Fedorchak.
During a recent radio interview, Fedorchak stated that she wanted the hearing to last one day, but that she also wanted the hearing to be fair to all sides, adding that the hearing was not a discussion about the pros or cons of oil pipelines.
"Pipelines are perfectly legal in North Dakota, whether you like pipelines or don't like pipelines, this isn't the venue for you," Fedorchak said. "It is not a debate on the merits of pipelines we will look at this expansion and whether it meets the standards of law to be developed… both parties will be obligated to provide facts to back up what their position is and in the end we will get to the bottom of a decision.
"It's a good chance to not repeat what happened in the last Dakota Access issue."