The U.S.-China Trade War has Substantial Implications for Everyday Farmers
by HPR Contributor | .(JavaScript must be enabled to view this email address) | News | March 6th, 2019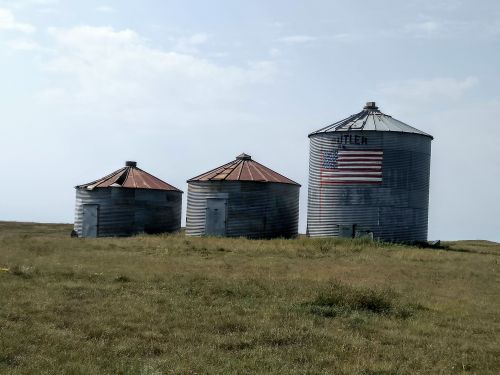 By Abigail Brooks
Amid the trade war between the United States and China damaging tariffs have been put into place from both sides. Currently, the United States has implemented tariffs affecting $250 billion of Chinese goods. In retaliation, China has put tariffs affecting $110 billion of U.S products into place. Farmers in the United States are one group that is undoubtedly being affected by the recent tariffs. North Dakota is an example of a state where farmers are seeing noticeable effects from the trade war between the United States and China.
Soybeans are one among a number of agricultural products that have been subjected to a 25 percent tariff by China. According to Josephine Mason's article "China Deploys Soybeans in Trade War, but May Hit Own Foot," China consumes around 60 percent of the world's soybeans, making it the largest market for soybeans in the world. This amplifies the blow on U.S. soybean farmers, as China is a primary market for their product. Half of China's demand for soybeans is supplied by Brazil, whereas one-third of China's supply comes from the United States.
Although the United States does not export the majority of China's supply in soybeans, it may be difficult for China to substitute the soybean imports the United States provides them with soybeans from other countries. Mark Williams, the Chief Asia Economist at Capital Economics told Mason, "There simply aren't enough soybeans in the world outside the U.S. to meet China's needs."
That being said, China may be forced to continue buying soybeans from the U.S. despite the tariffs.
When looking at North Dakota in particular, the National Agricultural Statistics Service states the production value of soybeans in North Dakota in 2017 to be around 2.3 billion dollars, making it the most profitable crop in the state. Because of the high yield of the crop and the repercussions discussed, these tariffs have the ability to be exceedingly distressing for the state's soybean farmers.
All of this aside, in order to properly grasp what implications this trade war has on North Dakotan farmers, is to hear it straight from the farmers who are being directly affected. Chad Weckerly, the managing partner of Weckerly Farms, weighed in on the trade war in order to provide more personal insight into how these tariffs are impacting the farmers of North Dakota.
He stated that although soybeans are the crop most affected by the tariffs, there are also direct and indirect implications for all crops grown in North Dakota. These impacts include a change in the price of soybeans, a shift in the price of other crops that may be planted in place of soybeans, and a rise in fertilizer prices.
A shift in the price of soybeans comes without question, as this is the crop that is most impacted by Chinese tariffs; however, it may be less clear why additional crops and fertilizer are affected as well. A change in the price of other crops, such as canola, sunflower, flax, and pinto beans will occur because more of these crops are expected to be planted in place of soybeans, putting additional pressure on these markets. When looking at fertilizer prices, Weckerly stated: "Generally the cost of production and value of our currency have a large bearing on fertilizer demand... Other countries buying additional fertilizer to push up yields has added demand for fertilizer in the global markets and increased our prices here."
Weckerly also provided the information that wheat and corn farmers are expected to spend $15 more per acre on fertilizer in 2019 than they did in 2018 because of the trade dispute.
When asked specifically how soybeans will be affected by the tariffs, Weckerly asserted that almost all of the soybeans grown in North Dakota are shipped to the Pacific Northwest, and then further shipped to China. He stated that any new soybean markets have the crop shipping out of the south, which raises freight cost for North Dakota's farmers. Because these ports are further away, farmers are consequently forced to discount the prices on soybeans.
With all factors considered, it is obvious that the trade war between the United States and China is negatively affecting farmers.
"U.S. farmers need a better deal," Chad Weckerly said. "These trade agreements have not had the steady demand we need."
He shared that although he was lucky to have sold a portion of his crop before the trade negotiations, he has not been able to make any additional sales at a profit since then. The most damaging impact to his business is the fall in the price of soybeans, for he stated that soybeans are the biggest profit generator for his farm in the fall season. It is exceedingly important to his business that his soybean crop is sold by the end of the year so that he can use that money to prepay in the new year. This has caused Weckerly, along with other soybean farmers to make changes in which crops they plant, by swapping soybeans for crops like wheat, canola, and corn.
As an attempt to lessen the impact of the tariffs on the farmers, the U.S. government announced direct payments to farmers in the United States totaling around $4.7 billion. This, however, does not aid farmers in North Dakota as equally as it helps farmers in the southern part of the country, due to the higher freight costs discussed by Weckerly. He believes another round of payments to farmers in the north could help rectify this. However, many believe these payments are simply a band-aid and the impacts of these tariffs have more long-term complications that cannot be fixed with monetary relief.
As a point of optimism, further damage to farmers has been halted for now. This is because the United States and China have been able to work out a truce for the time being. Trump has promised not to impose further tariffs on Chinese goods and as well as canceled the plan to raise the already imposed tariffs from 10 percent to 25 percent in the new year. In return, China is expected to continue buying American goods. This agreement puts a stop to the trade dispute for the time being, but the agreement will only be in place for ninety days. When the agreement expires, the United States and China will still be forced to either continue the trade dispute or create a more long-term agreement.
It can be easy to overlook these tariffs when one does not see direct impacts in their own life. It is important to remember, however, the many farmers whose livelihoods depend on the sales of their crop that the tariffs threaten. These tariffs put their businesses, families, and means of income at jeopardy. The further the trade war progresses, the more damage is done to farmers. A new deal needs to be worked out, sooner rather than later, in order to keep these farmers from losing even more than they already have.
[Abigail Brooks is a senior at Davies High School, Fargo and received a 2019 Scholastica Gold Key award in the category of journalism]
YOU SHOULD KNOW:
2019 Scholastic Art & Writing Awards Ceremony
Saturday, March 9, 5:30-8 p.m.
Plains Art Museum, 704 1st Ave N, Fargo