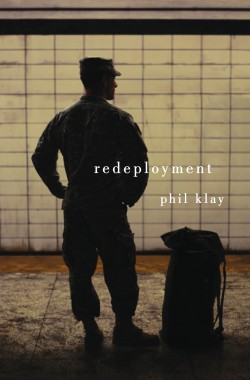 In Phil Klay's short story "War Stories," a former Marine muses "I'm tired of telling war stories."
Although said in a numbly serious manner, the statement remains somewhat humorous in light of the fact that it is the very first line of "War Stories," which also happens to be part of a short story collection comprised solely of – that's right – war stories.
Klay, a veteran of the Marines who served in Iraq, doesn't seem to be through with war stories just yet. Last year he released "Redeployment," his debut collection of stories about Marines in Iraq and back at home. The book was named one of the "10 Best Books of 2014" by the New York Times and winner of the 2014 National Book Award for Fiction.
With a Marine-centric group of narrators, "Redeployment" could have easily become narrow in its focus. But within this frame, Klay's stories present a panoramic array of experiences and a surprising range of voices – a Marine in mortuary affairs; a chaplain ("Chaps") mired in the extremely violent Charlie Company; a restless artilleryman on the squad for Gun Six.
Some of these characters confront conflict on a dailybasis, while others drift through their deployment on the peripheries of conflict. They navigate through war and then they readjust to life at home.
In the title story Marine Sgt. Price, having just returned from Iraq, now finds it necessary to shift from "orange" – a state of constant hyper-focus, necessary for his military patrols in Fallujah – to "white" – a much more casual, relaxed behavior, appropriate for excursions to Wilmington shopping malls.
Unfortunately, even mundane life in North Carolina forces Price's deployment back to the forefront, particularly when he must shoot his sick old dog Vicar – just as he would dispatch stray dogs in Iraq.
In the cynically comical "Money as a Weapons System," a Foreign Service Officer tries to organize social service programs for Iraqi civilians, only to have his efforts repeatedly thwarted by his own organization. His commanding officers' paltry ideas of "success" sweep aside his attempts to update a failing waterworks system, and instead they insist upon spreading "Americanism" through the distribution of free baseball bats and jerseys to kids in the streets.
In "Psychological Operations," a former PsyOps specialist, who's now working toward a degree at Amherst, discovers an insurmountable divide in his relationship with his father after the former Marine reveals some of the more unsavory aspects of his tour in Iraq.
Meanwhile, his sense of alienation on campus prevents him from developing any true friendships with other students, including Zara, an assertive, worldly student who tries to break through his manipulative "veteran mystique" cover.
Klay's stories aren't simply adrenalized action tales about what it is like to be "over there." Instead, "Redeployment" deftly explores themes of loss, loneliness, death and the painful process of moving forward after tragedy, as the characters attempt to transition between the conflicting realities of war and home.
During his National Book Award acceptance speech, Klay touched upon this central conflict in "Redeployment."
"I can't think of a more important conversation to be having," he said. "War is too strange to be processed alone."
"Redeployment" is now available in hardcover and paperback.