A right to critique
by HPR Staff | .(JavaScript must be enabled to view this email address) | Editorial | March 14th, 2019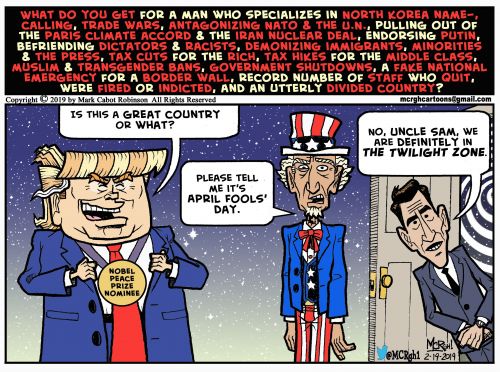 It is possible, even ethical, to stand behind Israel and criticize the nation at the same time.
No country, no man or woman, is without fault. While we at the High Plains Reader believe the U.S. House of Representatives' resolution, passed earlier this month to condemn "anti-Semitism, Islamophobia, racism, and other forms of bigotry" is on target, we will not jump on the bandwagon saying anything critical of Israel or Jews is anti-Semitism.
That in and of itself rings true as Hans Christian Anderson's cautionary fairy tale, "The Emperor's New Clothes," a story of a king swindled into wearing "invisible" robes.
As Prime Minister Benjamin Netanyahu faces three corruption charges, and the seemingly endless war between Jews and Palestinians drags on, there is plenty of room to criticize the nation of Israel.
Don't believe us? Ask these Israelis who live and work side by side with Palestinians and believe it is an Israeli's duty to criticize their own government.
Moshe Shaul, a second-generation Israeli who lives in Tel Aviv, has heard the Hezbollah missiles streak across the sky, hoping his wife and three children would stay safe. And yet Shaul and many others in Israel do not hesitate to criticize their own government.
"Not only is it possible, it is the only welcome way," Shaul said. "Way too many people hate Israel without knowing the facts."
Guy Chen, also from Israel, isn't sure that he supports his country's policies.
"If nothing else, I'm very critical towards the current state of affairs, but I do wonder if I actually stand behind Israel," Chen said. "I'm very non-nationalist, never have been, even when I was less aware or caring or critical. I think that we are slowly but surely (here and in the U.S.) stepping away from a democracy.
"Making valid criticism is definitely not anti-Semitic. It's okay to tell someone that you think they're wrong, even if they do happen to be Jewish."
BenAmi Neumann, a former photojournalist living in Israel, whose warfront stories could fill a best-selling novel, said anti-Semitism is real.
Is it ethical to stand behind Israel and criticize her at the same time?
"Sure it is," Neumann said. "Israelis themselves are the most critical people that I know. But, more than once we hear criticism, mainly from the extreme left wing of the Democratic Party, that is totally fake news and the only explanation is that it comes from an anti-Semitic background."
Recently, a local television station has begun criticizing Representative Ruth Buffalo -- the first Native Democratic-NPL woman elected in North Dakota -- for her support of Minnesota's U.S. Representative Ilhan Omar, implying that Buffalo must be anti-Semitic if she stands with Omar.
Nothing could be further from the truth. There are only a handful of elected politicians in this state that work with both their hearts and minds – with empathy – and Buffalo is one of them. She authored bills to end the epidemic of murdered and missing Indigenous people. She's stood against resolutions sponsored by former "Students for Trump," meant only to gain political favor with the president. Because of Buffalo, North Dakota schools may no longer enforce dress codes prohibiting cultural regalia at a graduation ceremony.
And she's only in her first year.
Buffalo attended North Dakota State University with Ilhan Omar, and encouraged people to call Speaker of the House Nancy Pelosi in defense of Omar. A local television station attacked her then, paying little attention to the fact that she, along with other progressive women leaders, have been threatened. Police investigated and no official charges were made, but the threat is plain to anyone who can read.
"Getting persecuted by North Dakota's finest media source," Buffalo wrote on Facebook. "Go ahead then. Be outraged over a Facebook post but not outraged on apartheid elsewhere. Makes sense."