Grabbing the bull by the horns
by Sabrina Hornung | .(JavaScript must be enabled to view this email address) | Editorial | June 13th, 2018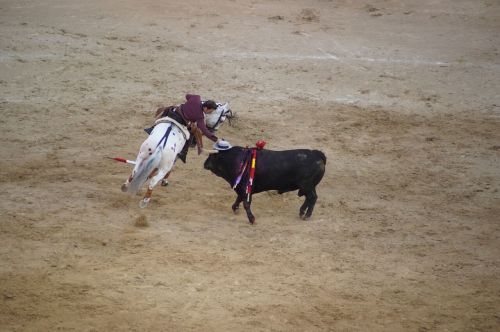 This week's highly anticipated edition of the HPR is coming straight from Madrid, Spain, a city steeped in romance and tradition as well as contemporary nuances. Ever since I read "The Sun Also Rises" at the age of 14, I wanted to see this city and experience a bullfight. Not out of bloodlust, but out of cultural context. Ironically, it was the same year I became a vegetarian.
Twenty years later Raul and I found ourselves at Madrid's Plaza del Toro, the building itself was an architectural feat combining elements of Islamic art and architecture as well as Roman influences. In front of the plaza was a giant statue of bull and Torrero engaged in an aerial dance of sorts. The other side of the statue was a seraphim hovering over the jacket of an unfortunate Torrero -- a Torrero being a professional bullfighter.
Hemingway once said: "Bullfighting is the only art in which the artist is in danger of death and in which the degree of brilliance in the performance is left to the fighter's honor."
The crowd was seething with excitement. The Torero's suits or trajes de luces ("suits of lights") were beautiful and brightly colored, the embellishments glittered under the sun as they sauntered on to the arena with their brightly colored capes. A tradition of 18th century showmen and dandies that has since become standard.
The experience was moving, at times it was horrifying, but the level of showmanship and equestrian skill was exquisite. It was a dangerous dance between man and beast. In fact the men's shoes even resembled ballet slippers and the flutter of their capes added to the visual element and pageantry.
I later told Raul that the way they taunted the bull reminded me of how I play with my cats. Dragging flags on the ground and fluttering fabric or paper for them to chase and to grab their attention. I later regretted this statement when I woke up in a sweat as I dreamt of a man killing kittens in front of me.
There was no denying that the bullfight is brutal and it is bloody. We lamented the bulls and even cried for one as it made a circle around the ring in search of a way out. His death was the bloodiest and we shed tears as the crowd cheered. We found ourselves rooting for the bull though nothing good would come of it. It's not like the bull would be returned to his life among the olive trees on the outskirts of Madrid.
His body was eventually dragged around the arena by a team of mules with beautifully embellished harnesses leaving a trail of blood to be swept up while the crowd cheered and threw roses, jackets, hats and even roosters into the ring.
There is a photo that has been circulating around the internet. It supposedly captured Álvaro Múnera also known as "El Pilarico" sitting on the edge of the bull ring with head in hand with a sorrowful maimed bull in front of him. The photo is said to show his "collapse" or moment of realization in regard to the injustice of bullfighting what was allegedly his last fight. As the story goes, from that day on he was an active voice against bullfighting and he lived happily ever after.
The photo is accompanied a quote: "And suddenly, I looked at the bull. He had this innocence that all animals have in their eyes, and he looked at me with this pleading. It was like a cry for justice, deep down inside of me. I describe it as being like a prayer — because if one confesses, it is hoped, that one is forgiven. I felt like the worst shit on earth."
According to Snopes it's mierda--that's Spanish for BS. Those words did not come from him. They didn't even come from a Torrero. They came from Antonio Gala, a Spanish writer. He eventually advocated against bullfighting but not at that precise moment. Múnera's career ended after getting gored by a bull resulting in a debilitating cranial and spinal injury that paralyzed him. As for the photo? According to Snopes, it's not even him.
The Torrero in the photo is demonstrating desplante or defiance. An act that expresses dominance over the bull. It's a bit of showmanship that exposes the Torrero's proverbial underbelly to the bull's horns once it weakens from loss of blood, almost like a "Come and get me."
We saw this a number of times as the Torrero would grab one of the bull's horns or even turn his back to the bull to make a victory lap around the ring or even have his horse do tricks before it like bowing down to it or making it lay down or walk on its hind legs across the stadium.
There was one instance where the Picador placed his wide brimmed hat on the bleeding animal's head and looked into its eyes. Though there were moments in Múnera 's career where he had second and even third thoughts about his career choice but he persisted. His stance on bullfighting came about once he came to the US for medical treatments.
According to a 2008 VICE interview Múnera was quoted as saying: "I had to face an antitaurine society that cannot conceive how another society can allow the torture and murder of animals. It was my fellow students, the doctors, nurses, the other physically disabled people, my friends, my North American girlfriend, and the aunt of one of my friends, who said I deserved what happened to me."
Yes, it's a cruel sport but it's not a black and white issue.
No one lives happily ever after and there are no good guys and bad guys. Before we fully condemn this tradition through our American cultural lens, let's shift our eyes on the subject of our commercialized ag industry. Think about factory farms in the United States and how animals raised for slaughter in these facilities are treated.
Perhaps if the slaughter of our food was as publicly bloody and pageant oriented as the bullfight we'd be more aware of where it came from and outraged by how it was treated before slaughter, but what's a girl to do other than support small farms and know where your food comes from--and to check her sources.
To be fair there's a lot of people in Spain who are opposed and appalled by the bullfight. We met a group of young people out and about and they were shocked to hear that we were looking to attend the fight and the topic sparked a good topic of debate. Will I ever attend another? I don't know, but I do know that I need to finish "Death In the Afternoon" by Hemingway to answer some of my questions and combat my post Madrid depression once we get back to Fargo. Ole!