​Hats off to 2017, onward to 2018
by Sabrina Hornung | .(JavaScript must be enabled to view this email address) | Editorial | December 27th, 2017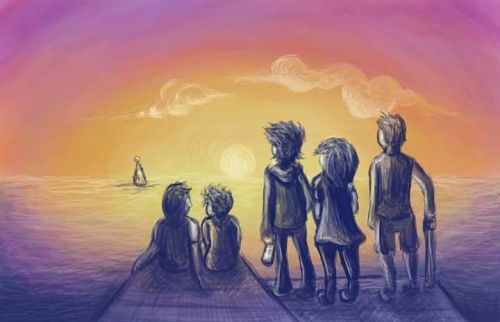 2017 has been quite a year. Like any year, we've had our own triumphs and tragedies.We survived a year of Trump in office and we said goodbye to Tom Petty. In local news we shared the shock and horror of the murder of Savanna Greywind and mourned together as a community. We also lost one of our longest contributors, Christopher Jacobs who contributed to the Reader since day one and is dearly missed.
On a lighter note, we met a lot of cool new people, ate at some killer new restaurants and found a bunch of rad new music to listen to and artists to check out and be inspired by. We had the opportunity to provide coverage from Medora, Rendezvous country, SXSW in Austin Texas, shared a worldly perspective from Oslo Norway, and provided a glimpse into the Winnipeg Folk Festival.
On behalf of the High Plains Reader, let's toast to the movers and shakers, the melody makers, to the creators. Let's toast to those who make our community -- heck, our region -- more vibrant. Let's toast to those who inspire, educate, and enlighten us; to the difference makers, to the fighters and protectors, to the advocates who provide a voice for those who can't speak up.
We like to think of the High Plains Reader as a community mouthpiece, but we wouldn't have such a strong voice if it weren't for our volunteers. We're fortunate to have the space to inform, inspire, delight, and to provide varying perspectives within our pages from various walks of life. We're always on the lookout for talented writers--we can't seem to get enough of them!
Cheers to Ed Raymond, Charlie Barber, Jim Fuglie, John Showalter, Hee Han, Brittney Goodman, Paige Johnson, Faye Seidler, Chuck Solly, Greg Carlson, Chris Larson, Megan Bartholomay, Dima Vitanova, Marty Beckmann, Alicia Underlee Nelson, Race Heitkamp, Sarah Nour, Erin Oberlander, James Osborne, and I sincerely apologize if I left anyone out.
Cheers to John and Raul for being the men behind the Reader and keeping up the momentum for the "little paper that could." John Strand is not only our favorite elected official, he also diligently keeps us caffeinated and provides us with the perfect amount of morning hugs and occasional songs.
Cheers to Raul and Jessi for their killer Graphic design work--they're true artists. I'm ever inspired by Raul's creative process and impromptu office photoshoots.
Cheers to CS Hagen for his tenacious pursuit of a good--no--GREAT story and his high journalistic standards. He continues to inspire us to keep pushing that envelope.
Cheers to Tom Bixby, my right-hand man, for meticulously combing through our copy. Dotting our I's and crossing our T's and making sure our punctuation is on point. He also has great taste in music. Cheers to Kris Gruber too, for combing through our copy and for keeping up morale by spoiling us with treats on Tuesdays!
Cheers to J. Earl Miller and Logan Macrae Fargo-Moorhead's two tallest admen. Both are also very talented photographers and by golly they could sell ice to an eskimo. Without them you wouldn't be holding our printed copy in your hand. They're our breadwinners.
Cheers to our delivery team for faithfully delivering stacks of papers to a number of businesses throughout the region. They trudge through rain, sleet, heat and snow to ensure that you can pick up our little paper.
Cheers to our advertisers and supporters--we'd be lost without you.
Most of all, cheers to you Reader readers. You're the reason we do what we do. Have a safe and happy New Year from us to you.
With all of these cheers, we're reminded that we just wrapped up our annual Cocktail Showdown. The competition was stiff but the drinks were stiffer -- it was a tough job but somebody had to do it. We're working on tallying up the results over our annual break, so keep an eye out and be sure to check out the featured drinks. We guarantee your tastebuds will be tantalized.
We'll be taking two weeks off in January so you can bet your boots we'll be back on stands January 18.