Our opinion: Who's the real enemy of the people?
by Sabrina Hornung | .(JavaScript must be enabled to view this email address) | Editorial | October 24th, 2018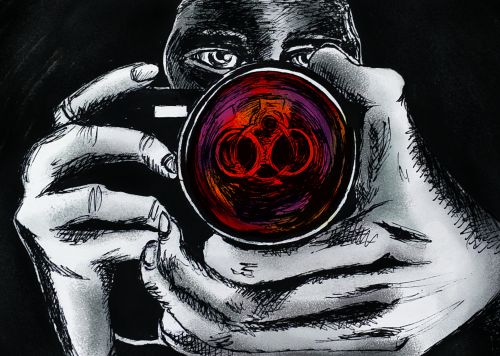 On October 18, President Trump held a rally in Missoula Montana. Prior to the event, former state GOP chairman Will Deschamps Sr. issued a cautionary threat via Facebook. "For all the prospective attendees to the Trump event. Come early. Also all you protesters, show up as well. This is a concealed and open carry state and we know how to use 'em. USMC-trained."
That still didn't stop the protesters.They carried their message to the mountain tops, roofs of sheds and good 'ol fashioned hand-held signage.
It's no secret that Montana is cowboy country, but this posting would lead even Yosemite Sam to ask, "what in tarnation?!?"
Jokes aside, this isn't a laughing matter. It's downright irresponsible and it's frightening. Since when is it okay for a former GOP chairman or rather ANYONE to advocate terrorism? Or do we just refer to it as terrorism as long as it's not some old white gun-happy lunatic?
Coming from a former Marine and former public servant, Deschamps should know better and be held accountable for such nonsense. This isn't a matter of, "Git off'n my land." This is peaceful protest, which is an exercise of free speech; and free speech is protected under our First Amendment rights as Americans.
If only people would get as defensive about protecting their First Amendment rights as some folks get when they feel their Second Amendment rights are being questioned.
Stupidity like this is the reason that people fear guns and open carry laws. Also consider the number of school shootings and gun violence that have plagued our country since Columbine.
Full disclosure:Yes I've been known to vote Democrat but no I don't want to take away your guns though I do think Mr. Deschamps' conceal and carry license should be reconsidered.
According to CNN and BBC News, during that same Missoula rally Trump praised Montana Congressman Greg Gianforte. He said, "Greg is smart. By the way, never wrestle him." He went on to say, "Any guy that can do a body slam... he's my guy." Remember Greg Gianforte? He's the Montana Republican who body-slammed a reporter from "The Guardian" and broke his glasses.
This isn't wrestlemania, Mr.Trump. This isn't just entertainment. Though it may seem like a caricature of our troubling times, this is real life and this is politics. Again, it is a threat to the freedom of the press, which is also protected under our First Amendment rights. Advocating violence against the press should be a red light to the voters -- and advocating mistrust of the press should be another big red light.
I'd really like to know how Melania feels about all of this -- considering her anti-bullying platform.
Ben Jacobs, the journalist who was body-slammed was interviewed by "The Washington Post." "There are people reporting across the world who are in fear for their lives, and what this does is a blank check for governments who want to crack down on a free press in places that don't have a First Amendment."
While the President sings the praises of one politician's assault on a member of the media, this is all happening as Turkish officials investigate the killing and dismemberment of journalist Jamal Khashoggi. Saudi Arabia, our supposed ally has his blood on their hands.
Khashoggi was a prominent journalist who fell out of favor with the Saudi government. He was a columnist for the "Washington Post" and a Saudi dissident living in the U.S. in "self-imposed exile" since 2017. He visited the Saudi consulate in Istanbul in hopes of securing the proper paperwork for his upcoming marriage. Only to be neither seen nor heard from -- unless you count the audio of his "alleged" torture that the Turkish government says it has on file.
It's an unsettling time. Especially in an era where our President discredits the media and refers to the majority of the media as the "enemy of the people." With his record of half truths, blatant falsehoods, and direct divisiveness. I think it's no secret who the real enemy is and all we can do is sit back and wait to vote him and his cronies out.