A Child's Christmas in Fargo
by HPR Contributor | .(JavaScript must be enabled to view this email address) | Last Word | December 19th, 2018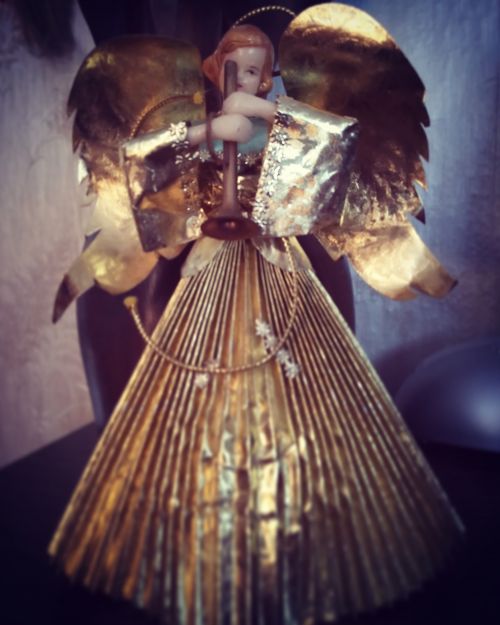 by Gary Olson
olsong@moravian.edu
It's mid-December and as wintery conditions and the Christmas holidays approach, I'm reminded of a story my mother told me about my Norwegian grandmother. In December 1882, as a sixteen-year-old, my Grandma Emma traveled a considerable distance on XC skis from her rural village to the port city of Bergen. Alone and with only a backpack, she had to leave her new Christmas gift skis at the dock before boarding ship for the perilous transatlantic crossing to America, never to see her home or family again. Like so many poor immigrants, she was only allowed entry to the United States after signing a labor contract. After serving her time as an indentured servant to a wealthy family in Sauk Center, Minnesota, she met and married a lumberjack who'd also emigrated from Norway. They raised seven children, one of whom became my mother.
Now, fast forward 74 years to mid-December, 1956. My hometown of Fargo, North Dakota just had a big winter storm. As I watched enviously from our living room window, several of my school friends came kicking and gliding down the snow covered street on their cross-country skis. At the time there was nothing I wanted more for Christmas than XC skis but with my dad out of work again I knew that wasn't going to happen.
A few days later, I was snooping around my parent's bedroom —as kids will do — and came upon a cardboard box of S&H Green Stamp books. In the 1950s, many people saved S & H Green Stamps which customers received from purchases at gas stations, supermarkets, and other participating retailers. After accumulating enough stamps, they could be redeemed for items from the extensive Green Stamp catalog. The catalog in the box had two pages folded back, one showing CX skis and the other a record player. My parents loved to listen to music but their old RCA Victor Victrola had given up the ghost and they couldn't afford to replace it. I also saw that their accumulated stamp books weren't sufficient to obtain either item.
The day before Christmas I came home from school to discover a long narrow package under the Christmas tree bearing a tag "To Gary, From Santa." After feeling the round end of the package I called my friends and assured them I'd be skiing with them on Christmas Day! I was relieved because we always phoned one another on Christmas morning to ask "What did you get?" This was invariably a painful and humiliating experience because after hearing about new puppies, tickets to Disneyland and elaborate train sets, I'd mumble "Some socks, marbles, earmuffs and an orange" and quickly change the subject. This year would be different.
Early Christmas morning I rushed to the living room and while my parents watched, I fell to ripping off the wrapping paper on my package. To my consternation, there was only one XC ski. While trying to make sense of this, my mom brightly said, "Gary, we could only afford one ski this year but we promise to get you the other one next Christmas." Crushed, I wanted to cry but didn't. I barely noticed that the only gift under the tree for my parents was a poorly wrapped sugar scoop that I'd soldered together in my metal shop class.
Six months later my dad suddenly died of a heart attack; money became even harder to come by and the next Christmas we were lucky to have a small, scrawny tree. I got another pair of mittens, Chinese checkers and an orange. Again, I experienced the dreaded telephone ritual. Later, I silently cursed the unfairness of being born into this situation.
The next Fall I got a newspaper route delivering The Fargo Forum and by Christmas, I'd saved enough to buy the other ski. On the day before Christmas, I went down to the big department store on Broadway, made a beeline for the sports section, picked out the matching ski, poles and glide wax and headed for the checkout counter. But just as the clerk was about to ring up my order, something made me hesitate and I reluctantly returned all the items to the shelf.
On Christmas morning, I got an orange, a tiny racing car and, socks in my stocking. My mom was surprised to find a present under the tree with her name on it and even more surprised to find it was a new record player. Was I a pre-naturally perspicacious, good-hearted kid? No. I was still bitter about my situation and retained mixed feelings about my decision. But perhaps my parents' example was lodged somewhere in my subconscious and I vaguely sensed it was the right thing to do.
In any event, in 1992, my elderly mother died and my brother and I hired an auctioneer to sell off the modest contents of the house, as well as the house itself. Late in the sale and almost as an afterthought, the auctioneer held up one shabby looking, wooden XC ski. I was the sole bidder and bought it for $1.00. As I write this in 2018, that ski adorns the wall of my study.
A few years ago I was idly browsing on Etsy's for vintage children's skis and to my utter amazement came upon the match for my childhood ski. I quickly made a solid bid but upon an hour's reflection, I canceled it. I can't be certain but I want to believe it was because I was grateful Grandma Emma had two skis and I only had one.