Obituary: ​Glen William Hornung, 86
by Sabrina Hornung | .(JavaScript must be enabled to view this email address) | Last Word | May 1st, 2019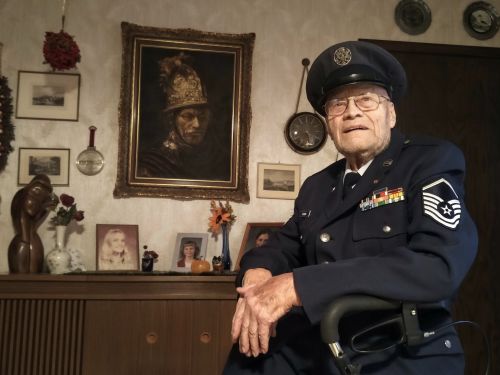 Glen Hornung passed away peacefully at Ave Maria Village in Jamestown with family by his side on Sunday, April 28.
He was born in Woodworth, North Dakota on May 15, 1932 to Joe and Esther (Gaub) Hornung, the first of six children. He attended Gerber No. 2, a one-room schoolhouse in Woodworth and was baptised at Woodworth Lutheran Church. He spent his formative years helping out on the farm and exploring the surrounding prairie.
In November of 1951, Glen enlisted in the army as a paratrooper, but due to poor eyesight he was transferred to the infantry, where he served honorably for three years. He re-enlisted in July 1954, after which he served in Germany. Here he met Lore Feierabend and they were married April 30, 1955 in Bad Rappenau, Germany.
After completing six years of Army service, Glen joined the Air Force in 1958 and was sent to tech school in Amarillo Texas, to become a jet engine mechanic. He served in that capacity and more by taking on supervisory responsibilities from 1958 to 1974. He had a 23-year military career and retired in 1974 as Master Sergeant.
During his career he was stationed in Toul Rousieres, France; Spangdahlem, Germany; Alconbury, England; Ent AFB, Colorado Springs; Seymour Johnson AFB, North Carolina; Mountain Home AFB, Idaho; Udorn AFB, Thailand; Homestead AFB, Florida; Ramstein AFB, Germany; and then on to Grand Forks Air Force Base in his home state.
His years of service earned him a number of awards and commendations, some of which were presented to him in 2005 by Sen. Kent Conrad. Conrad worked closely with Glen and the Department of Defense to secure said awards that he had earned over a quarter century earlier.The medals awarded included the Army Occupation Medal (Germany), a National Defense Service Medal, Vietnam Service Medal, Republic of Vietnam Campaign Medal, Small Arms Marksmanship Ribbon, Air Force Longevity Service Award Ribbon, Air Force Outstanding Unit Award, Good Conduct Medal for Air Force and Army; and an Air Force Commendation Medal for Meritorious Service during the period of 5 August 1969 to 1 August 1972.
In 1974 Glen and Lore Hornung moved to Jamestown North Dakota. He worked for Scherbenske excavating as a heavy equipment operator and then took on a job at Western Gear in the maintenance department, along with raising cattle on the side. He eventually started a second career with the US Postal Service and retired in 1992.
He was an avid outdoorsman. He lived to fish, hunt and observe nature. He volunteered as a mentor for young anglers. He was a member of the Jamestown Classic Car Club for a number of years and took great pride in his 1959 Edsel, which proved to be a great fishing vehicle because it was a "good conversation piece."
He thoroughly enjoyed returning to Woodworth, Pettibone and Robinson to catch up on any kind of hometown news. He was also a bit of a local historian and shared many a story during leisurely drives in the country.
He enjoyed auction sales and was one heckuva mechanic. In fact while going through his old military papers it was noted that he was one of the best. He could fix anything from intricate clockworks to jet engines. Much to his wife Lore's dismay, he would often pick up old tractors, vehicles and various other farmyard antiquities to restore.
He had a beautiful garden and a fondness for animals. He loved playing cards, he loved watching westerns and he loved to visit.
He was a true steward of the land and personified the grit that "North Dakota Legendary" is made of. He had a profound appreciation for nature and instilled that respect within "his three girls." His story doesn't just end here because he would often say that a story isn't worth retelling unless you can add onto it.
He is survived by his wife Lore of 64 years, his children, Michele Hornung, Roger Hornung, his granddaughters Sabrina Hornung and Morgan Kastner. His siblings Joanne (Frank) Hieb, Joyce Green, Donna, Sharon (Gunnar) Unger, James Hornung, and a very special friend, Greg Kaloustian; and by his beloved dog Benji, his cat Hadji and a talkative Petey Bird and Peep.
He was preceded in death by his parents Joe and Esther Hornung and his daughter Audrey Lou Hornung.