Our last communal misery
by HPR Contributor | .(JavaScript must be enabled to view this email address) | Last Word | February 27th, 2019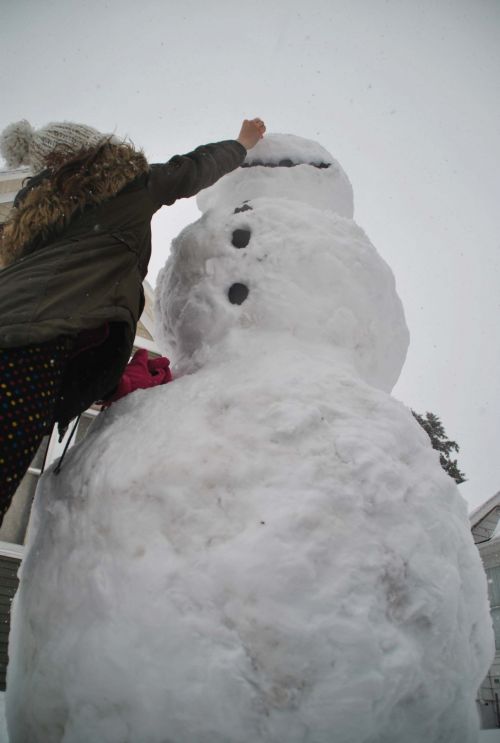 By Zach Nerpel
zachnerpel@gmail.com
The very air seeks to betray us. Temperatures this season have fallen well into the negative teens and twenties and the oxygen on which we rely has become fatal if sought outdoors. To simply exist has become painful.
Falling snow blurs our vision at night only to amass and blind us in the morning when it reflects our good friend, the sun, into our sleepy, innocent eyes. And if not, the clouds conspire to withhold our beacon of light for days on end. Sorrow reigns supreme in the never ending havoc of emotion.
Something very few people in our diverse country can understand is the slow and quiet onset of mass psychosis during an egregious winter. The widespread physical and mental shutdown of nearly everyone's faculties is as sad as it is fascinating. Extroverts turn into introverts and introverts drink unholy amounts of liquor, hoping to escape the inescapable.
However, in a genuine distortion of reality, some people believe the snow and cold to be good things. School canceled, children have fun forming balls out of the snow and assaulting one another ballistically. They climb up hills formed by plows and shove each other off until there is but one triumphant king at the top. They build frozen "forts" in front of their already livable and warm homes. In a sense, they revert to their primal roots.
Adults, on the other hand, enjoy winter with startling sophistication. With foot attachments, all manner of sports become possible. One may "hit the slopes," gliding gracefully down a mountain of snow before colliding with a tree and breaking every bone in their body. "Shredding ice," another will lose balance. Their ice skates will go rogue and the blades will cause mayhem and devastating blood loss to several people around them.
In spite of these extremely common side effects, there is an entire worldwide event centered around winter sports every four years. In what may be the greatest affront to humanity, countries send their best specimens to compete in the winter Olympics. Aggressively, and with a sinful amount of pride, they perform their demonic winter rituals for millions to see and a handful to judge. The winners are given an additional one hundred years of youth and the losers are sacrificed to Skadi, the Norse goddess of winter, mountains, and skiing. Also the goddess of archery, she has inspired the usage of firearms in the biathlon, an event where a thousand-mile skiing race is punctuated by the shooting of innocent animals at long distances.
I am not actually sure the validity of any of this, but I believe it to be true.
Winter is the worst time of the year.
In any event, it isn't important whether you hate or incorrectly love winter.
It will cause madness and strife regardless of your feelings. In a snowstorm, for instance, you will find 13th Avenue morphed into a two-lane sandbox of strange frictions and steeping panic. "Certainly this used to be three lanes," you will think as doubt fully realizes itself deep inside your soul. But with all visible markings obscured by slush, you are left with nothing to prove your case and are forced to join them. You see, the entropy is all-consuming. Even you, the only person who knows how to drive in the winter, have difficulty navigating the slippery gauntlet.
You arrive home and, again, there is a fresh layer of snow for you to shovel. You have thrown out your back nine times this winter and concussed yourself after slipping not once, but twice. Through several hundred pounds of special winter salt you have gone, yet the ice never relents. Your lips are permanently chapped and your student loan payments are still due. You have personified winter as a super villain and go to sleep fantasizing about fighting them.
You have certifiably lost your mind amidst the hopeless peril which permeates every atom of your being and you've had enough. You go entirely off the rails.
In the end, winter is one of the last communal miseries we have. In a world full of endless comforts, riveting technologies, and extensive entertainments, winter in the Midwest will always suck. Aside from this bond it builds, it is a completely indefensible facet of our lives here. It offends and betrays every one of my sensibilities and I wish nothing but the worst for the season.