​Portals, Blue Laws, and Roller Skates
by HPR Contributor | .(JavaScript must be enabled to view this email address) | Last Word | February 13th, 2019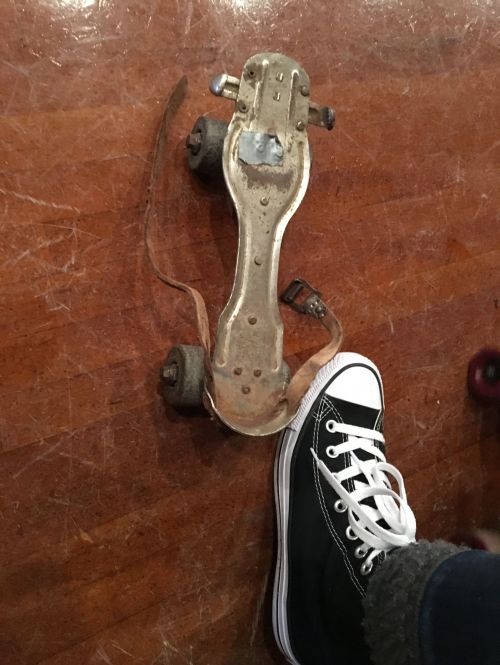 By Cara Cody-Braun
cara.braun@wyndmereschools.org
I am not much of a science fiction fan, but I'm a sucker for a story with a portal. Who hasn't dreamed of entering a different world? Alice's fall down the rabbit hole in "Alice in Wonderland" led to the most intriguing encounters. For me though, the idea of going to a different time period is most attractive. That's why I have Diana Gabaldon's "Outlander" series on my need to read list. Like most people, I loved the movie "Back to the Future," which didn't involve a portal, but rather time travel via machine.
Marty McFly's trip back to his own father's adolescence is so interesting. The past tends to get white-washed. The "olden days" were probably as stressful and as problem-filled as our present day, but somehow those daily troubles get washed out with time, and we are left with the sweet highlights. Nostalgia gives the past an alluring warm glow. That's why I was so delighted with a recent visit to the Cayuga hall in Cayuga, ND. It feels like a trip back to the 1950s. One does not have to try hard at all to imagine the lives of the Cayuga youth back then, because Sunday afternoons at the hall in winter are much the same today.
This warm feeling for the past is probably what keeps our blue laws intact in North Dakota. Even as I write this our ND legislature may be deciding to repeal the remaining blue laws that are currently the strictest remaining Sunday restrictions in the United States. I rarely agree with the decisions of our conservative ND legislature, but during the last legislative session, I sided with them when they decided to keep the blue laws intact.
I didn't appreciate all the reasons that they used to defend the laws, such as the idea that the laws serve to keep the women home making breakfast rather than out shopping. That is one of those old-fashioned ideas that never was too charming. I like Sunday closings because they give us a break from 24-hour consumerism. I realize some people still need to work, and I can rest all day if I choose to, but I still believe something is lost when Sunday is the same as every other day. I like having a day that feels different-- a slow day. Call me out of touch, old-timey, outdated, etc., but I think in this area ND has a chance to be so far behind the rest of the country, that we'll actually be out front! Someone will probably do a study and discover that keeping a Sabbath day is very good for people's mental and emotional health, and ND will be considered cutting edge. Imagine!
Cayuga has it going on regardless of blue laws. The Cayuga Hall has been opening for roller skating ever since the 1950s. The old wood floor remains an unforgiving testament to all the wobbly starts, crash stops, collisions, as well as smooth moves for the past 70 years. The old wood in the hall has a golden tone, and when it's clear outside the natural light shines on the ladies in the kitchen giving them an angelic quality. The Community Club volunteers serve up coffee, pop, bars, and cookies, just like they did way back when. Most skaters bring their own skates, but for those who don't, skates are available. Yes, the same skates that were used when they opened. They're ancient looking and require a key to adjust them to the skater's shoe. The Community Club men are on hand to help with this task when needed.
A few years ago, I attended the Roughrider Health conference at Jamestown college. One of the speakers was Dr. Leonard Sax, author of "Boys Adrift." He talked about the struggles of boys growing up today and the effects of modern culture. One of the issues he talked about has really stuck with me, and that is the isolation of boys and how little interaction they have with men compared to boys 20 or 30 years ago. Besides the fact that we have more absent fathers than we used to, young people just don't intermingle with adults to the extent that they did in the past. He gave the example of how men used to commonly work on their own cars in their own neighborhoods. This was an opportunity for neighborhood boys to mingle with their elders and learn from them. It was just a common occurrence that no longer happens.
Nowadays young people have fewer opportunities to mix with different generations, and we know that having older mentors is one of the keys to prevent risky behaviors. My grandchildren go to daycares where they are in rooms with only children of their own age, so they are not even mingling with older children. Children spend much less time now just playing with children in their neighborhood but instead are enrolled in activities and classes where they are again divided by age group. Furthermore, our neighborhoods have become more divided by age.
It is common to have neighborhoods of just young families, or just retired people, and we are losing neighborhoods that are multi-generational. Efficiency and convenience are the driving forces in our lives at the cost of intangibles like lessons that are situational rather than planned. Premium nowadays, but multigenerational fun is alive and well in Cayuga, ND. Open on Sunday afternoons from January-March kids, Cayuga Hall is a multigenerational time capsule. Small children, teens, parents, and grandparents are hanging out at the hall the same as they have been for generations. It's a treasure in rural ND. Cayuga uses an old building and a few volunteers to maintain a regular portal to the olden days. Like our blue laws, Cayuga Hall is another thing that's so old, it seems new again.