​The Old (Barbershop) Songs in a New Age
by Charlie Barber | .(JavaScript must be enabled to view this email address) | Last Word | June 10th, 2015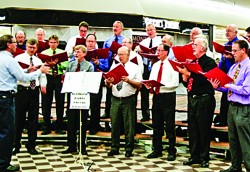 "The Old Songs, the old songs, the good old songs for me / I love to hear those min-or chords, and good close har-mo-ny." - Theme Song of SPEBSQSA [Society for the Preservation and Encouragement of Barber Shop Quartet Singing in America]
"Most of us hadn't realized the extent of the presence of barbershop harmony in African-American culture until 1992, when Lynn Abbot [Tulane University] ... discovered overwhelming evidence that barbershop quartetting was pervasive in African-American culture in the late 1800s and early 1900s, including among many men [W.C. Handy, Scott Joplin, Louis Armstrong, Jelly Roll Morton, Sydney Bechet] who went on to become the pioneers of jazz." - The Harmonizer [official publication of the successor to SPEBSQSA, The Barbershop Harmony Society], Jan/Feb, 2015
Barbershop singers and quartet singing have been a-changin' with the times for the past generation or more, whether Bob Dylan has recognized it or not. Yet the charm of the "old songs" has not faded one bit.
Proof of the above was on display at the Shooting Star Casino in Mahnomen, Minn., this past May 1 and 2, where the Land O' Lakes District of the Barbershop Harmony Society held its 2015 Spring Convention and International Preliminary. The Northern Plains Division Contest was hosted this year by Fargo-Moorhead's own Great Plains Harmony Chorus, directed by Sheila Childs. This large and talented group and three of its quartet offshoots, Good Fourtune, Punch Line and Fermata Nowhere, perform often in the F-M area.
Our smaller group from Bismarck-Mandan, the Northern Lights Chorus, also took part in the competition, and we were thrilled to qualify to participate next October 23 to 25 in the district competitions being held in Oshkosh, Wis. We will be joined by many outstanding choruses and quartets from the Upper Midwest: Great Plains Harmony; Heart O'Lakes Harmony from Fergus Falls, Minn; Grand Harmony from the Greater Grand Forks, N.D. area; West Central Connection, Willmar, Minn; and the Golden Chordsmen of Winnipeg, Manitoba, as well as by many others.
The three categories in which barbershop choruses and quartets are judged are Music, Presentation and Singing. The judges, all barbershop singers, are precise and exacting in their expectations. You have to be really good and really dedicated to get into award winning numbers at the international level. The sheer theatricality of groups like Midwest Vocal Express, from Greendale, Wis., justifies the Barbershop Harmony Society relocating its headquarters from Kenosha, Wis., to Nashville.
The dedication of quartet singers is particularly prodigious. Salty Dog, for example, takes its name from a tavern in Steele City, Neb., where it rehearses, because it is relatively equidistant from where the four of them live in St. Louis and Kansas City, Mo., Omaha, Neb., and Castle Rock, Colo.
At the district, national and international levels, the competition becomes stiffer, of course, but the real joy in barbershop singing at these conventions and competitions comes in participation with all who love this unique sound, which knows no age, color or lifestyle barrier -- especially nowadays.
As for gender, sopranos and altos have the Sweet Adelines' Conventions and Competitions for their voice ranges, and there are mixed voice (SATB) barbershop quartets all over the nation. It is also worth noting that many male barbershop choruses prefer female directors. If you wish to witness from a dozen to four dozen or more men giving their undivided attention to a woman, strictly because of her ability, rather than her femininity, I suggest you attend one of these contests.
And there is no age discrimination in barbershop singing; I doubt if there ever has been. One 93-year-old gentleman from one of the Winnipeg quartets made it on stage with the assistance of his walker, but our basses assured me that he acquitted himself quite well. It is encouraging to know, that of all the doctors that we might be needing to consult as our varying body parts begin to desert us in the aging process, it is not likely that a pulmonary specialist will be among them. I was sent to one by my oncologist a few years ago, and after he had examined me, I was so delighted with the positive verdict that I sang a song for him and his nursing staff, one with a long tag. He then said that I should have sung first, and the tests would not have been necessary.
As for the young quartets, they keep on coming and they are amazing. Their enthusiasm is more than matched by their incredible vocal range and sustainability. For those who are unfamiliar with barbershop singing, think of a quartet as an exquisitely tasty audio sandwich, with the melody as the interior delicacy, usually sung by the lead (second tenor), but sometimes by one of the other parts [tenor (first tenor); baritone (first bass); bass (second bass)], which are usually the bread slices and dressing.
Also, barbershop melodies, to be complete, require an operatic ability to sustain long, long, long notes. This is usually, but not always, the task of the lead. You have to HEAR it to believe it, when a group like Kordal Kombat takes the stage. And you can do that this year in Pittsburgh, Pa., June 28-July 5.
I attended my one and only International Barbershop Harmony Convention on the weekend of July 4, 2008 in Denver, Colo. It was there I first heard the Musical Island Boys, one amongst a bunch of talented quartets and choruses of all ages. They were honing their skills for a championship run six years later at Las Vegas in 2014.
These four young Pacific Islanders from New Zealand are a wonderful story. As baritone Will Hunkin put it [Harmonizer, March/April 2015]:
"Guys like us in New Zealand are unfortunately overrepresented in jails and under-perform in education. We come from a background where that is what is expected of us. Through barbershop, what we've been able to achieve has opened up a lot of doors, not only to ourselves, but for guys like us who have fallen behind."
It is a long and arduous trip to become a quartet champion, but it is not a grind for those who are willing. The Musical Island Boys were inspired by music that came out of American inner cities, "the Motown thing," and they were encouraged by dedicated teachers and mentors to use barbershop singing to raise their expectations in life.
You have to be serious about having as much fun as barbershop singers do. That includes the Afterglows, singing parties helped along by food and "liquid refreshment," with an overwhelming number of participants more drunk on music than on booze.
Then there is the matter of whimsy, a capricious and fanciful sense of humor unique to barbershop singers that often plays off its opposites in staid, sober deportment that most of us are obliged to display in pursuit of our daily bread.
Such whimsy can be found in the one-liners of particularly gifted masters of ceremonies for barbershop events, or in the titles of quartets, which, to the undiscerning, might better characterize movie titles, a TV sitcom or the lineup of four footed creatures in the Kentucky Derby: Lemon Squeezy (Sweden); Reckless (United Kingdom); Mayhem (Phoenixville, Pa.); GQ (Hilltop, Minn.); 3 Men and A Melody (Butler, Mo.); Test Drive (Toronto, Ontario); A Mighty Wind (Atlanta, Ga.); Lunch Break (N.C.); American Pastime (southern California); and Grand Design (Owatonna, Mankato, St. Paul, Minn., and New Richmond, Wis.).
My favorite whimsical group at the Mahnomen competition was a droll quartet from the Minneapolis area calling themselves the Gay Nineties. I kept falling out of my chair laughing while watching four characters who resembled different versions of Charlie Chaplin singing in splendid harmony. Afterwards I suggested to one of them that they look up Garrison Keillor, the host of "Prairie Home Companion," who would immediately recognize their affinity with his characters in Lake Wobegon. It turns out that this guy actually lives in Avon, Minn., smack in the middle of the "Lake Wobegon Trail."
Not all attendees at our contests are singers, but they share a passion for the musicality and conviviality that barbershop singing provides. It is a uniquely American pastime that today, more than ever, is available around the world to people of all colors and creeds.
As for worldly cares that assault the senses on our way to and from these gatherings? No worries mate -- with us, it's all about the singing.