Ask me to give, not give back
by Rob Port | .(JavaScript must be enabled to view this email address) | Say Anything | December 25th, 2015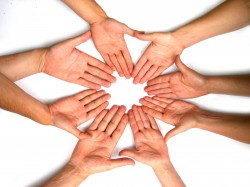 I hate being asked to give something back this time of year.
Before I explain why, let me tell you that what I like best about the holiday season is the focus on charity. There is something wonderful about a time of year when we focus on being thankful for what we have and helping those around us.
Yet there is something irksome in the way we talk about charity. We are inundated with messages telling us to "give back." Pitch after pitch for charity tells us to "give something back this holiday season."
Give something, sure. But give something back?
I dislike that phrase "give back." Not because I'm opposed to charity, but rather because it supposes what we have to give came at the expense of somebody else.
I don't think the phrase is often used with malice. For most it's just something you say.
Some do believe that the successful prosper as the expense of others -- Sen. Bernie Sanders is an example -- and that's wrong-headed thinking.
Those are people who believe economics is a zero sum game. They believe there is only so much wealth to be had, and if one group of people accumulates wealth it means there is less wealth available for others.
From this flows a preference for equal economic outcomes achieved through high-tax, big-government, "eat the rich" policies aimed at redistributing wealth.
But that's not how the world works. Wealth in the world isn't static. In fact, wealth is created.
Let me give you an example.
Suppose I have $100,000 and I want to build a new home. I take that $100,000 and spend in on contractors and supplies and all the other things it takes to build a home.
At the end of the building the $100,000 is gone, but I now have a new asset in the form of a new home that is worth (assuming I did it right) more than the $100,000 I invested.
This means a net gain in my personal wealth, but the gain isn't only mine. The $100,000 I put into building the home went into the pockets of all the contractors and suppliers who helped me build the home. They all benefited too, selling their skills and labor and supplies to me at a profit.
In the process of building a new home, I not only enriched myself but I enriched a wide group of people around me. The same goes for somebody who builds a business. They supply goods and/or services to the public at large and turn a profit for themselves. In doing so, by necessity, they create jobs and commerce for other people and businesses.
I would argue that, short of theft or slavery or other unlawful enterprise, it is impossible for anyone in America to become rich without also creating opportunity and prosperity for others.
This is the beauty of capitalism and free markets, which have done more to lift people around the globe out of poverty than all the charitable work ever done.
Add up all the charitable works by all the churches and social organizations you can think of and their accomplishments will pale in comparison to the good done each day by free people making free choices in a free economic environment in pursuit of their own self interest.
Which brings me back to this whole "give back" thing and the presumption that, by prospering, I've somehow taken from society at large and must balance the ledger.
It's simply wrong. We should stop using the term.
We should not, however, stop supporting charities. They have their place, and they achieve great things.
So please do ask us to give. Just don't ask us to give back, because every day we spend in pursuit of happiness is a day we also spend creating opportunity for others.