Get Tough
by Rob Port | .(JavaScript must be enabled to view this email address) | Say Anything | December 18th, 2015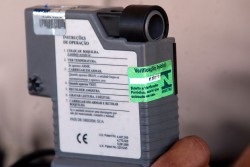 Drunk driving law may get overturned by the U.S. Supreme Court
Imagine you stand accused of stealing items from your neighbor and the police want to search your home for evidence of that theft without a warrant. Would we not be outraged if there were a law on the books making you immediately guilty of a crime equivalent to theft for declining a warrantless search?
What good is the 4th amendment if it is illegal to turn down a search for which the police do not have a warrant?
Yet that's the very situation North Dakota's legislature created in 2013 in passing a "get tough" drunk driving bill.
They essentially criminalized the exercise of our 4th amendment privacy rights during investigations into inebriated driving.
Now their actions are going to get a review from the U.S. Supreme Court.
The Legislature has made it illegal to refuse a warrantless chemical sobriety test ordered by law enforcement. Section 39-20-01 of the North Dakota Century Code, as amended by the 2013 legislature, states that "refusal to take the test directed by the law enforcement officer is a crime punishable in the same manner as driving under the influence."
You may be under the impression that refusing the chemical test was already a crime before 2013. What really happened before is that the state would take civil action, suspending or revoking driving privileges.
By turning a civil penalty into a criminal penalty - the exact same penalty as the crime for which law enforcement is gathering evidence, no less - the Legislature crossed a line into new legal territory, and they may come to regret it.
The U.S. Supreme Court will now review two cases out of North Dakota challenging the law, as well as a case out of Minnesota challenging that state's similar statute.
In the North Dakota cases, our state supreme court has stood behind the Legislature..
Attorney General Wayne Stenehjem stands behind the law as well, which he lobbied for.
"My office worked with the legislature in crafting laws that made refusing to take a chemical test a crime when there is probable cause to believe the driver is operating under the influence, and the North Dakota Supreme Court upheld the law as constitutional," Stenehjem told me in a statement when I inquired about the high court's decision to review the law. "Since the laws were enacted, we have seen the number of DUI convictions in the state decrease."
Even if a decline in drunk driving can be attributed to this law, its implications for our rights - and not just our 4th amendment rights - are disturbing.
Consider our 1st amendment rights, for instance. Certain religions have very strict doctrinal beliefs about the removal of blood from the human body. If someone objects to a blood screening for alcohol or drugs on religious grounds, are we to find them guilty of a DUI for exercising their spirituality?
Or how about the 5th amendment which prohibits "double jeopardy," or the trying of a person twice for the same crime? Since it is possible to charge a person both with a DUI, and with "a crime punishable in the same manner as" a DUI for refusing a chemical test, is that not double jeopardy? Or trying a person twice over for the same crime?
Further, the 6th amendment guarantees every American the right to "have the assistance of counsel for his defense." A person who has been arrested, and who is being pressured by law enforcement for assent to a search, might reasonably feel confused and desire consultation with legal counsel before making any decisions which could put them in legal jeopardy.
Could law enforcement deem the delay of a chemical test until a suspect's lawyer can be contacted as a refusal punishable as a crime?
Drunk drivers are not typically looked upon sympathetically by the public, for perfectly understandable reasons. Yet our constitution guarantees certain clearly defined rights to even the most heinous of criminals.
We all want murders and rapists in jail, but we still acknowledge that police cannot run roughshod over our rights to find and arrest those people. So how than can we countenance a law which makes it explicitly illegal to exercise some of those rights?