No state may be hurt more by the Clean Power Plan than North Dakota
by Rob Port | .(JavaScript must be enabled to view this email address) | Say Anything | November 19th, 2015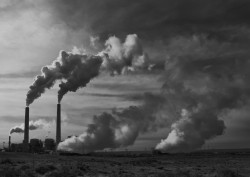 The Obama administration's Clean Power Plan is expected to have a dramatic impact on how Americans get their power across the U.S. Or, perhaps it's better to describe the impact as extreme, given that dozens of states, including North Dakota, filed suit to block those regulations the moment they hit the federal register.
But North Dakota may be where the hammer blow falls the hardest. When the plan was put out for public comment it called for an 11 percent reduction in emissions from power plants in the state. The final rule, however, nearly quadrupled that number to more than 40 percent.
The change was so large that Attorney General Wayne Stenehjem, a Republican, chose to file an independent lawsuit against the federal government challenging the plan as opposed to joining a suit filed by other states. When I spoke with Stenehjem about that decision he told me he still isn't certain why there was such a large discrepancy between the plan made available for public comment and the final plan.
Which is why these sort of sweeping policy changes ought to take place by way of the legislative process, where such amendments to proposed laws are tracked and debated, but that's a whole different column.
Back to the Clean Power Plan. It could put a serious crimp in North Dakota's economy, and one every citizen in the state would feel.
"In the Clean Power Plan they throw out the figure of approximately $30 per ton [of emissions] to comply with the provision given the various types of compliance," Public Service Commissioner Randy Christmann, a Republican, told me. "Also in the working papers North Dakota is required to lesson our CO2 emissions by about 12.5 billion tons. Well that's about $373 million."
That expense for the power companies would mean a big hike in costs for North Dakotans once it gets passed onto consumers, not just directly but also by companies raising prices to meet a higher cost of doing business.
By Christmann's calculations, the impact would be nearly $50 per citizen per month.
To provide some context, Christmann said he heard plenty of comments from the public over an increase of just a couple of dollars per month for a gas utility. "We just finished a rate case for [Montana-Dakota Utilities] for gas," he said. "I realize that's gas and this is electricity, but it's still a utility bill. That rate case worked out to about $2.03 per month for the average rate payer."
"If they think that's a big increase, I felt we would be misleading them if I didn't come out with a dollar figure for the Clean Power Plan's impact," he added.
If the Clean Power Plan isn't defeated in the court system, an outcome Christmann says he's hoping for, it could necessitate an expansion of subsidies for low-income citizens.
"It is going to hit the low income people the hardest," Christmann said. "The upper income folks will find a way to pay more for electrical bills and other costs.
"The other group that's going to get impacted disproportionately are rural people," he added. "You go out into the rural areas where we don't have natural gas, they heat with electricity. My electric bills in Hazen are several hundred dollars per month some times. You get this increase on there, this is going to be devastating."
Currently the North Dakota Department of Health is holding public hearings to get input on developing a state plan to comply with the Clean Power Plan. Christmann, who has been attending the meetings, says he doesn't see a lot of hope. Unlike previous federal regulations, the state doesn't have a lot of flexibility to make this one work.
"My experience with it is, when we came up with implementation plans for the mercury and air toxins rule or sulphur dioxide at the power plants, some of the timing and the methods we were going to use, the state had some flexibility but we had to meet their ultimate goals," Christmann said. "Because there's not technology commercially available to capture CO2, and because North Dakota's base load of power generation is coal, there just aren't a lot of opportunities."