​One nation ruled by a social media mob
by Rob Port | .(JavaScript must be enabled to view this email address) | Say Anything | August 5th, 2015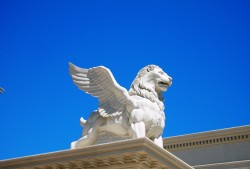 The rise of social media mob justice makes me think of a toddler wielding a loaded handgun.
Two weeks ago a man in Fargo was the target of thousands of online postings, mostly on Facebook, calling him a pervert and demanding his arrest and even physical harm because he'd been observed engaged in the perfectly legal activity of taking pictures in that city's Island Park.
Not one of the angry online ranters called the police. Rather, this man went to authorities himself, scared out of his wits. His reward? A trespass order barring him from park property issued by local law enforcement officials no doubt uneasy about going up against the vicious public overreaction.
Better to tread on the grounds of a legally dubious ban from public property for the vile crime of photography than for law enforcement officials to themselves become targets of the mob.
Over this last week we saw another social media overreaction. This time it was Cecil the Lion, a feline celebrity that few in America had ever heard of before a Minnesota dentist shot him giving social media reactionaries another opportunity to vent mindless spleen.
The dentist in question has been pilloried in the same way the photographer was, albeit on an international scale. There have been demands for his arrest and physical harm. Celebrity animal rights activists irresponsibly published his private information online. The laughably corrupt government of Zimbabwe is pursuing extradition.
Yet, it still isn't clear that this man knowingly broke any laws, a fact that didn't quell the self righteous howling from an ill-informed, global online mob which drove the dentist into hiding.
So why did Cecil's death capture so much social media attention? Who knows. Why did a photographer in Fargo inspire a digital lynch mob to form before anyone called the police?
For that matter, why is a reality television star currently the frontrunner among Republican candidates for president?
That Donald Trump is an unserious candidate more concerned with trending on Twitter than he is with advancing a serious policy agenda is self-evident to people who are engaged. Yet the politically engaged and informed do not make up the majority on social media, which has been the platform most key to Trump's surge.
What's worse is that the traditional media - which in another era might have been counted on to put a needle in the side of inflated social media reaction to random acts of photography, trophy hunting, and buffoonish campaigning - has turned to milking these stories for the likes and tweets and shares that have become oh-so-important to their bottom line.
Last week a Fargo-based television station sent one of their reporters across the Red River to investigate property owned by Cecil the Lion's dentist killer in Clay County, Minnesota. The resulting report was laughably inane, covering such hot scoops as the use of surveillance cameras on the property (oh my!), and information from some anonymous local source which revealed that the dentist keeps mounts of exotic animals in his home there (shocking!).
A rational observer might wonder why the television station was wasting precious broadcast minutes on a story with zero pertinent information. But that rational observer would be missing the point of the story, which wasn't informing the public so much as inspiring Facebook shares.
In September of this year I will have been writing SayAnythingBlog.com - North Dakota's most popular political blog - for a dozen successful and rewarding years. When I first started blogging I felt like I was a part of something new and special that democratized media. No longer would we have to rely on biased and myopic producers and editors and reporters to get our news. That which the traditional news media would not cover could be covered by a new, alternative online media.
I still believe this to be true. Online media has improved communication and news reporting in ways too numerous to list here. But alongside online media has grown a sort of social media hive mind that, far from being an alternative to the traditional media, now seems to be driving the media.
It's that toddler with the gun, and nobody knows who will get it next.