Port exiting HPR
by Chris Hennen | .(JavaScript must be enabled to view this email address) | Say Anything | January 14th, 2016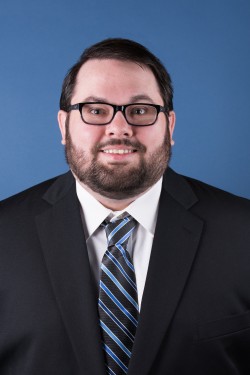 By Chris Hennen
Over the holiday break, it was announced political blogger Rob Port of Say Anything blog will join Forum Communications and write a column for the Forum newspaper effectively ending his relationship with the High Plains Reader. As he exits our pages, we decided to ask Rob about his decision to write for a paper he often criticizes on his blog and find out how it all came about.
HPR: How did becoming a columnist for the Forum come about?
Rob Port: My good friend Jay Thomas, the afternoon host on WDAY which is a Forum Communications-owned radio station, started having me on his show a lot starting a few years ago. I guest host for him, and appear as a guest on his show frequently, and he started talking to me about Forum as a company and how great they were to work for. From there I just started exploring with some of the Forum folks ways we could maybe work together and a column was something that made sense.

HPR: What changed? You previously had a strained relationship with the Forum, they didn't like to give you credit for any news scoops you had, you frequently criticized them in your blog posts and they carried your column in their Grand Forks and Dickinson papers but not Fargo, why the change?
Rob Port: I'm not sure that anything has changed. As you point Forum Communications has a lot of different outlets. Over the years there have been differences in how they treat me and news that might originate on the blog. Will the Fargo Forum, specifically, be more willing to hat-tip me or SayAnythingBlog.com now that I'm a columnist for the Forum News Service? I guess we'll see. I hope so.
HPR: Will you criticize the Forum on its pages? Do you think they will welcome criticism or combat it?
Rob Port: If I feel like there is something the Forum has reported or editorialized on that is worthy of criticism then yes, I will be critical. As to what their reaction will be, you'd have to ask them. I would hope that they would welcome it. One thing I've always done on SAB is invite viewpoints other than my own onto the blog in the form of a wide-open comments section and regular contributors. I think that's valuable. I think the folks at the Forum are savvy to that.
HPR: Does this affect your relationship with Valley News Live and what is the status of that, I know not too long along you stopped appearing on their talk show POV but were recently back on?
Rob Port: Valley News Live chose to suspend me for my criticism of some of their coverage months before any talks began with the folks at the Forum. I haven't been back on their airwaves at all since that happened, though I think sometimes my content has been featured in one way or another. I have zero relationship with them at this point. In the future, if some of the folks over there grow some thicker skin, I'd be open to maybe doing some segments again with the understanding that I'm still going to call things as I see them, but as far as I know that's not in the cards. I'm not aware of anything in my relationship with FCC which would prohibit that sort of a development.
HPR: Do you think they brought you on board to balance their recent hiring of Mike McFeely, a columnist who leans to the left?
Rob Port: I think the folks at FCC brought me on because they recognize that I am a talented and well-connected opinion reporter with a lengthy track record of producing solid analysis and breaking news. You'd have to ask them if they think of me as balancing out any of their other content. As it stands I seem to be the only voice to the right of center they have writing in their newspapers regularly, so I think I certainly provide them with something they were missing.
HPR: What do you think of Mike McFeely? Do you guys get along? Do you respect his work?
Rob Port: I've never met with Mike or worked with him. I honestly can't say that I've ever listened to his radio work either, though I don't mean that as a slight. I do have one funny story. I remember years back a SAB reader who happened to be listening to his old KFGO radio show told me that Mike used the term "blogger assassin" to describe me on air. I sent him a message saying that I was going to have business cards printed up with that as my job title. I think he sent back a snarky response, but I don't remember nor can I find it. I read his political columns in the newspaper now, because I make it my business to read everything, but I can't say that I've been reading long enough to have much of an opinion.
HPR: What about the Forum as a news organization, do you think it's a good newspaper providing a valuable asset to the Fargo area or do you lump it in with "the liberal news media"?
Rob Port: One thing I've tried to get away from in recent years is the term "liberal media." I don't use it any more for a couple of reasons. First, whether conservatives like it or not, the media is the media. Second, I think conservatives need to stop consigning themselves to the media ghetto by drawing distinctions between "liberal" or "mainstream" media and the "conservative" media. It's all just media. Opinions and reporting and research. We should talk about it that way. Truth is truth, no matter what the source. As for the Fargo Forum specifically, while I've tangled with their bombastic and at times quite nasty editorial board on numerous occasions, I admire many of their news reporters who I feel I can be critical of on stories now and then while still recognizing that they do overall good work. Tu-Uyen Tran I think is a really first-rate reporter. Mike Nowtazki, who they have covering in the capitol/political beat in Bismarck, does great job. Amy Darlymple handles energy reporting in western North Dakota with a generally even-hand and a good nose for the news. I also enjoy Ryan Johnson's features and columns. He takes off the wall topics and makes them interesting.
HPR: One of the most criticized regular pieces in HPR since I've been here has been your column, why do you think that is? Why do you think you are such a lightening rod?
Rob Port: I suspect that I'm a lightning rod for HPR readers because I represent ideas and perspective that are outside of their comfort zone. It's a narcissistic thing. Both the right and the left (and those who fall elsewhere on the ideological grid) like to think of themselves as the thoughtful arbiters of the truth, and those who disagree as imbeciles and extremists and racists. The HPR is a really great publication, but in terms of politics seemed to be something of an echo chamber. I gave the generally left-wing readership of the HPR something to gnaw on. Which is good! If I can, at the very least, get people to examine their own beliefs for a moment that's valuable even if they don't end up where I'm at on an issue. We should all strive for that. As for why I'm a lightning rod generally, I think it's because I've never had a problem taking an unpopular position if I think the cause is just. Case in point, last year there was a social media firestorm over Facebook photos of this guy taking and his camera near a pool in Fargo's Island Park. The insinuation was that the guy was some sort of a pervert taking photos of the women or children at the pool in their bathing suits. I dug into the situation and revealed some interesting facts about what happened. For one thing, for all the uproar and concern on social media, the first person to contact the cops was the guy in the photos and he did so because he was concerned for his own safety. None of the people who were outraged by this supposed pedophile had thought to, you know, call the authorities. That revealed something pretty ugly about mob justice in the social media age, I think, and I was happy to tell that story even though it earned me plenty of angry responses. It's the sort of work I'm the most proud of.
HPR: Can you give some examples of your opinions where you don't toe the party line, that may surprise people?
Rob Port: I often run across people on social media and elsewhere who are maybe somewhat aware of my work - because they've read a post or two on the blog or heard me on the radio for a few moments - and assume that because I'm generally a conservative guy I must fulfill a lot of the stereotypes about conservatives. People are usually surprised to learn that I'm an atheist, though not the sort to go fainting into the bushes every time I see a public display of faith. I've been an outspoken proponent of marriage equality for years now, something which has often caused a lot of conflict for me with my fellow conservatives. I'm generally for drug legalization, which is becoming less and less controversial all the time. I've also drawn a lot of fire over the years for pushing back against some of the unfortunate attitudes some conservatives have about Muslims. Last year with Rep. Dwight Keifert from Valley City objected to an Islamic leader delivering the invocation to the state House I was the first to report the story - I'm not sure it would have been clear which lawmaker had objected were it not for me - and I was very critical of him. And I have a history of breaking inconvenient news about Republicans. In the 2014 cycle alone I broke the news about Agriculture Commissioner Doug Goehring making inappropriate comments to members of his staff and Tax Commissioner Ryan Rauschenberger struggling with alcohol addiction. In 2015 I was among the first to report on Lt. Governor Drew Wrigley's marital infidelity. I've heard some of my critics say that I'm just a mouthpiece for Republicans, but I'm not sure if they understand how much of a pain in the ass I am for Republicans a lot of the time.
HPR: What are you hoping this partnership with the Forum brings?
Rob Port: What any writer hopes for, and that's more readers. I also hope it inspires some in the public to see my work in a different light. I don't think it's fair, but there are still people who look down their noses at internet-based media. You still hear the snide remarks about "bloggers" pretty regularly. I even get them, even though I would argue that in my 13th year of writing about North Dakota politics I'm probably one of the most consequential reporters/commentators in the state.
HPR: What do you want to say to HPR readers who read you over the past year as you exit the paper? Did you enjoy the relationship with the paper?
Rob Port: The HPR has a wonderful staff. Unfortunately, I only got to interact with a few of them during my time writing for the paper, I certainly enjoyed the prodigious amounts of correspondence my columns inspired from the HPR readership, the bulk of which was respectful and thoughtful. The paper has a serious reach in the Red River Valley and beyond, and it's something you folks should be proud of. One thing I do hope is that you make an effort to include more conservative content in the future, whether it's me (HPR can syndicate my column from the Forum, hint hint) or someone else. I'm not a fan of cable news style ideological combat, but I do think we all need to be more open to other viewpoints. We could do a better job of trying to understand one another, and I think the HPR could help with that mission.
HPR: What's next for Rob Port professionally? Any goals you want to accomplish?
Rob Port: I love writing. I write a lot of things that I don't even publish. I've toyed with maybe trying my hand at writing fiction in the future, but what I've written seems awful to me. I may not be cut out for that sort of thing. I'd definitely like to do more broadcasting. Talk radio gets lumped in with cable news a lot, and I'm not sure that's fair. It's a fun and consequential medium. I love going back and forth with the callers and fomenting discussion through live interviews.
HPR: Prediction time: Who will be the next Governor of North Dakota?
Rob Port: As I write this we're waiting to see if Fargo businessman Doug Burgum is going to get into that race. If he decides to jump in I think it's a game changer for reasons ranging from the advantage of his personal wealth to his popularity in North Dakota's most populous region. Some political observers in the state have been dismissive of his ability to win the NDGOP nomination (he's gone on the record with myself and others saying he's in as a Republican if he's running), but that that seemed suspiciously like Stenehjem supporters trying to keep Burgum out of the race. The gubernatorial race is going to be settled the moment Republicans choose their nominee. Democrats just aren't selling anything most North Dakotans want right now. If Burgum stays out Stenehjem will cruise to victory in the nomination race over state Rep. Rick Becker. If Burgum gets in, my money is still on Stenehjem, but boy is he going to have to work for it.
Read Rob's blog at http://sayanythingblog.com