The First Amendment is in trouble
by Rob Port | .(JavaScript must be enabled to view this email address) | Say Anything | December 3rd, 2015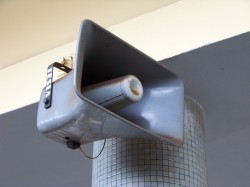 To understand the workings of American politics, you have to understand this fundamental law," columnist Charles Krauthammer wrote in 2002. "Conservatives think liberals are stupid. Liberals think conservatives are evil."
This is as true in 2015 as it was in 2002, if not more so, and it's not a great situation for our country. It has resulted in a lot of people talking about one another, but not very often to one another.
This is not the stuff sound and peaceful governance is made of.
Here's how it works in 2015: Liberals increasingly don't seem to want to let conservatives they see as evil even participate in public discourse, and conservatives think that's pretty stupid.
You needn't take my word as a self-identified conservative for it. Consider the state of free speech on college campuses these days.
Rampant bloat in campus administration has included growth in the employment of diversity bureaucrats who are, frankly, reminiscent of political officers in various tyrannical regimes. On their face these diversity officials are supposed to promote inclusion and understanding on campuses which are mixing pots of people of different cultural and economic backgrounds.
In practice, these personnel seem intent on enforcing an ideology. One built on the back of left-wing notions about oppression and victimhood.
Now that they are entrenched on campus their influence has become manifest. For the sake of diversity and tolerance, we are told, certain viewpoints are no longer welcome on campus.
At Wesleyan University in Connecticut the school newspaper - the Wesleyan Argus, one of the oldest campus publications in the nation - saw its funding cut by the student government after it published an op/ed critical of the #BlackLivesMatter protest movement.
At the University of Missouri a student journalist was accosted by protesting students and faculty members for attempting to take pictures of their demonstrations which were taking place in a public space. One of the faculty members demanded some "muscle" to help remove the offending journalist.
In Grand Forks earlier this year Bret Weber, a member of the University of North Dakota faculty and a city council member, convened a meeting to discuss how an anti-Islam speaker could be hindered when invited to speak in the community. One idea reported was to use up all the parking spaces around the venue.
But we see echoes of this attitude off campus, too. Here in North Dakota the most prominent example is in the debate over refugees.
For decades now the flow of refugees into North Dakota communities - mostly Fargo - has rankled some who argue that these "New Americans" are disproportionately represented in crime and public assistance statistics.
Reasonable concerns, if true, but the federal immigration authorities and Lutheran Social Services, which handles refugee resettlement in North Dakota for the feds, have largely been unwilling to provide solid and transparent data to address these claims one way or another. Something which, not surprisingly, breeds mistrust and resentment among their critics.
More recently some have expressed concerns about refugees flowing into America and other western nations from the refugees. These concerns, too, are understandable.
On November 27 Reuters reported that Abdelhamid Abaaoud, the man apparently responsible for organizing the attacks in Paris, "boasted of the ease with which he had re-entered Europe from Syria via Greece two months earlier, exploiting the confusion of the migrant crisis."
With ISIS announcing publicly that they will exploit the refugee programs to put their operatives inside our borders, and with at least one terror attack seemingly made possible by just such an exploitation, it seems questions about the security of refugee resettlement aren't off base.
Except, the response from the left to these questions - from left-wing columnists and bloggers up to our left-wing President - can be summarized with three words:
Shut up, racists. Just like on the college campuses.
And thus the debate is not about how we can best help refugees while simultaneously keeping our communities secure, or how we can improve race relations on campus, or how we can fix any of a myriad of policy questions.
The debate is about how one side is evil, and the other is stupid.
We can do better.