​When the crusaders for tolerance are intolerant
by Rob Port | .(JavaScript must be enabled to view this email address) | Say Anything | July 15th, 2015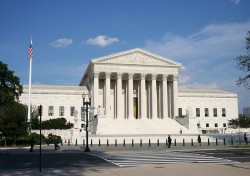 A Supreme Court ruling striking down laws banning gay marriage isn't the same thing as acceptance of homosexuals. On that front we've still got a long way to go.
"John Marshall has made his decision," President Andrew Jackson supposedly said in response to the Supreme Court's 1832 decision in Worcester v. Georgia, "now let him enforce it."
That case had nothing to do with homosexuals, and Jackson probably didn't utter those exact words, but his reaction is instructive as America in 2015 grapples with a much more recent high court ruling.
Courts may be able to shape the law, but legalese doesn't change hearts and minds.
If the gay rights movement truly has widespread acceptance of homosexuality as its goal then we will need something more than a narrow 5-4 Supreme Court ruling. We need people to change their hearts and minds.
Unfortunately, the attitude of many proponents of gay rights are an obstacle to this. As an example, consider what happened in a western North Dakota county recently.
Stark County (Dickinson) recorder Kathy Schwab went to her county's commission and requested that they grant her deputy recorder the authority to issue marriage licenses as she has a religious objection to gay marriage.
The county obliged, but when this news hit the internet the reaction was swift and furious.
"Fire her" was a common refrain among the vitriol and name-calling as was the claim that Schwab wasn't upholding her oath of office. Both arguments illustrated how lightly informed this angry, reactionary mob is.
For one thing, Schwab can't be fired. Vast swaths of the public probably aren't aware of this given the voter turnout in these sort of local elections, but county recorders are elected. Schwab can be recalled if voters in her area are willing to mount the effort, but she can't be fired.
For another, Schwab is not violating any constitution, be it the state's or the nation's. Her office has not denied anyone a marriage license on the grounds that they are homosexual.
In fact, one might argue that Schwab is showing a great deal more tolerance than her critics. Don't believe me? The definition of tolerance, according to the Oxford dictionary, is "the ability or willingness to tolerate something, in particular the existence of opinions or behavior that one does not necessarily agree with."
Now consider what Schwab did. Despite her personal feelings on the subject, she took steps to ensure that her office was in compliance with the law by requesting that her county commission designate another official to issue those licenses, something explicitly allowed by the language of section 14-03-19 of the North Dakota Century Code.
Schwab may not like gay marriage, but she made sure that licenses for gay marriages would be issued in Stark County.
Unfortunately, that wasn't enough for the gay rights activists and the social media reactionaries, because they don't want mere tolerance. In that, the gay rights activists confirm the caricature many social conservatives draw of them.
"Let me make it clear for you — you will be required to care," conservative pundit Erick Erickson, an opponent of gay marriage, wrote in a 2013 posting on RedState.com. "Gay rights advocates on the steady march toward and past gay marriage will make you care. They will not give you room to sit on the fence."
As a conservative proponent of gay rights I'd like to be able to shoot down Erickson's statements. Unfortunately, the gay rights movement sets about proving him right over and over again.
Whether we're talking about the principled and perfectly legal actions of a county recorder, or a cake baker in Oregon fined six figures for refusing to bake a cake for a gay couple, or a wedding photographer in New Mexico forced to pay legal fees for refusing to work at a gay commitment ceremony, what many in the gay rights movement is not tolerance but obedience.
Even though attitudes about homosexuals both in North Dakota and nationally are shifting quickly, they might shift faster if the gay rights movement were more gracious in victory and a little less willing to try and bend dissenters to their will.