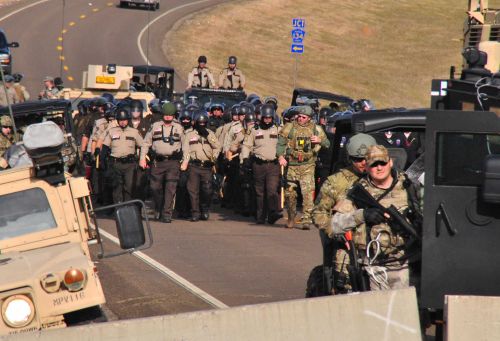 BISMARCK – The North Dakota Attorney General's office announced Friday it is suing the U.S. Army Corps of Engineers for gross negligence and tortious acts during the Dakota Access Pipeline controversy in 2016.
The state has already accepted a $15 million gift from Energy Transfer Partners in September 2017, and a $10 million grant from the U.S. Department of Justice, but it's not enough, Attorney General Wayne Stenehjem said. With approximately $18 million left of unpaid bills stemming from the Dakota Access Pipeline Controversy, Stenehjem wants the state to make money.
Calling the controversy a "nuisance," and that groups of "extremists" and "professional protesters" were involved, the state is seeking $38,005,071.66 in compensation.
The lawsuit focuses on the lack of federal permits issued by the U.S. Army Corps, the unsanitary conditions of the camps, violence displayed by activists, and the use of state resources to eventually retake federal lands.
Reflecting reports by the private security company TigerSwan, the state's lawsuit attempts to paint the activists as terrorists, saying children were used as human shields.
"Extremists fired guns: shot arrows at aircraft: threw Molotov cocktails, rocks, sticks, even water bottles, cans and feces at officers: and slashed their vehicle tires," the lawsuit stated. "The most heartbreaking protests occurred when children, some as young as three-years-old, were used as human shields."
Additionally, people in Morton County were put under stress due to school lockdowns, vandalized equipment, stolen hay, and trespassing, the lawsuit stated.
No mention in the lawsuit is made of paid FBI informants, or private security personnel who posed as infiltrators during the more than eight-month-long controversy.
"The failure by the United States by and through its agency USACE to prevent violent and dangerous protest activity emanating from illegal encampments on federal land, including by not performing USACE's mandatory duty to issue proper use permits to protesters created a public nuisance that annoyed, injured, or endangered the health and safety of others unlawfully interfered, obstructed, and rendered dangerous for passage state lands, and rendered other persons insecure in life or in the use of property," the lawsuit stated.
The controversy further affected every one of Morton County's 185 employees, Stenehjem stated, at a cost of $3.4 million. A total of 26 sheriff's departments, 16 local police departments, two local State's Attorney's office, four local emergency management offices, and 13 local ambulance service providers were involved.
According to the lawsuit, state agencies deployed to protect included: the Governor's office, Air National Guard, Army National Guard, Adjutant General, Bureau of Criminal Investigation, Department of Corrections and Rehabilitation, Division of Homeland Security, the North Dakota Forest Service, Game and Fish, Health Department, North Dakota Highway Patrol, the State Historical Society of North Dakota, Department of Human Services, Indian Affairs Commission, Information Technology Department, Parks and Recreation Department, Parole and Probation, Public Service Commission, the State and Local Intelligence Center, State Radio, Transportation Department, and the State Water Commission.
"Among other things, USACE did not fulfill its mandatory obligations set forth in regulations… and related legal guidance, that require USACE to issue and enforce use permits that the protesters must have to conduct organized activities on federal land," the lawsuit stated. "Accordingly, the protesters' sprawling encampments, with virtually no sanitation facilities, and their contamination of the land and water during their 'occupation,' were all in violation of federal law.
"At their peak, encampment populations grew to approximately 5,500 people, with some estimates of up to 8,000 people. The combined population of these camps at the time would have constituted the 10th largest city in the State of North Dakota."
Additional resources called in to protect included: Chaplain Services, the National Sheriff's Association, North Dakota Association of Counties, Emergency Management Assistance Compact, Ambulance Services, North Dakota Stockmen's Association, and the North Dakota Incident Management Assistance Team.
More than 1,700 law enforcement personnel with over 300,000 work hours from the states of North Dakota, Alabama, Indiana, Kentucky, Louisiana, Minnesota, Montana, Nebraska, Ohio, South Dakota, and Wyoming were used.
"North Dakota incurred substantial costs for this assistance," the lawsuit stated. "North Dakota has reimbursed these entities for their assistance and these costs are included in the damages asserted herein."
U.S. Senator John Hoeven, a Republican, said in a press release that he was the one who secured $10 million in 2017 from the U.S. Department of Justice's Emergency Federal Law Enforcement Assistance program, and as a member of the Appropriations Committee, he agreed with the lawsuit.
"The Army Corps of Engineers and other federal officials did not enforce the law, which allowed the illegal encampment to take place," Hoeven said. "The State of North Dakota should not have to bear the resulting costs and that is why I have worked to secure funds to reimburse the state. I support the Attorney General in these continuing efforts to make the state whole and will assist however I can on behalf of our state's taxpayers."
The land activists camped on once belonged to the Standing Rock Sioux Tribe by treaty until the 1950's Pick-Sloan's Act, when the United States Army Corps of Engineers took the land due to mass destruction caused by dams along the Missouri River.
Greenpeace, who is named as a defendant in an August 2017 lawsuit filed by Energy Transfer Partners, the parent company of the Dakota Access Pipeline, filed a report in June stating that Energy Transfer Partners, an oil company, is also involved in lobbying to criminalize protests.
"The federal government has six months to respond to North Dakota's claim," Stenehjem wrote in a press release. "If the claim is not paid or settled by then, the state can file suit to recover its damages in federal court."
The North Dakota Private Investigation and Security Board has also filed a civil claim against TigerSwan and the private security company's owner, James Reese, saying the company worked illegally in North Dakota during the DAPL controversy.