There's a lot of myths out there. People are scared, maybe they should be.
by Raul Gomez | March 18th, 2020 | .(JavaScript must be enabled to view this email address)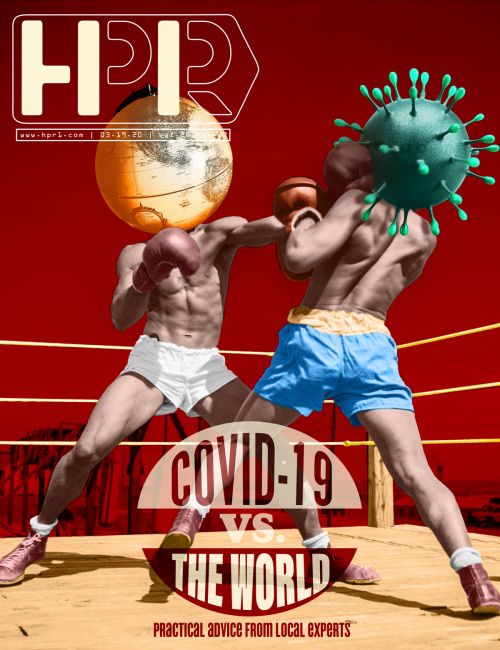 There are a lot of myths out there. People are scared, maybe they should be. How do we separate fact from fiction in the information age? Our administration says one thing, then another, and then an about face. It's clear we need sober facts that can guide us through these turbulent times. That's why HPR turned to Dr Nathan Kobrinsky, hematologist. Dr. Kobrinsky has a unique sense of humor that he uses to defuse the heavy seriousness of his work. And although he did start our conversation with a classic "why did the chicken cross the road" joke. The conversation immediately took a turn to deadly serious.
Dr. Nathan Kobrinsky: One hundred years ago, there was the great flu. It was the last pandemic. We are now facing a pandemic one century later. This pandemic has features which are more virulent, and yet with attenuating factors. Worse is that travel is more available now. People are going back and forth between city, country, continent, than was ever possible 100 years ago. So it truly is a pandemic because traveling across the world was not available then.
Second, this virus survives for days on a surface, which means that if you are at a restaurant and you put your hand down, or you lift up your fork, and then you wipe your eye with it or your face, and it gets in your eye or your tongue, you can get it.
Furthermore, it can be transmitted by coughing. So, the transmissibility is very high and surfaces are a risk. Washing surfaces and washing faces and washing hands is incredibly important.
The virus is spreading exponentially, meaning that it goes from two to four to eight and it just explodes from there to thousands in a very short period of time. Our response to the virus is way behind the response necessary to contain it. We're playing a catch-up game, where we're playing catch-up against a rocket.
HPR: So at this point, do you think that containment or mitigation is the best response?
NK: You want to be out of reach of airborne contact and you want to avoid contact with surfaces. So, what is the response? Stay six feet or more away from anybody, always and wash everything in sight with an alcohol-based disinfectant.
HPR: What if you don't have access to that? I mean would bleach sani-water work, like they use in a restaurant?
NK: I think that's good. I don't actually know the percentages of what is adequate or what is not adequate. [editor's note: ⅓ cup of bleach to one gallon of water] I do know that 60% alcohol is required for dissolving the membrane or the virus and killing it. That takes a high concentration of alcohol 60% which by the way is higher than any of the available liquor store alcohols except for Everclear
HPR: Wow, are you suggesting we get some Everclear and have that as a backup?
NK: You mean and mix it with aloe vera? That'd be fine except you can't get it because people are hoarding. People are hoarding toilet paper. They're hoarding hand sanitizer. They're hoarding Everclear.
HPR: What about rubbing…