It's about high time
by Ryan Janke | April 17th, 2019 | .(JavaScript must be enabled to view this email address)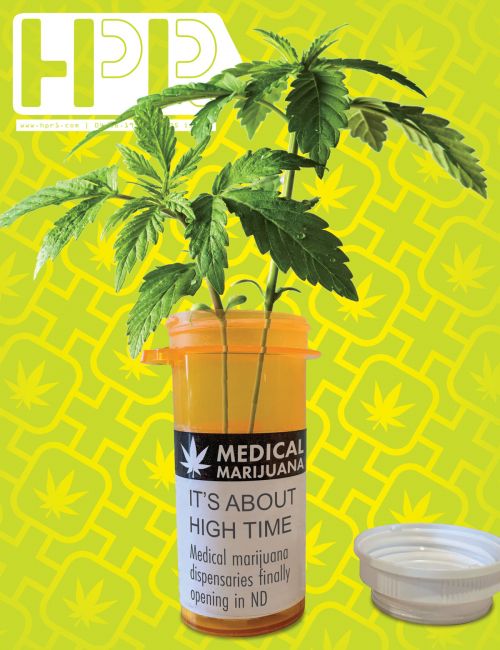 After nearly two and a half years since the people of North Dakota voted to pass the Compassionate Care Act into law in the state, medical marijuana is finally available to patients. Only one dispensary is open right now, but seven other cities have been named as future sites of medical marijuana dispensaries, including four which were named last week.
The most recent cities to be added to the list of dispensary sites are Minot, Devils Lake, Jamestown, and Dickinson. They join Grand Forks, Bismarck, and Williston as future homes to medical marijuana dispensary sites. Currently, The Botanist in Fargo is the only dispensary operational in the state, but several more are scheduled to open this year. The Botanist opened March 1.
"We do anticipate another dispensary, possibly two, opening in May at this point, but [we're] kind of waiting to see how renovation goes," said Jason Wahl, Director of the Medical Marijuana Division at the North Dakota Department of Health.
"We'd be looking at Grand Forks more than likely being open sometime mid to late May, and the dispensary in Williston either being open at the end of May, possibly beginning of June," Wahl said. "Bismarck, we would say that one still requires some significant construction and remodeling work. We don't see that one opening any time before June 1."
As far as a timeline on the other sites opening, Wahl said that also depends on building readiness.
"I would suspect based on certain information that those, probably the soonest being open would be probably more toward the August range as they need to go through…special use permit use or addition use permit in those cities, so they have to go through that process before they'd even be allowed to start any work on their facility," Wahl said.
The dispensaries will be welcome to many around the state.
There are currently close to 300 registered medical marijuana patients in North Dakota, but only The Botanist to buy products from and they have had a choppy start.
"They have really had some weather issues that have impacted their opening," Wahl said. "They were closed [April 11 and 12], and I think they've had to close due to weather a couple other days too since they started their operations on March 1."
Even with the issues with opening, Wahl feels things have started out on the right foot.
"Overall, I think the dispensing of products to qualifying patients has been going very well," he said. "The number of patients that continues to grow as far as those with a registry identification card, we anticipate that sales would continue to increase at that dispensary."
The number of patients registering for medical marijuana is growing, but how does someone who feels they could benefit from it begin the process?
"Usually, we say to start the process is a discussion with your healthcare provider," Wahl said.
There are currently 14 conditions that qualify for medical marijuana treatment. They range from cancer and…