A Cabin In Butcher Holler
by Ed Raymond | September 7th, 2020 | .(JavaScript must be enabled to view this email address)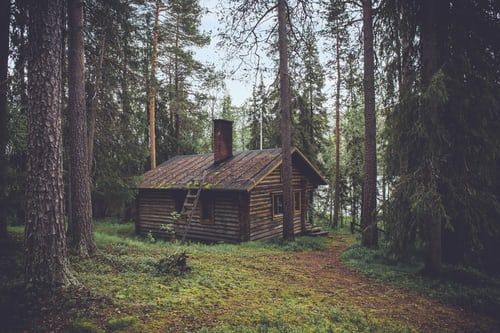 How Many People Can Retire For Forty Years?
King Donald got a lot of votes in coal country stretching from West Virginia to North Dakota in 2016 by lying that he would bring coal back. He is a good salesman as most narcissistic psychopaths are. But it never happened—and it is never going to happen. Coal mining has collapsed to the point that the life expectancy of coal miners and the people who supported them in small towns in many states is decreasing. Butcher Holler, West Virginia is really suffering. Even when coal was big the good times were small. These lines (edited) from the song "Coal Miner's Daughter" made popular 50 years ago tell the true story:
"Well. I was borned a coal miner's daughter in a cabin on Butcher Holler
We were poor, he shoveled coal to make a poor man's dollar.
Mommy rocked the eight kids at night and read the Bible by the coal oil light.
My daddy worked all night in the coal mines, all day long in the field hoin' corn.
Mommy scrubbed our clothes on a washboard ever' day, I've seen her fingers bleed.
In the summertime we didn't have shoes to wear but in the winter we'd all get a brand
new pair from a mail order catalog. Money made."
In their book Deaths of Despair and the Future of Capitalism, Nobel Prize economist Angus Death and his wife Anne Case, both economics professors at Princeton, point out that the miners in West Virginia and Kentucky, many of them whites without high school diplomas, have the highest drug overdose rates in the U.S. The death rates are shocking and are lowering life expectancy. Jobs are very scarce in some coal areas. And their book was written before COVID-19 had decimated small businesses.
The authors blamed the decline in the coal industry, the financial stress of the Bush Recession, the greatest income inequality in the world, but they blamed most of the overdose-kill problem and the lowering of life expectancy on the US health care "system." They argued that hospitals, insurance companies, drug companies, doctors, and device makers "are all wildly overpaid" by all international standards. They don't seem to support Medicare-for-All with much enthusiasm—but the solutions they recommend sound an awful lot like Bernie Sanders at a 2020 campaign!
What Happens When Many Humans Live To Be 100?
The other day I saw a picture of a couple celebrating their 80th wedding anniversary. They were both over 100. Soon Corky and I will be celebrating our 66th. During the 20th Century thirty years were added to the life expectancy—if you could afford decent health care. Both of us were born poor—neither had a pot to piss in nor window to throw it out of—but we both have good ancestral genes at 88 and 87. Later in life we have both enjoyed and could afford good health care through military service and insurance coverage from our employers. We gave up a lot of money to be covered by health insurance for over forty years before Medicare took over. Who knows how long we will…