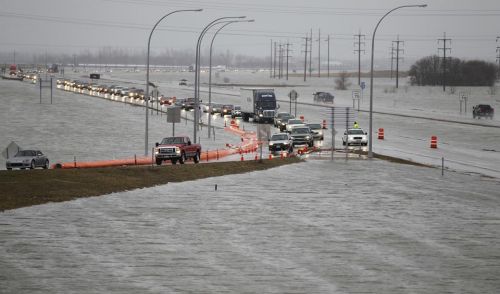 FARGO – The National Weather Service has predicted widespread flooding from the Great Lakes to Devils Lake to the Red River of the North River Basin, saying the risk is elevated because of packed snow, deep frost, and above-normal ice thickness.
"March has been and will likely stay unmerciful," the National Weather Service reported.
"There is an elevated risk of spring flooding along the Red River mainstem, current soil moisture is near normal with winter precipitation well above normal in some areas of the basin," the National Weather Service reported. "February and early March temperatures continued the overall well below normal trend this winter."
Deep frost is deeper than usual, which means if temperatures soar, water runoff will not sink well into the earth, "especially if the melt is sudden and accompanies by rainfall or more snow accumulates between now and the melt."
Next week, temperatures are predicted to rise to above 40 degrees Fahrenheit.
"There have also been a few widespread storm systems that brought some additional snow to the region," the National Weather Service reported. "Between 150 to 200 percent of normal precipitation has fallen surrounding Minot and near Fargo, North Dakota since November 1st, with near normal amounts since January 1st.
On March 15, Fargo Mayor Tim Mahoney said the city has already begun preparing for a flood of potentially historic proportions.
"For the past several weeks, Fargo has been convening regular meetings in preparation of potential spring flooding," Mahoney said in a press release. "With today's update from the National Weather service, our plans have been accelerated to prepare for a potentially historic flood. The five percent probability of 41.4 feet would be a new flood of record for Fargo-Moorhead."
On Monday, March 18, Mahoney signed an emergency declaration in anticipation for 2019 Spring Flood, which carries a National Weather Service warning of a 10 percent chance that the city will see a 40.3-foot river crest.
"In this declaration, the mayor noted that the City of Fargo is in danger of suffering a substantial flood event and therefore proclaimed that a state of emergency exists in the city," a City of Fargo press release stated.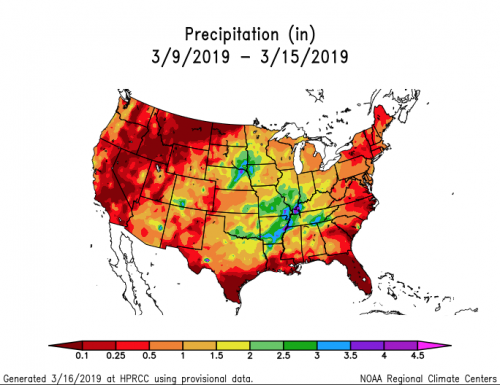 Mahoney set a goal of producing one million sandbags during the next several weeks. Volunteers can sign up to help at Fargo Sandbag Central, which will being operations on March 26.
Although Fargo has made improvements with flood protection since the area's last flood of 40.78 feet in 2009, including changes involved with the $2.75 billion F-M Area Diversion Project, there are areas that are still not protected.
"Fargo, Moorhead, and West Fargo employers depend on the local workforce being present and not needed for sandbagging," the F-M Area Diversion tweeted on March 14. "130,289 jobs would be protected from catastrophic flooding when the FMDiversion is ready for operation."
"While we have made tremendous strides in our permanent flood protection efforts, this is a very serious flood forecast and we will meet it with a serious response," Mahoney said. "Once again, we need to see the Spirit of Fargo across our volunteer efforts."