​F-M Community Theatre: Peter Pan, Billy Elliot, and Stephen King
by HPR Contributor | .(JavaScript must be enabled to view this email address) | Theatre | May 19th, 2016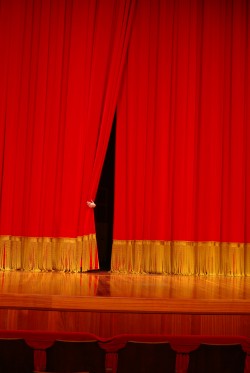 by Alex Huntsberger
Fargo Moorhead Community Theatre recently announced the slate of shows for its 70th season, which begins in the fall of this year.
The first Mainstage play will be "Peter and the Starcatcher", a whimsical, highly theatrical prequel to Peter Pan (If you saw the movie "Pan" and hated it…okay if you saw the movie "Pan" at all, you can rest assured that "Peter and the Starcatcher" is much, much better). It runs October 7-9and 13-16.
The second production will be an adaptation of Stephen King's "The Shining" by Jason Levering and Aaron Sailors. For those unfamiliar with either the book (very scary) or the movie (arguably scarier), the play will tell the story of an alcoholic writer who descends into madness when he and his family spend an entire winter in a haunted hotel. The show will run October 27-30, just in time for Halloween.
The third show will be a musical based on the classic Bing Crosby movie, "White Christmas." Adapted by David Ives and Paul Blake and featuring the music of Irving Berlin, the musical follows a pair of producers who try to save a Vermont Inn, all the while falling in love with the members of a sister act. It will run December 9-11 and 16-18.
The first play of 2017 will be the regional premiere of "Other Desert Cites," by Jon Robin Baitz. A finalist for the Pulitzer Prize in 2012, it's the story of a woman who returns home to Palm Springs to inform her powerful (and powerfully screwed-up) family that she has written a memoir exposing their dirty laundry. It will run January 27-29 and February 2-4.
The final show in the Mainstage season will be a production of "Billy Elliot," a musical based on the hit film of 2000, featuring music by Elton John, as well as a book and lyrics by Lee Hall. It's the story of a young boy in rough-and-tumble Northern England who discovers that he loves ballet. It is recommended for anyone who has a heart, and will run May 5-7 and 11-14.
There will also be two plays in the smaller Studio space: "Becky Shaw," a dark, dark comedy by Gina Gionfriddo which will run August 2-5 and "Almost, Maine," a not-at-all dark comedy by John Cariani that will run April 6-8, 2017.
The season will also include the "Rocking To the Oldies" Silver Follies revue—which will perform May 18-21 and feature music from the forties and fifties—as well as "Frog and Toad" by Robert and Willies Real, a Theatre for Young Audiences play based on characters created by Arnold Lobel, which will be produced in partnership with the MSUM Department of Theatre and Dance. It will be performed publicly February 8th and 11th at 2 and 6 p.m.