​MSUM PUTTING IN THE WORK ON 'WORKING'
by HPR Contributor | .(JavaScript must be enabled to view this email address) | Theatre | April 14th, 2016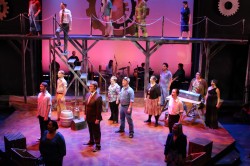 By Alex Huntsberger
It takes a lot of work to make a play. Learning lines, learning songs, learning blocking and choreography and learning how to be someone you are not. Rehearsing until you get it right and then rehearsing even more until you can't get it wrong.
Theatre might seem a silly diversion to some, something people do because they want to be in spotlight, to be showered with applause—and sometimes it is. But it takes a lot of work to do it.
I reflected on this while I sat in the seats at the 330-seat Gaede Stage and watched a rehearsal for MSUM Director of Theatre Craig Ellingson's production of "Working", a musical based on the writings of Studs Terkel.
Now, Terkel's name isn't too familiar up here, but if the city of Chicago were allowed to nominate people for sainthood, his would be at the top of the list. He was a writer, a radio host, an activist an oral historian and a veritable mascot of the City of Big Shoulders. Over the years, Terkel collected the stories of ordinary Chicagoans, hardscrabble men and women who worked for everything they had—and most of whom deserved far more than they got.
Terkel's 1974 non-fiction book, "Working: People Talk About What They Do All Day and How They Feel About What They Do", was made into a musical in 1977. It premiered at the Goodman Theatre in Chicago and moved on to Broadway where it…flopped. Despite a number of winning songs, some of which were written by Stephen Schwartz, the composer behind of "Godspell" and "Wicked," the show was derided as bloated and sappy. It had a short run.
But luckily, that isn't where the story ends. In 2011, the musical was revived in Chicago in a production that was trimmed down and brought up to date. It featured two new songs by Lin-Manuel Miranda. The show was well reviewed across the board, with Time Out Chicago declaring, "This 'Working' really works." And they're right. It really does.
The show is a series of vignettes: stories from truck drivers, delivery men, waitresses, project managers, hookers and nurses. If anything, the show is more relevant now than when it first premiered. Terkel was a staunch progressive, and if he were still alive he would probably be making the rounds for Bernie Sanders. But some of the characters would likely vote for Trump.
The show carries both a sense of loss for the country that once was—though it stops well short of saying we should "Make America Great Again"—while also reflecting on how little things have changed. In 2016, just as in 1977, the working man and woman still gets the short end of the stick.
The evening I was in attendance, the MSUM production was definitely working too, even if it was still a work in progress. Ellingson began the rehearsal by gathering the cast and talking about his recent experience attending a local meeting of the IFO—a union that represents faculty members at all the University of Minnesota schools. He maintains a call and response with his actors that he picked up from an African dance company. Ellingson ends all his notes with a hearty "Yebo", which the actors return in kind. Roughly translated it means "do you understand?" "Yes, I understand." Terkel would have loved it.
That night, the cast and crew were putting in the work. It was stop and start mostly. After all, the show itself contains a lot of moving parts—24 actors playing even more characters—but when those gears were clicking, the result was beautiful. (In a fitting touch, designer Ricky Greenwell's set features a number of large gears floating overhead.) One such moment—the one that sticks out most clearly in my mind, anyhow—is the song "Joe." The song gets its name from the man who sings it: Joe Zutty, a retired shipping clerk and occasional volunteer fireman. The song is chatty, at times frenetic and, in the hands of actor Joe Schwartz, the song is funny, tender, heartfelt and really kind of sad. It is all of these at once.
When I had spoken to him earlier in the evening Schwartz had told me that, "I'm more of like a straight play actor. So this is sort of my first jump into musical theatre since high school, which is a completely different realm. So I was interested in just trying to get my song and get my notes and everything with that."
In other words: he was doing the work.
IF YOU GO:
Working
Wed. April 13 through Sat. April 17, 7:30 p.m.
Gaede Stage, MSUM
www.mnstate.edu/tickets or 218.477.2271