When it comes to diversity
by HPR Contributor | .(JavaScript must be enabled to view this email address) | Theatre | April 7th, 2016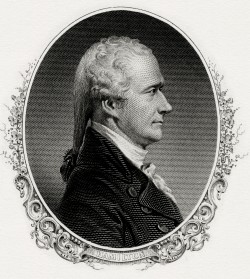 By Alex Huntsberger
Like the Republican Party, theatre is a grand old American institution suffering from a severe racial diversity problem; unlike the GOP, it's also one whose lack of racial diversity goes directly against the principles it espouses.
Cowering in fear that their old, white affluent subscriber bases will run screaming into the street if they tell stories written by, aimed at or featuring people of color—theatres across the country have displayed a conservative approach to diversifying their seasons, even while espousing liberal platitudes about diversity every chance they got. It was with good reason that Pulitzer-winning playwright Lynn Nottage recently referred to the American theatre as "the last bastion of segregation."
This is why the success of "Hamilton," a hip-hop musical about the life of America's "ten-dollar founding father" has been cause for so much hope. The show has not only been a box office smash—and the term "smash" sells short it's Incredible Hulk-like might—but it has managed to pierce the Broadway bubble and turn into a greater cultural phenomena.
The show was written by a person of color (Lin-Manuel Miranda, who also stars as Hamilton) and features an almost entirely non-white cast (plus Jonathan Groff). It is also written for the kinds of audiences that theatres everywhere are so reluctant to court. Miranda has deep appreciation for musical theatre, but he has written a show that sounds like the kinds of music people listen to today—hip hop, rap, R&B and soul.
Hamilton's unprecedented hold on the country's attention has been like a beacon for the American theatre, a guiding light through the long, encroaching darkness of audience indifference.
And of course a bunch of white people felt left out, so they went and got pissy about it.
With a sit-down production in Chicago plus a national tour upcoming—not to mention a need to eventually replace the original cast—Hamilton's producers recently sent out a casting notice. The notice specified that they were looking for non-white actors to audition. Again, this is a show where every principal character (with the exception of King George III) is meant to be played by non-white actors.
However, one party that took exception to the language on the casting notice was Actor's Equity Association aka the actor's union. Under pressure, the producers eventually changed the language on the poster to be more "inclusive" and Equity sent out a tweet celebrating it as a win for diversity. Again, they were basically saying that white people being allowed to audition for roles intended for non-white actors was a victory for making theatre more diverse.
This utterly silly notion plays into the idea that artistic diversity is a job best left to the great meritocracy—which by the way is also the best way to end up with an oligarchy. Clueless but well-intentioned attempts at color-blind casting, wherein the "best person regardless of race" wins the role, have given way in recent years to wiser, more realistic conversations about color-conscious casting. Because if someone wants to portray diversity onstage, they have to commit to it, not simply leave it up to the whims of the audition room.
(The same goes for gender parity, by the way, something at which the American theatre is also terrible. In fact, especially when it comes to producing shows by female playwrights, they might actually be worse at it than they are at racial diversity. If only there were a major Broadway musical taking strides to increase the gender parity in its male-skewing production…Oh wait! "Hamilton's" producers recently announced that an upcoming production in Philadelphia would be auditioning both men and women for the roles of George Washington and Aaron Burr.)
Now, the diversity issue might seem remote to some readers. After all, Fargo on the whole is pretty monochromatic—a place where "diverse" might mean a room that's half-Catholic and half-Lutheran. But Fargo is changing, even if many of the people who live here are trying their best to stop it.
Just look at the ongoing backlash against the global refugee resettlements by Lutheran Social Services. People who do not have much experience with immigrants feel that these new residents will prove an expensive and undue burden on our schools, our community and our public coffers. After all, that's what immigrants do. That's what they always do. Right?
Well, perhaps the folks who are so unhappy about these immigrants would do well to see a certain, uber-popular rap musical. After all, the very first question that "Hamilton" asks is "how does bastard, orphan son of a whore and Scotsman, dropped in middle of a forgotten spot in the Caribbean, by providence impoverished in squalor, grow up to be a hero and a scholar?"
They'll be surprised how much they enjoy the answer.