​Support your local artist: the Arts Partnership and FMVA
by Brittney Goodman | .(JavaScript must be enabled to view this email address) | Culture | August 9th, 2017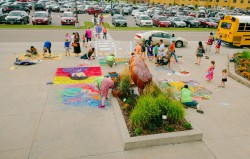 Two organizations are hard at work for area artists and art lovers to spur creativity, showcase work, and promote artistic endeavors. The Arts Partnership provides funding, networking, and marketing opportunities for artists and arts organizations. The FMVA focuses on providing its member artists with opportunities to share their work and network.
Dayna del Val, Director of the Arts Partnership (TAP) since 2010, says: "We do four clear things at TAP: we communicate; we provide networking opportunities for artists; we participate in advocacy – both formally and informally -- and we give out grant dollars to artist and arts organizations."
Dayna continues, "In some ways we're sort of a one-stop shop. We also help organizations through consulting. For example, we will consult with an arts organization on how to use social media to their advantage."
TAP currently has three full-time employees and some interns and part-time accounting help. Their offices are located in the Robert D Johnson Recreation Center on 2nd Avenue South in Fargo.
TAP is funded through foundation support, corporate and individual support. The North Dakota Council on the Arts is one of the major foundations that funds TAP. They also distribute grant money to arts organizations, and that is funds from the cities that support TAP. It has been in existence since 1970.
Chelsey Engelhard, Communications Coordinator for TAP, says she focuses on "amplifying what artists and the arts community as a whole are doing." TAP does that "in many ways," according to Chelsey, including their "Connecting the Dots" newsletter, a partnership with the Fargo Forum where there is a story every Monday written by someone at TAP profiling an artist or event; and a weekly radio show on KFGO. Additionally, Dayna does a column once a month in the Fargo Forum. Dayna adds, "We do very little art producing of our own – we are here to promote and cultivate the arts in our community."
Chelsey is particularly excited about the upcoming August 10th event, in its fifth year, Chalk Fest, held again at the Red River Zoo brought over 5,000 to the zoo last year to make art. Chelsey describes ChalkFest as "the largest art-making event in the Fargo-Moorhead-West Fargo area. We invite the public to come and draw – chalk is provided. It is much fun -- you can draw whatever you want."
The event also features six local artists who create chalk art in the zoo entrance. New this year to the event will be some live performances including the FM Golden Notes.
Tania Blanich, Grants and Programs Coordinator for TAP, says Chalk Fest is "a fun opportunity to bring different kinds of arts in people of all ages, all abilities, and backgrounds together."
Chalk Fest's signature sponsor is Gate City Bank and it is also supported by Xcel Energy, Creative Plains and Arctic Audio.
In addition to Chalk Fest, a major effort of TAP is their Community Supported Art (CSA) which offers "shares" to participants and three events to meet with nine different artists and receive art made by these artists.
TAP also supports a yearly Artist in Residence program. This year they are hosting Chelsie Liberati from the Savannah College of Art and Design.
Another effort Dayna is particularly excited about is their arts incubator space, APT: "It has been a dynamic partnership with the Kilbourne Group to test the desire and need for an arts incubator. It is a place where artists can intersect and collide with the community. We are almost at 100 percent rented capacity. It really has exceeded what we expected and it is satisfying to see it come to fruition." Dayna wants to highlight that there are also classes and events, including a planned music festival in September.
TAP's big annual event is the State of the Arts in June. Dayna says, "It is our effort to try to connect the arts specifically to business and to remind them that what we are doing is of value to them in many ways – for hiring, engagement with the community, and creating culture. It is also to celebrate the success of the arts in the past year."
The Fargo Moorhead Visual Artists is an organization currently led by President, Troy Pederson. According to Troy, its mission is to "support, educate and provide opportunities for local artists." The FMVA works with venues to provide increased opportunities for artists who are members to display their work. Hosting five events a year, all member artists can take part in those events and take advantage of FMVA advertising their shows.
Troy's job, outside of the FMVA, is as an owner of a vintage magazine store – selling these magazines largely online. He is moving is store to 211 NP Avenue in Fargo and will be also delving into the secondary art sales market. His new location will have both art for resale and vintage magazines. Troy is a native of Wahpeton and moved to Fargo 30 years ago.
The FMVA puts on five events a year. Troy says, "We hope to promote it largely so we get a buzz and a lot of people showing up. We help promote whatever our artists are doing in any way we can."
To join the FMVA, the cost is $15 for students and $30 for others. Troy asserts, "It's extremely reasonable for what you get. For $15 to $30 you have the opportunity to show your work at five different venues and events, plus we give you all of our marketing." You can join the FMVA by attending one of their events and signing up or by visiting their web site.
The yearly events are The Small Show, The Big Show, The Constraint, The Studio Crawl, and the Art Sale at the Moorhead Center Mall.
The most current Small Show was held at Essentia Hospital in the Atrium area – the Small Show is constricted by space as to how many artists can participate.
The FMVA Big Show is usually held at the Hjemkomst Center and most recently had 80 participants which is a little over half of the FMVA members. Troy says that attending the Big Show is a "super opportunity to see a lot of artists in one venue."
The Constraint is a show where the participating artists are given a constraint by theme or topic and also are constrained by the venue. This year's theme was "Time Warp" at The Comstock House. The artists were told that they had to come up with art that the Comstock family would want to buy and there were also size and weight constraints because, Troy explains, "We had to use the existing nails." Troy asserts, "It was great seeing new art up on the wall at the Comstock House." You can still see the Constraint Show through September 11th.
An Art Educator Show is done annually and will be held at the Art Partnership's APT art incubator space.
The Studio Crawl is always the first weekend in October and brings an opportunity to tour the area on a nice fall weekend and get exposed to artists working in their own studios.