Dave Simonett: the fuel behind his fire
by Sabrina Hornung | February 15th, 2017 | .(JavaScript must be enabled to view this email address)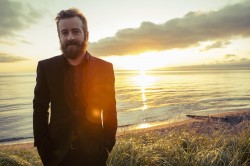 The album "Furnace" marks a number of firsts for Dave Simonett. Not only has he asked for a hiatus from popular string band Trampled by Turtles in order to focus on his current project, Dead Man Winter; he's opened himself up to his audience emotionally, with his topical album "Furnace." The main inspiration behind the album was the dissolution of Simonett's 10 year marriage and the fragmentation of his home and family.
When asked what inspired the album musically, "All of these things sort of filter into your brain throughout years of listening or watching -- I could probably credit Lake Superior as much as Bob Dylan. All of these things kind of accumulate and it's impossible to avoid." said the Minnesota-based musician.
Simonett took a moment to speak with High Plains Reader about the fuel behind Dead Man Winter's fire, how "Furnace" came to be and the state of Trampled by Turtles.
High Plains Reader: What was your experience like while recording your latest album "Furnace"?
Dave Simonett: Well, it's a mixed bag. It ended up being wonderful. It started out kind of tough. This is the second version of this record. I made a whole album through months of one-off recordings, you know? I don't want to say it was thrown together -- it wasn't an accident, but we'd get a session one month with certain guys, then nobody could record -- including me -- for like another two months.
We would get back in [the studio] and it was really cut up, and in the end it didn't feel like it was cohesive at all. I even got it mastered, but I trashed the record and started over...doing exactly what I should have done the first time: get the guys together and bunk up at Pachyderm Studio and just live there for a week and make a record. That experience was great. It was short and sweet and really easy. The whole process leading up to the final product was a challenge.
HPR: I read in a few different interviews that you were somewhat apprehensive about releasing "Furnace." What was it like releasing an album that was so personal?
DS: Well, I think it's okay now. It's done and it's out, and it's fine. I'm no longer that bashful about it, but I was initially when I was writing songs and recording it like a year ago or so.
My thinking was just that--I had never done that before and it was half not wanting to open up that much and half not wanting to be annoying. I was just very self-conscious about it overall, and I got over that.
HPR: What is it like focusing on Dead Man Winter versus working with Trampled by Turtles?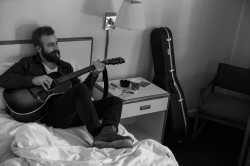 DS: It's been interesting. I'll say that it's a learning curve. This band has been around for a long time technically, but we've never really done much. I'm actually owner of the label. My management company has been helping a lot and all of us pretty much treat it as a new band because it's introducing people outside of this immediate area to it. So for all intents and purposes it's a…