by HPR contributor September 22nd, 2016 | .(JavaScript must be enabled to view this email address)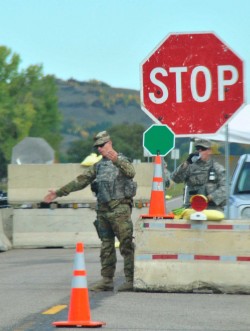 By C. S. Hagen
cshagen@gmail.com
MANDAN, N.D. – Two North Dakotan chiefs are pitted one against the other.
One chief, Morton County Sheriff Kyle Kirchmeier, has laws, politicians, the North Dakota National Guard, taxpayers' money, and a third chief from the private sector, Kelcy Warren, CEO of Energy Transfer Partners, with all the powers money can buy, on his side.
The other, Standing Rock Sioux Tribe Chairman Dave Archambault II, uses prayer, donations, federal treaties, thousands of volunteers from native tribes and concerned citizens across the world to fight the pipeline's continuation.
One chief uses the law's full force: police in riot gear, automatic weapons, handcuffs -- and calls the Dakota Access Pipeline demonstrations, which have continued in earnest and unabated since early August, dangerous.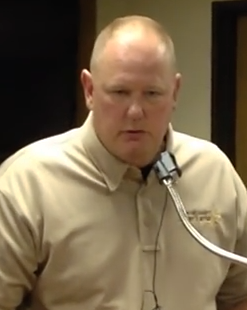 The other chief calls for prayer, civil disobedience, smokes a ceremonial peace pipe, and calls his people, including those from nearly 300 different tribes, water protectors.
One chief lives in Mandan, making USD 78,000 a year; the other sometimes resides in a canvas tipi on land that once belonged to the Great Sioux Nation.
One chief arrested the other. Archambault was among the first activists to be arrested on August 12, 2016, according to the Morton County Sheriff's Department.
But to Archambault, the fight against Dakota Access Pipeline is just. "Our tribe has opposed the Dakota Access pipeline since we first learned about it in 2014," Archambault said in a press conference. "I believe this movement is organic, and has a life on its own. It is not about race, not about hate. It's about unity."
For 500 years, Archambault said, Native Americans have suffered from defeat, prejudice, and broken treaties. One day, the pipeline will not only poison the Standing Rock Sioux tribe, but the millions who depend on the Missouri River for water – human, fauna, and flora.
"And yet we're the ones who continue to pay the costs," Archambault said.
The costs include but are not limited to the pipeline tearing up native burial sites and poisoning land and waters on its journey south toward Nederland, Texas -- in the same state where the third chief resides in a 23,000-square-foot home on 10 acres of land.
There are the costs to the personal freedoms of at least 69 activists arrested, some of whom are banned from returning to protest areas. Misdemeanor offenses of trespassing are now becoming felony charges of criminal mischief, according to the Morton County Sheriff's Department. Some of those arrested, activists said, are being stalled, and temporarily denied their rights to counsel.
"The biggest concern that we had about those situations, was holding someone on a no-bond hold for three days on a misdemeanor, that seems irrational," Standing Rock Sioux Tribe camp attorney Angela Bibens said. "The situation is that people are being targeted, people's relatives are being targeted. Are people's rights being…
Read more...