​GOP optimism turning blue
by C.S. Hagen | January 17th, 2018 | .(JavaScript must be enabled to view this email address)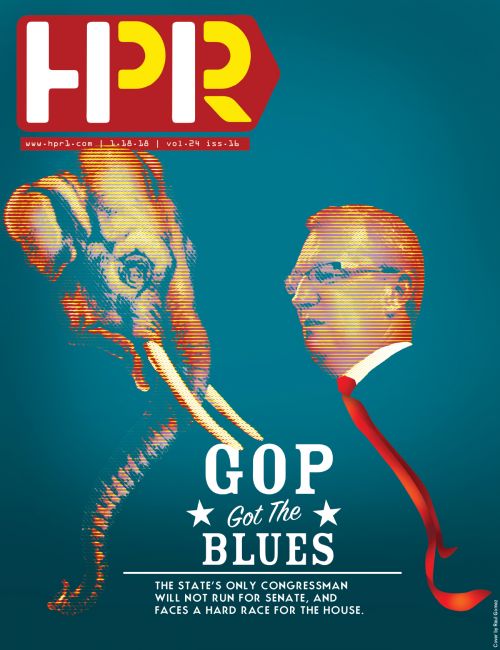 FARGO – Republican optimism for enlisting Senate candidates is suffering blow after blow. Democrats have flipped eight Republican-controlled state legislative seats across the nation, from Roy Moore's loss to former federal prosecutor Doug Jones in Alabama, to elections in Florida, and to Virginia. The GOP's majority grip is slipping.
The day after President Donald Trump's inauguration, the Republican Party had a majority in the Senate of 53 out of 100 Senate seats, but now defend the Senate by one seat. If Republicans lose 24 seats in the House of Representatives this year – a loss that is predicted by many – then their majority in both legislative bodies will disappear.
"The president's party nearly always loses seats in midterm elections, regardless of how well the president is rated by the public," a statement from Gallup Poll reported. "Since World War II, only Clinton in 1998 and Bush in 2002 saw their parties gain seats in a midterm."
As of January 14, Trump sits at 38 percent approval rating, which is the lowest approval for any president since 1954, according to Gallup News.
Last week, the Republican Party took an uppercut when Congressman Kevin Cramer R-ND, despite Trump's urging, announced he would not run against Heidi Heitkamp D-ND, for her Senate seat in 2018, but would run again for the House. The announcement came days after he was attacked for nepotism and using taxpayer-funded Congressional resources to further a possible bid for a Senate seat, allegations, which were laid out in a formal complaint to Office of Congressional Ethics by the North Dakota Democratic-NPL.
Cramer will attempt to keep his seat in the House of Representatives, and will run against "hard-charging Democrat opponent," Ben Hanson.
"He [Cramer] is seeking reelection to the U.S. House," Jason Stverak, Cramer's deputy chief of staff said. Stverak also confirmed Cramer will not be running against current Senator Heidi Heitkamp, D-ND.
Hanson, 31, is running a grassroots campaign, with more than 500 unique individual donors, 75 percent of whom are from North Dakota, and believes he has a fighting chance. Hanson is a commercial broker with Archer Real Estate Services in Fargo, and was elected District 16's North Dakota House of Representatives as well as serving as the House Caucus Co-Chair.
"I've been talking about the issues that impact our state, and political process stories like this don't have any affect on that," Hanson said about North Dakota Democratic-NPL request for the Office of Congressional Ethics to investigate Cramer.
"By pretending the rules don't apply to him — by treating his position in Congress like his own personal megaphone and campaigning for himself with our money — Congressman Cramer is showing North Dakotans just who his priority is," Hanson said on his Facebook page. "And it's not veterans like me, and it's not the taxpayers who pay for him to represent North Dakota. It's…