by Taylor Blumer February 4th, 2016 | .(JavaScript must be enabled to view this email address)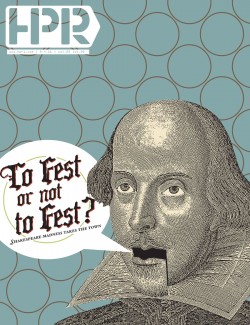 Month-long ShakespeareFest celebrates the Bard
In 1916 the people of Fargo-Moorhead devoted an entire week to all things Shakespeare. With the U.S. on the brink of entering global turmoil, the F-M community entered a bubble of sorts, harkening back several centuries to celebrate the English playwright's works, which became the cornerstones of English literature, influencing the language itself as well as culture around the world. The 1916 festival included many events, including a parade with elaborate floats that drew a crowd of 4000 people to the streets in anticipation of the spectacle
Now, as though to prove that the works of the Bard of Avon truly are timeless, the Fargo-Moorhead community is taking another go at giving the literary icon his due respect. However, this time, the festival is going to last a whole month.
ShakespeareFest 2016, this year's installment of F-M's WinterArts Festival, will bring a wide range of Shakespearean events to the F-M area throughout the month of February. From the streets of Verona to the seacoast of Bohemia, Rosencrantz to Guildenstern, ShakespeareFest will have music, drama, film, academic talks, food and much, much more.
WinterArts Festival board members Verena Theile, who is an associate professor of early modern literature in the Department of English at NDSU, and Chelsea Pace, assistant professor of movement in theater at NDSU, sat down over a happy hour discussion last week to give High Plains Reader the scoop on what ShakespeareFest is all about.
According to the Theile and Pace, the reason Shakespeare is still so relevant is because the plays are essentially "a slice of life – the human experience magnified."
"This year is the 400th anniversary of Shakespeare's death, and English already had funding set aside for ShakespeareFest in the Department," says Verena Theile. "When Theatre B said they could join their own efforts with ours, we knew that ShakespeareFest would outdo even last year's BeethovenFest. Shakespeare is such a cultural icon that we were certain the whole College of Arts, Humanities, and Social Sciences would pitch in. And they did thanks to the leadership of Dean Sandstrom."
Quite a few of the events this year are academic talks and seminars, part of a lecture series hosted by NDSU's College of AHSS. And while people might expect a Shakespeare-related talk to be dry and boring, Chelsea Pace assures that these will be the exact opposite: to employ her words, they're actually "pretty sexy."
"The stuff that's being talked about in these lectures is exciting and engaging – really cool conversations," says Chelsea Pace.
"He is not owned by any one discipline," adds Theile, "so the fest lends itself to a combined effort among the arts, humanities, and social sciences at NDSU. After seeing how Shakespeare relates to all of those disciplines … we have a million Shakespeare projects now."
NDSU's "Tuesdays at 2" lecture series will focus on…
Read more...