North Dakota's Marijuana gets the puff-puff pass
by C.S. Hagen | April 19th, 2017 | .(JavaScript must be enabled to view this email address)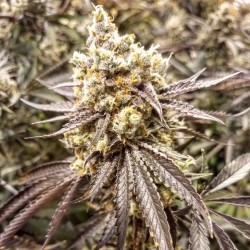 FARGO - A hesitant round of applause rippled across the Peace Garden State Tuesday when the North Dakota Compassionate Care Act became law.
Governor Doug Burgum, voted the nation's third most popular governor by the Morning Consult Governor Approval rankings, signed Senate Bill 2344 on Monday, making medical marijuana legal - to an extent - in North Dakota. The law began as an initiated measure and was passed by all state voting districts in 2016.
The road to becoming law was bumpy, as it was postponed, and then immediately drafted into self-defeating Senate Bill 2154 after the legislative body received pressure from advocates and the media saying government was dragging its feet. The new bill, SB 2344, was then proposed, passing both House and Senate, and health officials promise the state will have medical marijuana on the market within a year.
On a scale of one to 10, some proponents gave the new law 7.5 points, while others no better than a five.
"I just got a message that the governor just signed it," Representative Pamela Anderson said. "It's a good day. What the Senate sent over to the House was a bad bill, we amended it and and got it to 80 percent of the original measure."
Riley "Ray" Morgan, Measure 5's initiator, gave the law an approximate 7.5 points. "Let's not forget unless this didn't get forced down their throats by the voters of North Dakota, we have seen the Republican-led legislature turn down medical cannabis this session as well," Morgan said. Within a year, "If they don't have it ready to go by then, there is going to be hell to pay."
The fight for medical marijuana hasn't been easy, Anderson said.
"It's been two years, and the volunteers and compassionate care committee went out and obtained those signatures," Anderson said. "This is what North Dakota wanted, and they got it."
Although the law will not allow home growing, or edibles, and intoxicant THC-content will be lower than what the original measure proposed - no more than 2,000 milligrams of THC in a 30-day period - the law is "light years" ahead of the Senate's first bill, Morgan said.
Allowed: plant flower - up to 2.5 ounces per month, patches, tinctures, topicals, and capsules. Clear legal protections are now given to patients, caregivers, and medical marijuana businesses and staff. Patient identification card prices have been lowered to $50. Users will need authorization by a doctor or a nurse practitioner and be certified by the state.
Illegal: edibles, concentrates, and home growing. Seriously ill patients who live 40 or more miles away from a dispensary will have to travel. Written certifications by medical professionals still remain a problem. Minors, who are defined as anyone under the age of 19, will be limited to the use of pediatric medical marijuana oil, according to the Marijuana Policy Project.
The law resembles half of what the original Measure 5 wanted, Jason Spiess, longtime researcher and writer…