The wild west of weed
by HPR Contributor | September 19th, 2018 | .(JavaScript must be enabled to view this email address)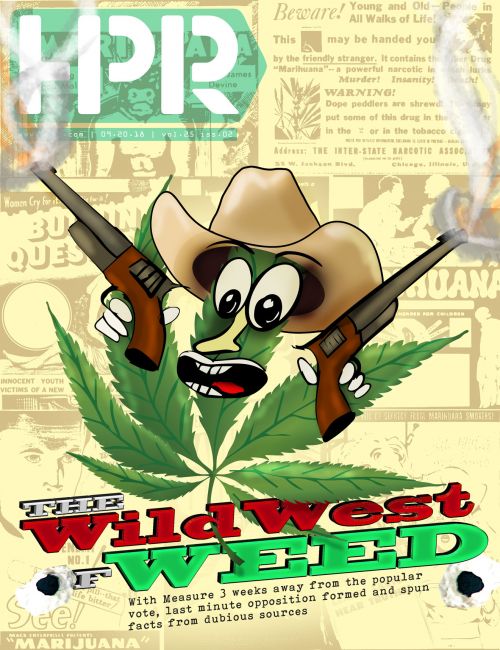 by Jacques Harvieux
jacquesthejock@gmail.com
North Dakota is set to vote on legalizing recreational marijuana this coming midterm election in November. In the last couple months leading up to the election, an opposition group, "North Dakotans Against the Legalization of Recreational Marijuana (NDATLORM)," has been formed. The group itself has very little information about itself, no platform, no website, no administrative structure, all the while having membership comprised of judges, attorneys general, and politicians.
Of the known members of the group are; Norm Robinson, owner of Norm Robinson Consulting, Bob Wefald, retired North Dakota Attorney General and District Court Judge, and Wayne Stenehjem, current North Dakota Attorney General. An article released on September 6th by Bismarck News - MyNDNow, quotes the North Dakota Attorney General.
"He helped to start a coalition called 'North Dakotans Against the Legalization of Recreational Marijuana.' Its goal is to inform residents of what they're voting on, saying it's the most liberal rec marijuana legislation in the country. The chief law enforcement officer of North Dakota says voting yes would be a mistake. Wayne Stenehjem, ND Attorney General: "There are an exceedingly high number of unintended consequences. The measure is poorly drafted and not well thought out. It is bad for North Dakota."
The office of the North Dakota Attorney General was reluctant to answer any questions regarding Stenehjem's involvement.
High Plains Reader: I'm trying to reach the Attorney General, so he can comment on his involvement with the North Dakotans Against the Legalization of Recreational Marijuana.
Attorney General's Secretary: We have no comment other than that was presented to the legislative management committee today.
Norm Robinson and Bob Wefald of the NDATLORM were also reached for comment.
HPR: Your group is relatively new, you are just getting started. Is your group non-profit?
Robinson and Wefald: No, we are just a committee organized, we have not incorporated or anything like that. Just a political committee.
HPR: If you guys were to have an actual platform, what would your platform be?
R and W: Vote no on Measure 3. If it passes, it will turn North Dakota into the wild wild West. It will be totally unlimited, uncontrolled, unregulated marijuana, as much as you want, anywhere you want and marijuana will be the supreme law of the land. Any law conflicting with marijuana is essentially null and void.
HPR: Do you have an issue with legalization itself or just this bill?
R and W: This bill is what we are voting on and this bill is horrible. No taxes, no revenue stream in it, no rules and regulations. The only thing it has, it has three things that are illegal: It's illegal to possess under 21, illegal to distribute to anyone under 21, and illegal to sell to anyone under 21. Other than that, driving under the influence of marijuana doesn't apply, smoking in public places…