by Sabrina Hornung July 20th, 2016 | .(JavaScript must be enabled to view this email address)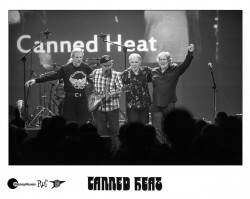 Blues-infused rock band Canned Heat formed in Los Angeles in 1965. They created a name for themselves by marrying country blues and rock and roll. They have shared the stage with the likes of Jimi Hendrix and Janis Joplin at the Monterey pop festival and headlined Woodstock. They've played venues from the Fillmore to Carnegie Hall. Needless to say, Canned Heat is the stuff rock and roll dreams are fueled by.
Now, this coming weekend they will be one of the headliners in the 2016 Fargo Blues Festival. The High Plains Reader had an opportunity to chat with Canned Heat drummer and self-published author Adolfo "Fito" de la Parra about the blues, Woodstock, and the state of music as we know it. When I disclosed that I grew up listening to Canned Heat albums records in my mom's collection, Fito and I realized we had a common bond. We both share a mutual respect for our musical elders.
"Sometimes our audiences are 30-40% younger people and that's great. I think that someone who is younger and coming to a Canned Heat show is an act of rebelliousness." Says de la Parra.
High Plains Reader: There's something to be said about great music that can withstand the test of time. Maybe that's something we have in common, especially in seeing that your musical influences are these older blues musicians.
Adolfo "Fito" de la Parra: Yeah that's right! By act of rebelliousness I mean normally a kid under 20 years old wouldn't know anything about us or the history of our band, but they come looking for something different than what the establishment is giving them.
HPR: Is that rebelliousness what initially attracted Canned Heat to the blues?
Fito: It had nothing to do with acceptance or popularity. When we got into the blues it was just because we thought the musical format was very soulful. It had a lot of humanity and heart to it. Before we got together and became Canned Heat all of us in our own lives were already into the blues. Three of the founding members were musicologists and record collectors. They were real authorities on blues music and American music in general.
HPR: As part of the movement, what do you think sparked the blues revival of the 60s?
Fito: A lot of great music came out at that time. I'd call it a renaissance in music, because the situation was pretty much stagnant after the British Invasion of the mid 60s. Of course there were The Beatles and all of those other bands. It wasn't really going anywhere until the real revolution came with a lot of blues-oriented music like Jimi Hendrix, Eric Clapton, Cream, Canned Heat, and John Mayall.
You have to see and remember that in the 60s, blues music was not accepted or known. Club owners were actually afraid of blues bands--it was just not a popular thing. That was one of our main missions we had when we formed Canned Heat.
We had three worldwide hit records that were blues music and we always put an emphasis on that and an emphasis on making that music palatable and…
Read more...