by Krissy Ness May 20th, 2015 | .(JavaScript must be enabled to view this email address)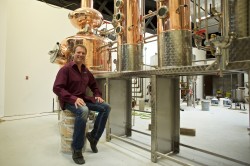 Finally, booze won't just be consumed in downtown Fargo, it will be produced, too.
Proof Artisan Distillery will open this summer at 414 4th Avenue North. Fargo native Joel Kath, who leads the ownership team, wanted to open up shop in his hometown. The distillery, which will produce straight whiskey (created by distilling a fermented malted or unmalted cereal mash to create a spirit not exceeding 80% ABV), vodka and gin, will fit right with the "improofing" downtown business climate.
Proof will be the first distillery in North Dakota to produce straight whiskey and gin. There is one other distillery in the state. Located in Casselton, the sister company to the Maple River Winery makes vodkas, cordials and fruit brandies.
HPR sat down with Kath and discussed what to expect from the distillery.
HPR: When did you start construction and ordering the equipment for your business?
Joel Kath: Construction began last July and the main still was ordered and paid for from Germany, 12 months before delivery.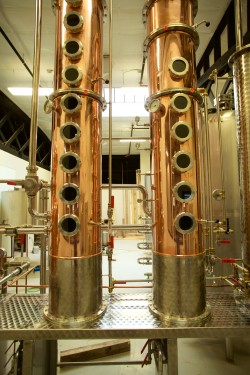 HPR: Did you have to assemble the main still yourself?
JK: Yes, the company we ordered from in Germany set up the main still and proved it worked before they shipped it to us and labeled all the parts with detailed directions.
HPR: How many spirits will be made?
JK: We will be making gin, potato based vodka, straight whiskey and -- eventually -- liqueurs.
HPR: Will you have a tasting room or will you only distribute?
JK: We will be having a tasting room out in front of our distilling room, but as you can see by the amount of construction left, we will not be opening that right away.
HPR: I saw when I walked into the tasting room that there is a beautiful vintage wood bar set up here.
JK: The bar, which we won in an auction and was previously in a bar in Casselton, is from the 1890s. The building was torn down this past weekend, so a few of my friends went and picked it up for me. They have been calling themselves my minions, and I plan to name a gin after them.
After the interview, Kath offered a tour of the distillery and discussed the process of making whiskey, vodka and, finally, gin.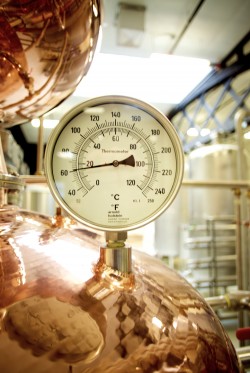 The first step of making spirits is exactly the same as brewing beer: barley goes through a hot water steeping process that energizes the malt enzyme and converts the grain starch into fermentable sugars/wort. From there you transfer the wort into heat exchanges, where it chills and is then transferred to the fermenters. From the fermenters you transfer the wort into the main still, where the pot separates the solids from the liquids as well as separates water from alcohol. Then you bring the alcohol to a boil, then cool it to condense the vapor. The liquid alcohol goes into the pot and is distilled, and it runs through different columns depending on what is being made.
At Proof this process is done for whiskey and vodka; gin will be made in a separate machine. Proof will be making a number of gins, with some using citrus, juniper berries, aromatics and more. The…
Read more...