Fargo Moorhead Gay Men's Chorus: holiday concert and then…New York City!
by Brittney Goodman | December 7th, 2016 | .(JavaScript must be enabled to view this email address)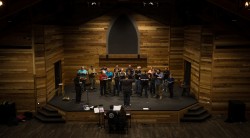 The Fargo-Moorhead Gay Men's Chorus (FMGMC), founded in 2013, will soon be bringing their musical talent to Lincoln Center in New York City. For the relatively new chorus, this is just as big a deal as it sounds.
The FMGMC's next event is its annual Holiday Concert, "I Heard the Bells," Sunday, December 11th at 2 pm at the Sanctuary Events Center. According to the FMGMC Steering Committee President, Adam Johnston, the annual holiday concert is "the highlight of each FMGMC season" and that this year the chorus is "shining the lights even brighter this year as we partner with HPR and Sanctuary Events Center."
The FMGMC has a current roster of 18 men. They also have a primary piano accompanist, Jared Hoeft; a secondary piano accompanist and flautist, Amanda Hoeft; an Artistic Director, Angel Lira; an Event Manager, Iris Huss; and a Production Manager, Laurie Seifert.
Then, on June 4, 2017, the FMGMC will participate in a performance of "Tyler's Suite" under the director of Tim Seelig, artistic director of the San Francisco Gay Men's Chorus, at Lincoln Center, NYC.
This event brings together gay men's choruses from around the world. Adam Johnston, New Trier, Minn. native, a graduate of Concordia College, and current Registered Nurse with Sanford Health, says this performance will be "an opportunity to gain wisdom, experience, and energy from other singers nation-wide, and the chorus is guaranteed to bring that energy back to the FM community upon our return." Continuing, Adam describes this as "an amazing opportunity for FMGMC to represent the LGBTQA+ community in the FM area and the state of North Dakota on a world-renowned stage in New York City." Fourteen singers and six others will be participating in a five-day residency, culminating in a concert.
"Tyler's Suite" is a piece of music composed by several famous and talented composers that, according to Adam, focuses on a "message of hope and support for those who are bullied and those considering suicide, while raising awareness of mental health issues – a topic that continues to disproportionately affect the LGBTQA+ community."
This piece was commissioned by the Tyler Clementi Foundation, an anti-bullying organization with focus on LGBTQA+ issues. The foundation was created by family members of Tyler Clementi, a gay Rutgers College student who was videotaped by his roommate and it was leaked on the Internet. The bullying that resulted from this led him to commit suicide by jumping off of the George Washington Bridge in New York.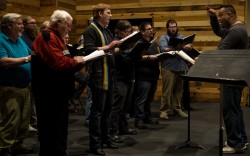 In addition to Adam Johnston, HPR had the chance to talk to founding chorus member, Bob Stone, as well as the conductor for the New York event, Tim Seelig, and promoter for the New York City event, Kevin Taylor.
First, HPR spoke with Bob Stone, a founding member of the FMGMC. Bob was born in Hawley and grew up in Fargo. He was a high school teacher with the Division of Independent Study on the NDSU campus for 39…
Read more...