​From Algeria to Fargo: Ibtissem Belmihoub
by Brittney Goodman | September 21st, 2017 | .(JavaScript must be enabled to view this email address)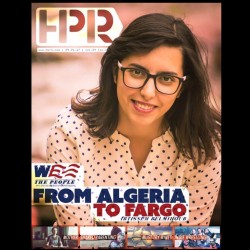 photo by Meg Luther Lindholm.
Ibtissem (pronounced Ib-tiss-em) Belmihoub is both enjoying her time in Fargo as a doctoral student in Rhetoric, Writing and Culture at NDSU and a community volunteer. She is currently the Project Coordinator for The World in Fargo Moorhead social media project. Ibtissem is an Algerian citizen and is in the Berber ethnic group in the Kabyle area of Algeria.
First coming to the United States four years ago on an undergraduate exchange program, Ibtissem studied at Iowa Western Community College. She finished her bachelor's degree in English and Foreign Languages in Algeria and then received a Fulbright Scholarship.
She selected NDSU, where she has already received a Master's degree and is going straight through for her Ph.D. She is expected to complete her Ph.D. in 2020 and that is also when her DS-2090, which allows her to stay and study in the United States, will expire.
Ibtissem says she may apply for a two-year "academic training" extension and stay longer before returning home to Algeria. She loves living and studying in Fargo and would like to stay but says "it is hard and becoming harder to become a permanent resident of the U.S. coming from another country."
Ibtissem came here by herself, but her brother's studies and travels to the U.S. at Purdue University influenced her to make the journey. Her brother is currently teaching for a year in New York. Ibtissem explained: "The fact that my brother did this, made me and my family more comfortable in pursuing this."
She has mostly experienced positive interactions with American citizens while in our area, but has encountered questions. Ibtissem elaborates: "I have had some weird comments and odd questions. A year or two ago, I was in the African Student Association and was presenting on Algeria. And I said Algeria is a Muslim country. There were two women in the audience from Somalia who questioned why I did not wear a veil. They said that if you don't wear the veil you aren't Muslim."
Ibtissem continues, "Once on the city bus there was this guy – I was talking to my friend and I had an accent. He noticed so he asked me about where I was from. When I told him, he reacted with 'Oh, that's a Muslim country, but you don't wear the veil.'" Ibtissem explains that in Algeria, North African indigenous people don't necessarily cover themselves in the same way: "People don't understand that there are different interpretations in Islam. In the area where I live people do identify as Muslim and don't wear the veil, while there are others who wear the full thing. Usually people here don't know that."
Ibtissem explains that the Islamization and extremism in Algeria was when she was a baby in the late 1980s and early 1990s and that is when "a lot of girls decided to wear the veil because if you did not you were looked down upon and in danger."
When asked about her experience first coming to the United States, Ibtissem…