by Diane Miller July 29th, 2015 | .(JavaScript must be enabled to view this email address)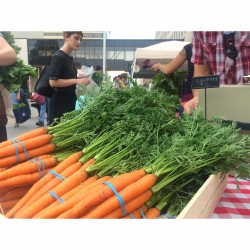 There's a farmers market in every corner of our community. The carrots and corn are calling. And so are the tomatoes, breads, crafts, jams and more. But rather than focus on "the what" – today, we're focusing on "the why":
Top 5 reasons to shop at local farmers markets
1. Buy directly from the farmer; support the local economy.
"You are supporting a local farmer who's hiring local people to work on that farm. So you're helping the community financially," said Bill Erbes, president of the Great Plains Produce Association and spokesperson for the Northern Plains Farmers Market located at West Acres.
Usually the vendors that customers interact with at farmers markets are the people who grow the produce themselves. So any questions people may have about where the food comes from or how it's grown can be answered right on the spot. Farmers may also have recipes or fun stories to share with shoppers.
2. The produce is fresher, more nutritious – and more delicious.
"To buy something that is locally grown and fresh and not processed is just a healthy way of going as far as your lifestyle," said Kim Wangler, West Fargo Park District's recreation specialist who's in charge of Farmers Market & Beyond.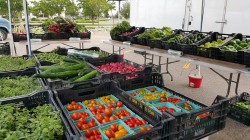 Because farmers markets offer minimally processed, non-packaged and in-season produce, not only are the foods as fresh as they come – they will taste their absolute best and contain the greatest amount of nutrition and antioxidants.
Pam Beyer, who helps run the Moorhead Farmers Market located in the parking lot of the Moorhead Center Mall, said it's not just something people can taste, it's something we can see.
"(Customers) just go, 'oh my goodness… the onions for some reason – they are just bigger here. I don't know where they get onions from in the store but – that's a big onion!" she said.
3. The earth benefits.
While much of the produce we buy at grocery stores is shipped in from other states as far as California or other countries as far as Mexico, farmers markets offer produce that is grown within a 100 to 200 mile radius. So not only are customers getting the freshest, most nutritious foods, they are buying environmentally friendly products.
Organic and non-organic foods can be found at farmers markets in Fargo-Moorhead. Some vendors use unconventional means to ward off "pests."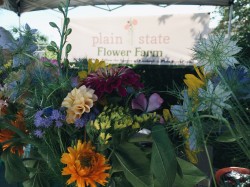 "We use lady bugs for our pest control. So we just released 70,000 lady bugs maybe a week and a half ago," said Amanda Schlenker, owner of the Ladybug Acres/Veggie Bus. "They are carnivorous little devils so if you are an aphid or a bad bug you better watch out."
Schlenker, who's been running the veggie barn for about seven years, says sustainable farming practices motivates her work. So the Veggie Barn and Veggie Bus are open daily to make sure customers get the absolute freshest produce possible.
"We don't have any type of refrigeration," she said. "We just harvest every morning and bring it…
Read more...