by HPR contributor February 25th, 2015 | .(JavaScript must be enabled to view this email address)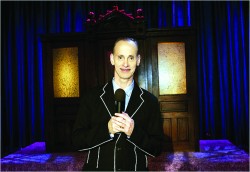 By Brittney Goodman
"Edgy," "hip," "surprising" and most of all "fun" – these are words that volunteers and programmers for the 2015 Fargo Film Festival have used to describe this year's lineup.
Once again, the first week of March brings filmmakers, actors, writers, media and film lovers to the streets of downtown Fargo. The 15th year of the festival promises to be a full-throttle event featuring top-notch entertainment in a social atmosphere that encourages conversation and inquiry. Indeed, this festival, as Tom Speer, 2015 co-chair, asserts, is "everybody's film festival."
"The casual moviegoer will be just as welcome as our visiting filmmakers. This inviting setting truly reflects Fargo-Moorhead as a community, and we're very proud of that."
One-hundred-and-one films from more than 20 different countries will be screened on the main Fargo Theatre screen and the adjoining theater. The festival kicks off with a press conference at noon on Tuesday and concludes with special musical guest John Waters, performing "This Filthy World" on Saturday, March 7.
In between those two events will be movies, panel discussions with filmmakers, workshops on film production and animation, pre-parties at downtown restaurants and even bowling and karaoke excursions. We know how to have fun in Fargo.
Emily Beck, director of the Fargo Theatre and programmer/director of the Fargo Film Festival, said "the quality of our feature-length films this year is incredible."
Several features, including "The Overnighters," "Alive Inside," "It Follows" and "Kumiko, the Treasure Hunter" played at the Sundance Film Festival to great acclaim.
"We are proud to offer that level of programming to our audiences."
Fargo Film Festival is the Fargo Theatre's major annual fundraising event. Tricia Fossum, 2015 co-chair, asserts that supporting the festival helps sustain the Fargo Theatre so that it will "continue lighting up downtown Fargo with its iconic marquee and offerings of live events and movies year-round."
She also links the festival and the theater with the vitality of our artistic community.
"We are treated to creative independent films that otherwise we may not get the chance to experience."
The following are recommendations from each film category shown at the Fargo Film Festival.
Animation
Animation jury chair Greg Carlson emphasizes the variety of styles and techniques present in this year's animated films, including experimental, 2D, digital, hand-drawn, rotoscope, stop motion and even cardboard models and puppets.
In addition to category winner "Coda," Carlson is particularly excited about honorable mention "The Chaperone," "a ridiculously imaginative and charming movie experience" that details a real-life event in which a teacher defends his students when their school dance is threatened by a biker gang.
The festival will host artists/animators Toby Jones and Madeline Queripel, who work on the…
Read more...