Twisting the night away
by Chris Larson | February 23rd, 2017 | .(JavaScript must be enabled to view this email address)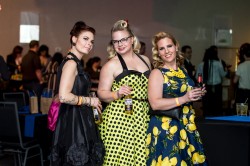 Photos provided by Kensie Wallner Photography
Last Sunday the stage for the Fourth Annual Bartender's Battle was set for eight of the top movers and shakers in the local cocktail scene to toss in a twist of their own creativity, and stand toe to toe in a three-round live cocktail competition that was closer than ever before.
Cheerleaders, housewives and mad men entered the room and were escorted to their seats by the lovely ladies of Blue Belle's Burlesque, and the room was not only splashed with bright colors by Livewire Entertainment but even featured a giant inflatable twister game thanks to our friends at Games to Go.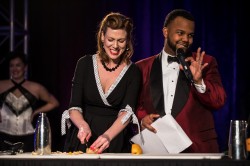 DJ Dextrious spun a wide mix of jazz, rock, country, and world beats from the 1950s throughout the entire night, including during competition and it seemed to put a little extra bounce in the skilled shakermasters on stage.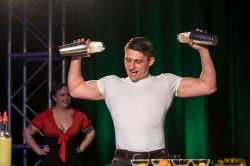 After the early VIP session with liquor samples from Republic National, beer samples from Beverage Wholesalers and an appetizer buffet, the four of us tasked with the incredibly difficult job of deciding the champions of each of three rounds sat down at the table and deliberated on which spirits off a predetermined list we would choose first. We collectively decided on and announced gin and thus the battles began.
Every single competitor brought flavor, creativity, and passion to the stage and made each round an incredibly difficult decision. Most rounds were won by fractions of a point to a point or two and the final round between Andrew Hardy of the Sidestreet Grille and Pub and Elijah Larson of Proof Artisan Distillers was a complete tie that led to a "Bartender's Choice" shot shake-off.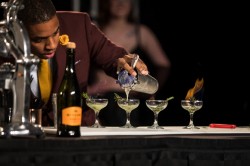 Even the shot shake-off had the judges' table deliberating for quite some time and was won by just a fraction of a point by the now Fourth Annual Bartender's Battle Champion: Elijah Larson, who summed up the evening well.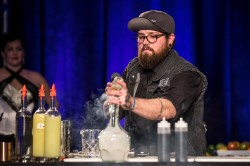 "Each round presented interesting challenges. The highlight for me is the final stage with one of my best friends. Hardy kept me in the industry when he got me the job at O'Leary's in 2011. He was the kitchen manager at the time. A year later he started bartending with me on Sundays. It was the perfect final," Elijah said.
There was a whole lot of love for fellow competitors on display throughout, and even in defeat, Andrew echoed Elijah sentiments when remarking on the experience. "The competition was fierce this year so obviously making it into the final round with one of my long-time friends, and someone I respect a ton, was a huge highlight. The fact that we tied up the final round and had to go on to a second round was a highlight. I honestly think Elijah and I probably could have made cocktails for you guys all night long and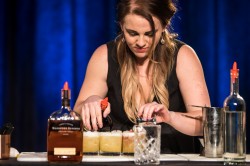 maintained that level of performance, because we were both doing what we love to do, and being up there with my doppelganger, compadre, and cohort was just flat-out fun."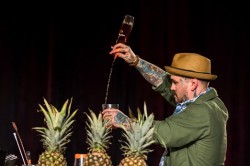 Here's the breakdown round by round and the spirit chosen by the judges for each…