by Chris Hennen October 7th, 2015 | .(JavaScript must be enabled to view this email address)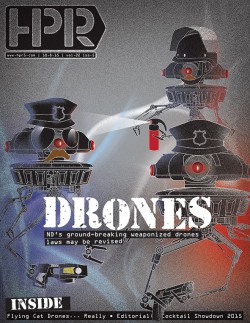 Lawmakers say concerns over weaponization are overblown
Recently many North Dakota citizens were surprised to learn that the North Dakota Legislature passed a law which allowed local law enforcement departments to arm drones with non-lethal weapons, as a part of larger bill designed to provide 4th amendment protections for citizens on drone use. The law made national news as the first of its kind to become law.
The author of the bill HB 1328, ND State Representative Rick Becker (R- Bismarck), said it initially included a ban on non-lethal weapons with drones used by law enforcement, but that it was taken out with amendments during committee work due to law enforcement opposition. He said the bill would not have passed if law enforcement opposed it. He said some of the national uproar over the bill is overblown because nothing changed.
"What we got was a requirement for a search warrant and a ban on lethal weapons. Because of the actual process where people were actually speaking about weaponizing drones and whether to do it or not and the fact that the bill that the original bill as introduced did include a provision of non-lethal use and then that was removed. It was interpreted for the purposes of spin in my opinion to suggest that this was then legislation to legalize weaponizing drones which it did not. There's nothing in the bill that's permissive, it's only restrictive, but it came out less restrictive than it went in," Becker told HPR.
ND Senate Minority Leader Mac Schneider (D- Grand Forks) said that before the bill had passed, law enforcement could use non-lethal weapons on drones and that didn't change after it had passed. Both he and Becker will seek to pass a ban on drones with non-lethal weapons in the 2017 Legislative session. Schneider voted against the bill not because of the weaponization portion of the bill but because of economic development concerns about provisions concerning civilian use of drones. He also feels that the 4th amendment will protect North Dakota citizens concerned about privacy erosion.
"The 4th amendment is going to be there to protect people from unreasonable searches and seizures regardless of developments in technology, and so with that assurance the constitutional rights would be protected, I voted against the bill," Schneider said.
The ACLU of North Dakota supported the bill until it was amended to no longer include a ban on non-lethal weapon use of drones. Jennifer Cook, policy director for the ACLU of ND, said it doesn't matter that law enforcement could use non-lethal weapons on drones before the law had passed -- what matters is the precedent it sets.
"The difference here is now you actually have something in the North Dakota Century Code that specifically does not include a ban on non-lethal weapon for drones. And if you look at the bill as it was initially drafted, it does includes a prohibition on all weaponization of drones, so the intent was to prohibit any type of…
Read more...