by HPR contributor May 26th, 2016 | .(JavaScript must be enabled to view this email address)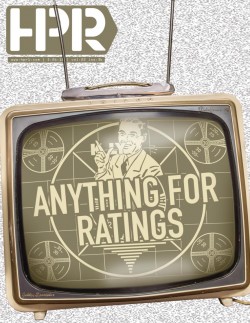 By C.S. Hagen and Cindy Gomez-Schempp
FARGO – Under the shadow of KVLY's towering signboard, approximately 200 protesters rallied Sunday demanding a change of what they call the Fargo television station's recent fear-mongering agenda.
It was the fourteenth of such broadcasts in as many months.
"These guys are spreading lies and creating animosity between the mainstream and ethnic communities," Hukun Abdullahi, organizer of the rally said.
Abdullahi, originally from Kenya, arrived in Fargo in 2014. He referred to a Valley News Live May 16, 2016 report entitled Could Kindness be Bad for Your Health, a controversial broadcast stating 22 percent of Fargo refugees are health risks and carry latent tuberculosis.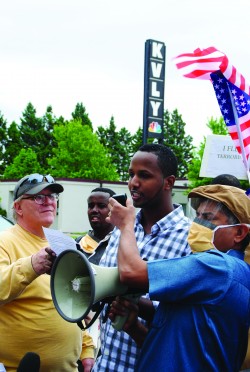 "What Valley News did is not acceptable," Abdullahi said in his welcome speech. "They violated their basic journalism principles and any journalistic integrity – if they had any left – to go one step beyond to classify us as a vector for disease.
"We are not mosquitos. We are survivors with families and children, who fled violence, persecutions, wars, and death."
The broadcast wasn't the first time the local television station turned to fear-mongering tactics to boost its ratings, said Hamida Dakane, a co-organizer of the protest. In December 2015 the television station reported the story of an assault case in Mapleton when a Somali man named Abdulrahman Ali allegedly attempted to rape a gas station attendant in the bathroom while repeating the words "Allah Akbar," or God is great. The television station later changed the story reporting that officers heard Ali say "Allah Akbar" before his arrest, according to a column written by Mike McFeely on Inforum.
"We condemn the Valley News attempt to target us, and their attempt of fear-mongering by framing us," Abdullahi said. "We are no Trojan horses bringing disease or are a ticking bomb.
"We are here… to stand against a bully, and clarify that we are not the threat. News outlets like Valley News are the ones that are a threat to any community like ours, who would take advantage of their user base to spread false rumor, accusations, and promote xenophobia.
"We are better than this."
The protest, which was peaceful, lasted from noon until 2 p.m., and brought nationalities from around the world. A verifiable melting pot of African-Americans, Caucasians, Asians, Middle Easterners, and Latin, joined together to demand fairness and change from the television station.
"This is about discrimination," Harka Subba, an immigrant from Bhutan, said. "People have been here for two centuries before, but in the end we are all immigrants." As president of the Bhutanese Community in Fargo, Subba said that until the television station's broadcast he felt accepted by the Fargo community. Work has not been typically difficult to find. Many in the Bhutanese community have become entrepreneurs, and have created jobs, paid their taxes. Life in…
Read more...