Kurdish American tells his story in 'My Journey to America'
by Brittney Goodman | June 22nd, 2017 | .(JavaScript must be enabled to view this email address)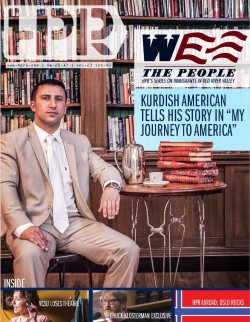 Newzad Brifki's journey to America began in Kurdistan and led him through a refugee camp in Turkey and eventually to Fargo-Moorhead. Currently, this Moorhead resident is focusing on work with the organization he created, the Kurdish Community of America, and publicizing his new book My Journey to America: A Kurdish AmericanStory.
Brifki came here in 1992 when he was seven years old: "I fled Kurdistan in 1988 and we lived in refugee camps in Turkey until we came to the U.S. in 1992." His family, his mother and five of his siblings made the journey. One sister was left behind as she was already married and the law did not allow her transport.
Brifki's text describes the Kurds as being "oppressed" under "brutal governments and dictators of Iraq, Syria, Iran and Turkey." The book describes the Kurds as "a brave race that have always been fierce warriors" who are "known for fighting throughout history against tyrannies."
Brifki's family came to our community before what he calls the "more systematic structure" of Lutheran Social Services. Their avenue to America was through sponsorships: "Families hosted us. They tried to welcome us, give us shelter, and to break the cultural shock of our transition. They welcomed us in a way to make us feel like we were home." He is grateful: "It was good for the years that we were there."
He graduated from Moorhead Senior High in 2003. He then went to college to achieve an Associate degree from MState and completed his undergraduate degree from MSUM in Business Administration. Brifki went on to receive an MBA from University of Mary in August of 2014.
The Brifkis currently live in Moorhead. They moved there from Fargo in 1995. Brifki has a wife, two daughters and one son: Peyvin is 5; Lorin is 3; and Perwer (which means "protector" in Kurdish) will be 1 in June.
Brifki's book is a personal memoir about his journey to the United States. The book came out in the middle of March, 2017. He has had many interviews and media appearances along with a reading at the Moorhead Public Library earlier this spring. Brifki will be doing a reading and book signing on June 28th at the Fargo Public Library at 7 pm at the Downtown Branch.
Brifki is founder and director of the Kurdish Community of America, housed in south Moorhead. The organization was established on September 9, 2009, and was Brifki's brainchild.
He says he began the organization because "there is a vast local Kurdish community and there was no representation for them. Kurds have been in the Midwest since the 1970s. We wanted to create a resource center for community members, to offer resources such as a community member coming to us for capital to start a business and also to be there New Kurdish Americans. Many came after Operation Iraqi Freedom.
Lastly, we wanted to provide an educational opportunity for the greater community – people who were born here – people who may not know much about different…