by Chris Hennen August 26th, 2015 | .(JavaScript must be enabled to view this email address)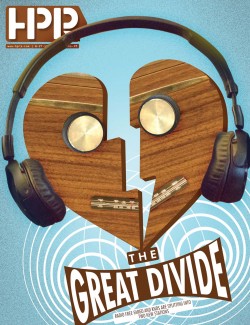 Each group will now program 24 hours on their own radio stations
Changes are coming to KNDS 96.3, the low power FM radio station that featured shared airtime between community members known as Radio Free Fargo and NDSU students who went by Thunder Radio.
Now both groups will operate 24 hours a day on their own frequencies starting Saturday, Aug. 29. NDSU will remain on 96.3 FM on KNDS, while Radio Free Fargo moves to 95.9 FM where they will be known as KRFF. Radio Free Fargo used accumulated assets to purchase the 95.9 frequency. The changes allow both groups to offer more and newer programming. Until KRFF is able to purchase its own studio, the two groups will share studio space in the brownstone building downtown on Eighth Street North, also where High Plains Reader is located.
With the move, listeners can expect some changes. Mark Borchert, the owner and station manager of KRFF, said it was time for Radio Free Fargo to branch on its own after sharing airtime for 10 years.
"Both groups brought separate skill sets to launch 96.3 early on," he said. "NDSU provided funding and location, RFF provided broadcast and technical skills to build and operate the station. Community volunteers provided the stability that brought a cohesiveness in programming and sound of the station."
The biggest notice in sound will be reflected in the music you hear on KRFF. While all of the regular programs will continue, some will be at different times and days and others expanded.
"KRFF will still have an alternative sound, but with a more adult feel," Borchert said. "The music format will bring a lot of older alternative artists back into the rotation as well as presenting new artists. We will have a more consistent playlist."
KNDS for its part will continue to focus on new music as well as increasing coverage of NDSU Bison athletics. The station will now be solely operated by NDSU students, according to general manager Cydney Berlinger.
"We hope to provide the community with new music that wouldn't be played on the other stations in town, more independent music or music from smaller labels," Berlinger told HPR. "We'll still have all of the student shows at the same times they currently are, and we're hoping that the split will allow us to expand our programming and create a greater diversity of shows, as well as allowing more airtime for various Bison athletic events."
Randal Black is a station manager at KRFF and a host on the station of The Big Red-E on Monday nights. Black believes the changes to the station will allow KRFF to better reflect the community throughout all hours of its programming.
"I hope that KRFF will bring awareness to the broader community about all the different people and cultures that make up this wonderful city," Black said. "To me, being 'Radio Free' means that we exist as a platform where people are free to voice their opinions and free to explore the vast world of music without the limitations of trends or…
Read more...