Pembina Gorge-ous
by Sabrina Hornung | August 18th, 2017 | .(JavaScript must be enabled to view this email address)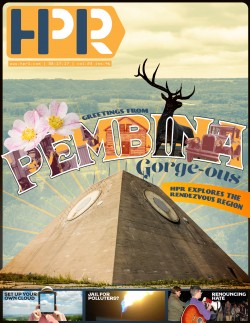 HPR explores the Rendezvous region
"This was all established before the railroad. It was all off the oxcart trails, then eventually came the roads, and then eventually came the highways," Justin Robinson of North Dakota Parks and Recreation said.
The Red River Oxcart was constructed entirely of wood and was used by the French fur traders and the Metis from 1800-1870. Incredibly enough, some of their wheel marks are still visible after all these years. The heavily wooded hills and valleys of the Pembina Gorge are alive with history and the folk histories of their inhabitants.
It is said that the squealing ungreased axles could be heard for miles. A replica of one of the carts is on display at the Pembina County Historical museum, created from the plans of the original sent from The Smithsonian. That along with traditional Icelandic costumes lovingly embroidered with silver thread mildly tarnished with age -- which was only a taste of the deep-rooted connection with the area and its deep-rooted connection to its Icelandic heritage.
When HPR traveled to the Pembina Gorge, the only similarity in our transportation was the lack of air conditioning in my Honda. I took the backroads on my way there from Jamestown and wound up underestimating my time of arrival.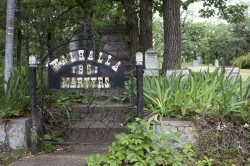 Though I resisted the urge to explore many a prairie graveyard along the way, I did come across a unique monument roadside at the Thingvalla cemetery a couple miles outside of Mountain. The monument was dedicated to K.N. Julius, an Icelandic poet known for his satire. Groundskeeper Leslie Geir said, "We have five or six tour groups from Iceland come through each year. They read several of his poems and pour a little bit of Brennivín (Icelandic schnapps) to toast him."
Once we arrived in Walhalla we checked into the Sanctuary Guest House. The Sanctuary is a breathtaking Victorian era mansion, complete with Corinthian columns and a beautifully landscaped garden. The interior is full of antique hardwoods mixed with exotic and eclectic decor. Our breakfast, served by our hostess Deidra, was as divine as our beautiful surroundings.
The fur trade drew the European settlers into what is now North Dakota, and this is why the northeast corner of our state is referred to as the Rendezvous region. A Rendezvous was an annual meeting among trappers and mountain men in which they would sell their furs and replenish their supplies.
Melanie Ohman picked me up from the Sanctuary bright and early the next morning and was kind enough to give me a brief historical tour of Walhalla. The two oldest structures in the state are both located in Walhalla and were both trading posts. The Kittson trading post is the oldest European-built structure in North Dakota and is located in Walhalla Park.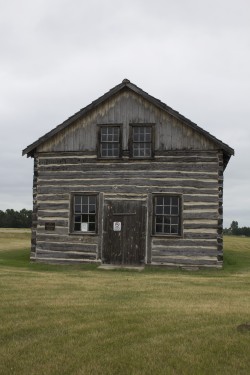 According to Walhalla's website the Kittson trading post was built in 1843 and the Gingras trading post in 1844.The Gingras served the Metis community. The Metis were the offspring of French or British traders and…