​Shaun King Delivers Message to North Dakota
by C.S. Hagen | January 18th, 2017 | .(JavaScript must be enabled to view this email address)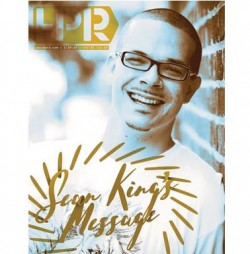 FARGO - In grade school, Shaun King was the class clown, outgoing and funny. The light-skinned 37-year-old writer and civil rights activist was more concerned with clothes, music, and girls, than racism.
In high school his world fell apart. At first, the attacks came in the form of sticks and stones -- racial slurs, a Gatorade bottle filled with chewing tobacco spit thrown in his face. Fistfights became common; he was chased by white boys in pickup trucks, he said. In March 1995 the tension broke, changing his life forever.
King was attacked by at least a dozen classmates, he said. He suffered severe spinal injuries that took 18 months to heal. His sophomore year in the rural Kentucky school was spent mostly in a hospital bed.
"They were never held accountable," King said. "It was the culmination of two years of harassment, and those guys never bothered me again. They did what they wanted to do, and I never had another incident."
Eventually King returned to the same school, but as a changed young man.
"It changed my heart," King said. "It changed how I saw the world. I became deeply sensitive about people in pain, people in need of justice that I wasn't aware of until it happened."
Half black, half white, King went on years later to become a motivational speaker for Atlanta's juvenile justice system, an ordained pastor and a writer, followed online by more than 1.2 million people. Hundreds attended a speech he gave at Concordia College in Moorhead Monday evening.
Before the speech, King looked the college up in Google Maps. "I thought, wow this is really remote. I had never been to North Dakota or so far west in Minnesota before, and it was a good opportunity for me to challenge people's thinking.
"I try hard not to just preach to the choir."
King is also involved with and has written extensively on the Black Lives Matter movement, covering discrimination, police brutality, the prison industrial complex, and social justice issues. He is a senior justice writer for the New York Daily News, and has won numerous awards including the Epoch Humanitarian Award, the Hometown Hero Award from the Atlanta Journal Constitution, and was also included in MSNBC's The Grio Top 100 History Makers.
The Internet is a tool King wished he had as a child. "There weren't a lot of models and examples for me to look at and identify with," King said. As a biracial child belonging neither to white nor black, he often felt ostracized.
"Kids today, even those who live in the most rural areas of the country, now have the Internet, which gives them a lifeline outside their small world. I would have died for that."
No longer a pastor, King draws from the 15 years he spent behind the pulpit to deliver his messages. He still believes in organized religion, but is more critical than he was as a pastor.
"I speak about it as someone who is a Christian, from a place of love, not from a place of hate or anger. People regularly confuse…