by Brittney Goodman July 27th, 2016 | .(JavaScript must be enabled to view this email address)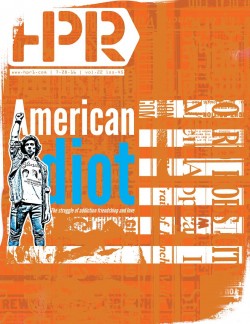 Act Up Theatre is bringing the popular stage adaptation of Green Day's rock opera, American Idiot, to the Frances Frazier Comstock Theatre at Concordia College for a six-night run. Pennie Fike is producing the run for Act Up Theatre, and Rebecca Meyer-Larson is directing the show.
The musical "American Idiot" is adapted from Green Day's very successful, Grammy Award-winning album of the same name from 2004. In addition to featuring all of the songs from the American Idiot album, other Green Day songs from other albums, along with newly created material, round out the numbers in the rock musical.
Green Day's American Idiot had a successful run at the Berkeley Repertory Theatre in 2009, played on Broadway from 2010-2011, and had an international tour through 2014.
The Broadway run won two Tony Awards; the Broadway cast recording won a Grammy for Best Musical Show Album. Charles Isherwood, in the New York Times, called the Broadway show "invigorating" and "a pulsating portrait of wasted youth that invokes all the standard genre conventions…. only to transcend them through the power of its music and the artistry of its execution."
Green Day's American Idiot tells the story of an anti-hero, Johnny, and his two friends Will and Tunny, as they struggle to break free from their suburban existence. Sexuality, drug use, war and other themes are explored through drama and music.
American Idiot runs from July 28 through August 2 with all shows at 8pm. Tickets are on sale at actuptheatre.org. Pennie Fike, Producer, says audiences should know that the play contains strong themes and is for mature audiences.
HPR caught up with Director Rebecca Meyer-Larson to hear her perspective on the upcoming show.
High Plains Reader: What are you most excited about in directing this production?
Meyer-Larson: Act Up Theatre is a young company, but it has addressed vital themes. The community talk-backs surrounding shows like Spring Awakening, Bare, and Next to Normal have propelled our mission to instigate really important conversations. I am excited to continue this mission with our company talk-backs concerning themes inherent in American Idiot.
Having a cast as deeply committed in our production has been a special thrill. I feel like I am carrying around this crazy secret - and I cannot wait to scream it to the community. I think the talent on our stage is remarkable, and I am so happy to rage and love with these young artists. I am also thrilled to be performing on the stage at Concordia. It allows us to perform in Moorhead (my heart lies there) and encourages a fresh audience base.
HPR: Why bring this show to our area?
Meyer-Larson: I have wanted to direct "American Idiot" since I first heard that Michael Meyer and Billy Joe Armstrong were in collaboration to rock it all the way to Broadway. The show works for Act Up on so many levels. It is a title that appeals to young artists, allowing them to delve deeply into the subject matter. It…
Read more...