by Diane Miller October 22nd, 2014 | .(JavaScript must be enabled to view this email address)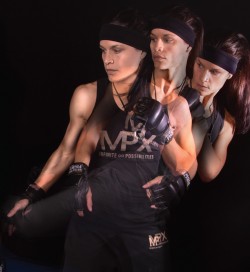 Mariah Prussia is 3-0. She's a professional Mixed Martial Arts fighter from Fargo. She's, in fact, the first sanctioned female MMA fighter in the state. And she's only been in the cage for one year.
On Saturday, Oct. 25, Prussia will go up against Colorado's top amateur fighter, recently gone professional, Summer Bradshaw, at the Scheels Arena.
What's MMA? It's kickboxing. It's wrestling. It's Brazilian jiu-jitsu. It's judo. It's taekwondo and more. It's two similar body type opponents striking and grappling each other till one proves their strength and power over the other.
"For a lot of the fighters it's not even really about the fight," Prussia said to HPR. "It's the lead up to the fight. All the different training, the discipline, the physical and mental components that really make individuals want to fight is because they are pushing themselves to the limit. And then the fight is just the light at the end of the tunnel kind of thing just to…
Read more...