by Diane Miller November 25th, 2014 | .(JavaScript must be enabled to view this email address)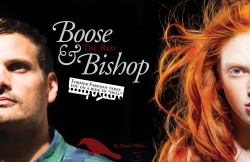 In the early 2000s, High Plains Reader published an article by writer Greg Boose titled "Three Older Women Stand in Line to Yell at the Author James Frey when Malcolm-Jamal Warner Stops By with a Two-Liter of Cherry Coke Under his Arm."
Years down the road, Boose published the piece on his website and the one-and-only No. 1 bestselling author of "A Million Little Pieces," James Frey, contacted Boose to say he enjoyed the piece.
Today, this Minnesota State University Moorhead grad student alum (now based in Los Angeles) has just released his first novel, which Frey partially helped formulate. It's a young adult thriller titled "The Red Bishop."
"(Frey) was collaborating with a bunch of other writers where he was doing this young adult project where he would decide on a series, an idea, plot it out with somebody and then write it together," Boose said.
Boose pitched about a dozen ideas to Frey and one in particular caught the best-selling author's attention.…
Read more...