Racist rant caught on video highlights the local face of hate
by C.S. Hagen | July 27th, 2017 | .(JavaScript must be enabled to view this email address)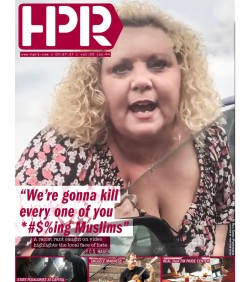 Three Fargoans originally from Somalia threatened with death outside local Walmart
"People look at us differently," Soyan said a day after she was approached by a white woman from Mapleton in the Walmart parking lot. The car she was riding in parked a little close to a blue Honda, and the owner wasn't happy.
"We're going to kill all of you, we're going to kill every one of you fucking Muslims," the woman in the video said.
Since Rowda Soyan's arrival in Fargo nearly five years ago, she's dealt with racism on a semi-daily basis. No one, however, has threatened to kill her or all Muslims just because she wears a hijab. "It makes us feel unsafe, as if we aren't humans."
"Our parents are afraid," Soyan said. "But we're trying to stick up for everyone. This time, this is it."
The woman who threatened Soyan identified herself in a Facebook apology post late Tuesday night as Amber Elizabeth Hensley, and worked as a secretary at Horab & Wentz, CPA until after the incident. Her employer said he received hundreds of calls and hundreds of emails from across the nation Wednesday morning, and that Hensley had been fired.
"Horab & Wentz does not agree with or support the statements expressed by Amber Hensley in the recently posted video," a company press release stated. "She does not represent or reflect the views of Horab & Wentz. Ms. Hensley is no longer employed with Horab & Wentz effective immediately."
In her public apology, Hensley declared herself a Christian, and that one of the three women cursed Jesus after Hensley asked them about religious issues during the incident.
"She had parked way too close to my car and I couldn't get in, when I asked her to move she refused, I asked her again and she swore at me, calling me a fat bitch," Hensley said. "To that, I informed her that I was a Christian, and asked her if she knew who Jesus was. She said 'Fuck Jesus,' and I lost it."
Sarah Hassan, Soyan's friend, was in the car and filmed the incident, and said at first the woman approached them to say they parked too close, but the conversation took a quick turn when she began talking about her sister's eyes. Her sister, Laleyla, was driving. Sarah used 15-second WeChat video recordings to film the woman's tirade.
"And then she started talking about how all Muslims were going to hell," Sarah said. "And I said no we weren't, and then she started talking about how Trump was going to deport us all."
The incident attracted dozens of onlookers, none of whom lifted a finger to help, Soyan said. All three women were wearing their hijabs, preparing to enjoy an afternoon off from work when the incident occurred.
"No one stood up for us, nobody even said a word, it was a scary moment for all of us," Soyan said. "People need to take this seriously. Someone could die."
The women, all originally from Somalia, couldn't sleep last night, and haven't eaten since, they said, and several of…