by Chris Hennen December 17th, 2014 | .(JavaScript must be enabled to view this email address)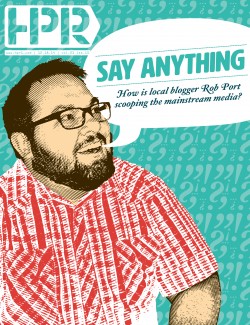 Minot-based blogger, who started in September of 2003 with readers consisting mainly of fellow bloggers, has gone on to become one of the most prominent political news sources in North Dakota. Rob Port writes for his Say Anything Blog pretty much as a one man show, save for some occasional contributors who frequently scoop other large media organizations in the state, who in turn follow suit on his stories. He went from blogging with a day job to now doing it full-time. As a result, the blog's traffic has jumped from about 100 unique visitors a day (in its' early years) to as much as 650,000 page views from October of 2014, ahead of the November midterm elections.
Port said his blog came into its own when it transitioned from national politics to North Dakota politics.
"I began to get the idea that there are thousands and thousands of people writing and producing content about national issues, but there are a lot fewer people writing about local issues here in North Dakota, so I shifted in focus. I started focusing a lot more on North Dakota politics, and the audience for that just kind of took off. It was filling a niche that wasn't being served. Maybe some alternative viewpoints, conservative viewpoints that weren't necessarily being served in North Dakota," Port told HPR.
It's very rare for a writer to make a living solely as a blogger. Port said, for every 1,000 bloggers, only one or two are able to do it full time. He said it took years of hard work, blogging at night and scheduling posts for the next day while he worked his day job.
"It took a long time to eventually develop the sort of readership and the sort of credibility that attract advertisers and attract sponsors so that it's something you can do full time. It's hard and, not to put myself on a pedestal or anything like that, it's almost like someone like breaking in, in acting or a professional athlete."
He makes no secret about his political views, describing himself as a conservative libertarian who is, for the most part, fiscally conservative and socially liberal. He supports gay marriage, for instance. One of the reasons Say Anything Blog has been able to gain so much prominence is Port's willingness to report or blog about stories that are damaging to Republican candidates. For instance, he frequently criticizes Governor Jack Dalrymple and Senator John Hoeven, and two of his biggest scoops this past election cycle were about ND Ag Commissioner Doug Goehring's comments to women in his office and ND Tax Commissioner Ryan Rauschenberger's admission of an alcohol addiction.
"I think, probably, the moments I am proudest of and -- I've always thought -- the moments that give me the most credibility are those moments when I am writing about something or covering something that's not necessarily convenient for conservatives and Republicans. I really think that's what has set the blog apart. It's not like I've been the only blogger in the…
Read more...