by HPR Staff November 24th, 2015 | .(JavaScript must be enabled to view this email address)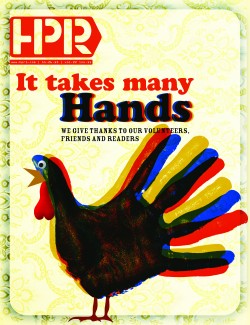 For this week's cover story, we asked High Plains Reader staff members and volunteers as well as cover story subjects from 2015 and friends of the paper what they are grateful for this year. Below are the responses. Happy Thanksgiving from everyone at HPR!
"I am thankful for all the amazing people I have in my life. The right people help you grow in love and knowledge and - from my family to my close friends to simple acquaintances within the community – I'm truly blessed with an abundance of these people."- Randal Black, KRFF 95.9 Radio Free Fargo, Station Manager
"I am grateful for my health, for a great group of family and friends who give me strength during the tough times, for any remaining time with my Mother who is suffering from memory issues and the ability to do what I love for I living, the fact that I found it and am able to do it."- Chris Hennen, Associate Editor HPR
"Gratitude is what I know, not always, but way more days of my life than many people. I'm thankful when I have a gleam in my eye and a fire in my belly. When my heart feels and when I can help others in their own journeys, traversing some of the challenging ups and downs. I'm blessed when I have good health, good friends and close family. That I live in safe environs and am not facing trauma, pain, darkness or evils of war makes me one of the luckiest -- and most thankful -- people on the planet. And, I get more hugs on a daily basis than anyone deserves; that to me is absolute wealth."- John Strand, HPR Co-Owner"
"I am thankful for the network of friends I've met since moving to Fargo-Moorhead in 1997 and how welcome they have made me. This Kentucky gal found her place! I am also grateful for my year's sabbatical and its gift of time to write, reflect and give back to my community." - Brittney Goodman, Staff Writer HPR
"I am thankful for my family, the sun the moon the stars flowers and friends. Thank you to my family and friends for their unconditional love and support in everything I do."- Jana Tronier, HPR Operations Manager
"I'm grateful for the sacrifices and hardships my immigrant parents Octavio and Ventura endured in their lives so that I could have opportunity and happiness in mine. I'm grateful for chance to let them know that it was worth it."- Raul Gomez, HPR Co-Owner and Publisher
"When I think of the many of things I am thankful for, I am instantly struck by the incredible ease with which I am able to rattle off the many things I have, which so many others in the world have not. I am grateful for plenty of food, water, shelter, health, family, friends, faith, love, freedom and community. What a tremendous blessing it is, to so easily and simply be able to make such a long list of life privileges I have been afforded."- Kari Lugo, Director Events and Marketing HPR
"I am thankful for the First Amendment, which guarantees my right to communicate information, thoughts and ideas, which others may find infuriating. It is an unappreciated right in…
Read more...