Back to the drawing boards
by Sabrina Hornung | .(JavaScript must be enabled to view this email address) | Arts | February 1st, 2017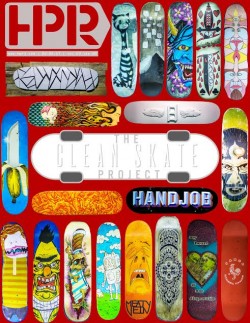 "I guess it was inspired by an idea to raise funds for our coop so we can offset our operational costs during the summer, when most people are skateboarding outside," says Tom Kemmer, craftsman, proprietor of Hawk's Nest skate co-op and curator of The Clean Skate project, a group exhibition featuring the work of regional artists on previously used skate decks. He continued, "We also wanted to have it relate to skateboarding and (in) someway incorporate other things that skateboarders are interested in and are typically a part of, which is art and music."
Saturday marks the opening of Clean Skate 2. It is free and open to the public, and all ages are encouraged to attend. "There's nothing better than to turn your kids onto art and skateboarding." Kemmer said. With over 30 participating artists working in a wide variety of mediums, the event has nearly doubled in size.
"I did a collaboration board with my six-year-old son Miles. We did more of a collage with some of his drawings of monsters, dinosaurs, and insects as a starting point. I filled in the gaps with found art-type stuff of old photos of buildings, torn magazine pages, and other things. Our board is called 'Migrate and Destroy,'" says Fargo-born and Minneapolis-based artist Mike Novak. "I love the Hawk's Nest! My band has played there a few times in the past, and I've tried to skate it a few times too. I want it to succeed, as it is a safe space for people to go and skate and be creative, and be themselves. We need more places like that everywhere, and this is just a small thing that I can do to help them out."
"Clean Skate" is a play on the old phrase "Clean Slate." Each artist is presented a gently used skate deck which is painted white to represent a fresh canvas. "Everybody starts with essentially a fresh, gessoed canvas that's virtually the same and after that it's up to them to take that canvas and make it into their own piece of art, however they want to do it, through whatever medium they see fit."
Dave Sauvageau, of P2 industries, converted sidewalk surfing to sidewalk scooting. "We were asked by our friend Tom Kemmer if we would be interested in participating in this year's Clean Skate Project. Being skaters, bikers and artists ourselves, we were totally in! We were given our white deck and we instantly began brainstorming. We knew our piece couldn't simply hang on the wall, it needed to be a functional thing. We ultimately decided to build the wretched spawn of the skateboard and the skateboard's arch nemesis, the kick scooter. We had a box of junk scooter pieces from a dumpster diving adventure a couple years ago so we threw it together with some scrap angle iron, an old bicycle ape hanger bar and some nuts and bolts. It was a super fun just blasting something together and being able to hop on and ride it around the shop in a couple hours. Also, we think the title of the thing is, "The Nickelback Of Sporting Equipment" because adding the skateboard to the scooter simply bastardizes the idea of a skateboard, much like Nickelback bastardized the idea of music."
"I'll be working with a collage piece, last year I just did a hand drawn image. For this blank deck I have one that's broken in half so it's been fun to work with. I went with more a feminine vibe with a touch of chaos." says participating artist Alison Buecksler.
"We basically put out a call on social media for artist submissions and kind of pretty much let anybody who was willing and able to do it--we gave them a board and turned them loose." Kemmer said. "We have a couple of local contractors including Scott Dahms and P2 industries. Quite a broad spectrum of different artists from different backgrounds. I think it will create a pretty diverse show."
Nathan Mastrud,one of the participating artists and tattoo artist at Addictions Tattoo & Piercing said, "My board is inspired by the old boards designed by Rob Roskopp and I threw in a shout-out to the Fargo street hawks. I have known Tom Kemmer for many years so that's how I first found out about the show." Roskopp was known in the 80s for his colorful skate graphics often depicting colorful, wonderfully grotesque monster imagery.
If one is interested in becoming part of the co-op, there is a small buy-in followed by a monthly membership fee. Members must be 18 or older and are allowed to bring guests with a $5 suggested donation per skate session.
"If you like to skateboard you can just contact us and we'll go through the process with you." Kemmer said, "We just got a call from a girl who does roller derby who wants to ride there. She moved here from the cities and was really excited to find out that we had a place where we could skate indoors for the winter."
The space itself is a work of art and the ramp in the skate area is an architectural feat. The walls are covered in murals painted by skate industry legend and North Dakota native Todd Bratrud, who is also participating in the exhibition. Bratrud has created countless graphics for skate clothing, boards, stickers and advertisements for brands like enjoi, Flip, Nike, Volcom and countless others.
The Hawk's Nest is a bowl-style park, meaning the floor and walls of the skate area are smooth and curved. Founded in 2011, the co-op was inspired by the Hiawatha co-op in the Twin Cities. Here, Kemmer learned a thing or two about ramp construction. With that and his experience as a skilled woodworker, plus the help of friends Steve Bohr and Minneapolis-based Mark Leski--a seasoned ramp builder who also happens to have a background in architecture, Hawk's Nest was created.
"I've known Tom since we were kids. We met through skateboarding. It became a huge part of our lives. We were band mates, roommates, and brothers bound in our love of skating. Tom's played a big role in the local scene by involving himself to help push forward the old skatepark in Moorhead, the park at the Dike, and now the Hawk's Nest." says participating artist Scott Mcandrew, "He came up with the idea to have artists create graphics on what would be garbage and raffle them off to help fund the space. I felt an obligation to help in that effort. I'm super proud of what he's done and thought I could contribute. The board I did is just a silly poke at a certain segment of society and the current state of politics. Probably a little controversial. But, that's how I roll."
All art displayed will be for sale via a raffle. Raffle tickets will be sold for $1 per ticket. "There's no limit on the amount of raffle tickets you buy, so if you really want a skateboard--you can put 100 tickets in or you can put one ticket in. It kind of puts everybody on a level playing field as far as selling that stuff and it has really worked out quite well." Kemmer said.
Kemmer was overwhelmed by the response from the first installation of The Clean Skate Project counting roughly between 120-140 people in attendance. "I feel like everyone has really stepped up their game and I feel like we're on the road for success to be bigger and better than last year."
IF YOU GO
Clean Skate Project 2
Saturday, February 4, 6-11pm
Hawk's Nest, 302B 39th St NW, Fargo