Cut it out
by HPR Contributor | .(JavaScript must be enabled to view this email address) | Arts | November 9th, 2016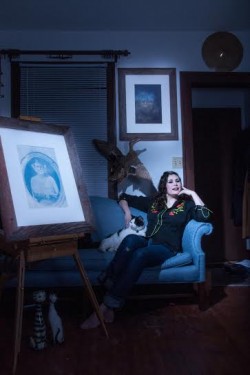 By Jacinta Macheel Zens jacinta.zens@gmail.com
HPR Editor Sabrina Hornung, is not just our writer and editor. She is also a talented artist who works in multiple media. An exhibition of her works will be on display at the Rourke Art Museum from November 4, 2016 to December 4, 2016. This exhibition, titled "Sod Breakin' and Reclamation," showcases the diversity and complexity of Ms. Hornung's work.
High Plains Reader: Your work for this show showcases your multi-faceted artistic practice. There will be mixed media pieces, cyanotypes, and examples of Scherenschnitte – German Paper Cutting. What drew you each of these media?
Sabrina Hornung: When I was in art school at MSUM, my main area of interest was photography--especially alternative processing in the darkroom. My mantra is "I wonder what will happen if I do...this!" It was kind of like gambling.
Once I dropped out I no longer had access to a dark room. I learned how to do cyanotypes in one of my photo classes. The best part about it is that you don't need a darkroom to make a print and it's as easy as sunlight and water. Cyanotypes are an antiquated photo process--once a print is finished it looks like a print not of this century. I'm an old soul and I enjoy that effect.
The mixed media pieces were also a way out of my lack of darkroom blues. I loved photography as a medium but I had to make it weird utilizing images that I photographed, and found paper ephemera that I ended up collecting as a thrift store junkie. I wanted to be as original as I could, so I incorporated all of my favorite things: collage, photography, and a little bit of paint. Plus it's fun to play with the imagery and see what I can come up with.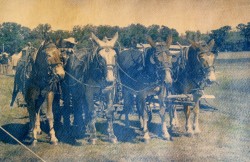 As far as the Scherenschnitte (cut paper) goes, as a child my German grandmother always told me about scherenschnitte and always drew my attention to anything that resembled the silhouette-based imagery. In the summer of 2015 I applied for an apprenticeship through the NDCA's folk art and traditional art apprenticeship program. I learned the fine folk art of cut scherenschnitte and wycinanki (Polish paper cutting) under folk artist Meridee Erickson Stowman.
HPR: Do you have a favorite of the three? If so, why is it so?
SH: I'm extremely indecisive and tend to go through art phases and I will fixate on one medium and crank out a bunch of pieces--I like to call it the "art mania." Right now I'm really excited about scherenschnitte. I've been getting a lot of positive feedback on it and by practicing that art I've been invited to participate in a few folk events in the area. Plus by exhibiting it, I know that the folk art won't be forgotten.
HPR: Thematically, you choose images from "folk tales and folk ways of the prairie, personal anecdotes, and a strong German backbone using photo imagery as well as vintage ephemera." Where did your love of the prairie come from?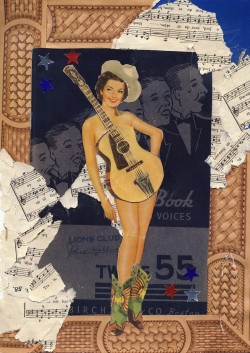 SH: When I was little I was an only child living out in the country, and I was raised by my grandparents until I was 10. My grandma came to the states from Germany in 1955 and my grandpa is a stoic North Dakotan. So both of those influences continue to resonate within me. My grandpa and I would often travel the countryside near where he grew up and he would tell me stories of pioneer hardships and name and point out the area wildlife in rural Stutsman/Kidder county neighboring Chase Lake, known for its marsh bird migration. My parents would also take me for "hikes" and we would explore old graveyards and abandoned buildings near my hometown.
North Dakota is a bit of a diamond in the rough and all too often goes overlooked. There are so many pockets of intrigue dotting the prairie--all one has to do is dig a little.
HPR: What attracts you to the images you use in your pieces?
SH: I love vintage ephemera. Postcard imagery, victorian symbolism, paper dolls, showgirl and cowboy pageantry, rust, dust, flora, fauna and a little bit of decay. When out photographing, I love exploring and I love to document the places that I visit. The North Dakota that I grew up with is changing rapidly, and if these pioneer nuances aren't documented they will disappear completely.
As far as the imagery for the scherenschnitte, I tried to keep it pretty traditional. Though I did include a bit of western imagery and the main inspiration for that is not only my cowboy complex--but it's somewhat of a statement on cultural identity.
I found myself at the Ukrainian Cultural Institute in Dickinson a few years back and the gal showing me around showed me what her favorite piece was in the collection. It was a heavy shearling coat--which was traditional outerwear among Ukrainian immigrants, but what usually made this garment so distinct was the colorful embroidery adorning it. The embroidery on this coat was all removed because the original owner of the coat wanted to identify more with cowboy culture rather than the culture that he was brought up with.
HPR: You travel throughout North Dakota to take pictures of the most rural of areas. What draws you to the areas you photograph?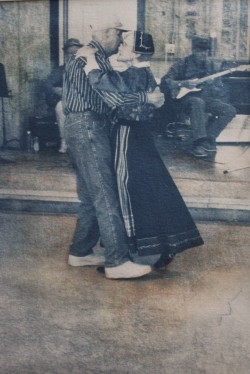 SH: I do a lot of research--I try to find areas of historical or cultural significance. I really enjoy abandoned places where it looks like whoever just picked up and left. I also enjoy places that reflect the ethnicity of those who had settled there--cemeteries are a good example. You can learn a lot from a graveyard, such as ethnic concentrations in the area, plague years, and even get a glimpse of some folk art like the German Russian iron crosses.
HPR: You learned German and Polish paper cutting techniques from Meridee Erickson Stowman. How did you get connected to her?
SH: I applied for the folk art and traditional art apprenticeship program. It is a program through the North Dakota Council on the Arts (NDCA), to perpetuate the folk arts by pairing a master craftsperson with an artist willing to learn. Meridee is my papercutting yoda. We were introduced through Troyd Geist, our state folklorist. We would meet up once a week and cut paper at her farm outside of Tower City.
This partnership also led to an artist residency at Ave Maria nursing home in Jamestown, as part of the NDCA's "Art for Life" program. We constructed a seven by seven foot paper tree of life. We met for a number of weeks and cut paper with the elders. Each week we had a different theme and collected some of their musings and words of wisdom.
HPR: Can you please give a brief history of the paper cutting techniques that you use?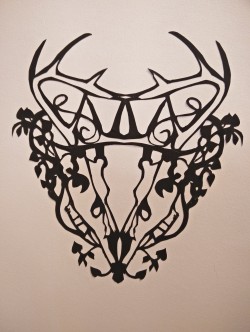 SH: It is believed that papercutting started with sheep hides that were meant to serve as window coverings in ancient times. They would make cutouts on the hides with sheep shears. We've come a long way, to say the least...I use embroidery scissors.
Scherenschnitte originated in Germany and Switzerland and often includes silhouettes, valentines, or folk imagery. The Pennsylvania Dutch are also known for their scherenschnitte. I was also taught the art of wycinanki which is Polish papercutting. The main difference between the two is that wycinanki is more colorful and collage-oriented--there are a few wycinanki pieces in this show, but I chose to focus mostly on the scherenschnitte. Though there are many different cultures that have their own papercrafts… scherenschnitte and wycinanki are just the tip of the iceberg!
IF YOU GO:
Scherenschnitte workshop with Sabrina Hornung
Sunday, November 20, 2-4 pm
Rourke Art Gallery, 521 Main Ave
Moorhead Exhibit from November 4 to December 4