Inspiring Abstraction
by Paige Johnson | .(JavaScript must be enabled to view this email address) | Arts | October 27th, 2017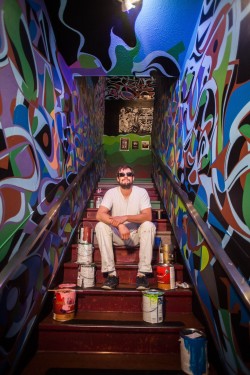 Jay Fox paints his love letter to the Aquarium
One day, Jay Fox started to paint over one of his previous murals in the entryway of The Aquarium.
"I went in one day without asking permission, and it pissed a lot of people off," Fox said. "And I just painted over the old one. The old one had a lot of detail in it, but it just didn't work. It never really worked for me, it felt unfinished. 'Trust me, this will be 100 times better.' So I did it."
Nearly five months and 650 hours later, his new mural (titled "To Nature's God") spans 12 walls in Downtown Fargo's music haven.
The artist calls the new mural a "labor of love" for the venue he holds close to his heart, being a music lover and former employee.
"It's just more because it's a love letter to The Aquarium," Fox said. "The music, bands staying with me – I was kitchen, I made food for a lot of bands and stuff like that. It just had a big impact on my life."
He continued, saying, "I just feel it's so important because The Aquarium is, to me at least, it's like the core, the creative center for sound and music Downtown."
Fox is originally from Fargo, but moved to Chicago as a kid. There, he studied literature and poetry at Harper College, before moving back to North Dakota 12 years ago.
He tried moving back to the Windy City, but quickly returned to Fargo after only a few weeks.
"It kind of, you know, occurred to me that living up here in desolate (sometimes) areas of North Dakota, it's so much more open, there's so much more freedom to do what you want to do. There's no pressures culturally," he explained.
"I think it's pretty awesome, the downtown arts community. Musicians, painters, sculpture artists, writers even. That's why I've stayed here and that's why I love it so much. It's all the people. It's about the people. And maybe that's not self-indulgent to think that's why I did the mural, for people. But I like it, so then I think they would like it, too. Just being a part of that over the past 10 years."
In the past 12 years, Fox has made his mark on the community through a variety of murals and art projects. Fox contributed to the art wall on the Forum building, painted a skylight in the Prairie Den, created a mural in the Woodrow Wilson Building at the Misfit Conference and has designed nearly 75 posters for The Aquarium. He also has another, three-walled mural in the band room of The Aquarium.
Fox has been painting for most of his life – ever since he was 14 – and has made a business out of it, painting houses, apartments, interiors and exteriors and creating artwork like the murals and posters.
But he didn't begin to rigorously paint until after a car accident left him in a coma for three days. Afterward, Fox had memory problems and wasn't able to read as well as he used to. As he started to put the pieces of his mind back together, he began painting.
"(I was) training to put the pieces back together," he explained. "That's when I started painting. It helped me. I don't know why it did, I just started doing it. I had done it in college and high school and even before then. Picking up paints and painting. But I really started, it just made more sense to me around that time."
Fox's style is strongly psychedelic, incorporating bright colors, strange shapes and an overall far-out '60s vibe. Fox is a big fan of psychedelic art and music. He's a musician himself, playing electronic music, ambient atmospherics and synthetic music.
Fox draws inspiration from local poster and graphic artists, like Punchgut and Justin Bohmer, and also national artists like Peter Max. He says his biggest inspiration, however, is music.
"Being that I'm on headphones a lot, I think it has something to do with it," he said. "I would say music, sound, and just harmonics. Knowing, even in being a sound artist, I think it's all just a reaction or even a response to – not like there's a thundering sound, it's not like a body response or anything like that. Maybe it's just placing, compartmentalizing, which we all do as humans, compartmentalizing music as expressions is eternal. As a universal language."
Sun Ra, Exceptor, Spacemen 3, The 13th Floor Elevators, Yves Tumor and Hawkwind are all bands Fox listens to while working. He also incorporated lettering of a lyric, "transparent radiation," from The Red Crayola's song, "The Parable of Arable Land," into the mural.
This lyric also has a local influence. Before they moved to the Twin Cities, Addison Shark of Animal Lover, a band originally from Fargo, gave Fox a copy of "The Parable of Arable Land."
"He gave me a copy of that, " Fox said. "It made a big impact on me. It's a band that, at Berkeley, when they were having riots in the '60s, The Red Crayola and this band called The Familiar Ugly, they would send the band in there to just simply make noise to stop people from rioting. I think they truly understood what psychedelic music was, lyrically, which is why I put 'transparent radiation' in there."
Connecting back to The Aquarium as a music venue and the murals as visual art, Fox thinks the art and music are inherently connected.
"People really associate visual art with sound," he explained. "Even just as an album cover is a visual representation of music as a universal language."
He continued, "There's like this theory that certain sounds at certain frequencies create colors in relation to tone and shapes. A bubbling synthesizer can create, they make colors or shades or shapes for those tones. Maybe, when I'm painting, that's where the inspiration comes from. When I'm making music, the inspiration comes from to make visual what is sound."
Compared with his other pieces of artwork around town, Fox said he thinks this is piece "takes more chances."
"It's not trying to be defined as something," he said. "Neither was any of my other art, but I guess I – instead of it all flowing together and getting the lines crisp and flowing so that it looks liquescent like it looked before, I tried doing something completely different, where the shapes come together and form an image in your mind's eye rather than making it look how it traditionally would look. It's almost like a color-blind test. If you look at color-blind tests for someone who's not color blind, your mind starts to form shapes and images. That's where I was coming from in these works."
Fox feels psychedelic music gets a bad rap. "You know how many times I've heard, living here and being an artist downtown, 'Geez, how much acid you'd have to do to do that?'" But that's not where his artwork is coming from.
"It's about surprising your own mind and seeing where something can go," he explained. "That's what I've done. I'm not specifically looking for this color on this color or behind this or in front of this color. It's just more important to me to inspire abstract thought. Because if I'm inspired, it feels finished."